The internet's fixation with "is she due" and the persistent pregnancy allegations surrounding Katrina Kaif stinks of casual sexism.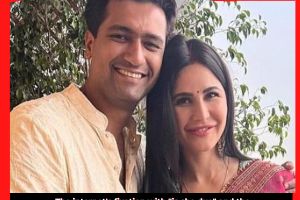 Katrina Kaif is an example of political correctness being overshadowed by celebrity pregnancies. Katrina Kaif has been a tabloid fixture since 2003, facing relationship rumours from Salman Khan to Ranbir Kapoor. Now, media speculation over her pregnancy is an everyday occurrence, showing how women are judged on a daily basis. Katrina and Vicky Kaushal married in December 2021, causing her to be scrutinised for her child-free status. Last year, she was photographed in a flowy dress that camouflaged her stomach during a holiday in Maldives, leading to rumours of pregnancy. Social media also shared comically zoomed-in photos of her presumed baby bump.
Katrina has been accused of hiding her pregnancy and restricting paparazzi access to her, leading to media reports focused on her physical appearance. The media's treatment of famous women, with the implicit suggestion of pregnancy as the ultimate goal, reflects a culture of sexism. Women, such as Alia Bhatt, Dia Mirza, Neha Dhupia, Kareena Kapoor, and Bipasha Basu, face pregnancy speculation and objectification. Last year, they announced their daughter, Devi. Women are often subjected to pregnancy rumours based on harsh judgements of their bodies and appearance.Sexism is still a barrier for women, and each of us has a role to play in removing it.
Group Media Publications
Entertainment News Platforms – anyflix.in      
Construction Infrastructure and Mining News Platform – https://cimreviews.com/
General News Platform – https://ihtlive.com/
Podcast Platforms – https://anyfm.in
The creators of Pippa respond to criticism of AR Rahman's rendition of the song Karar Oi Louho Kopat by Bengali poet Kazi Nazrul Islam
In the realm of art, especially when it involves a beloved poet's work, emotions run deep. The recently released rendition of Kazi Nazrul Islam's timeless composition "Karar Oi Louho Kopat" by the legendary AR Rahman for the upcoming film Pippa has stirred discussions and, inevitably, some criticism. The creators of Pippa have chosen to respond, fostering an open dialogue about artistic interpretation, cultural sensitivity, and the collaborative spirit of creative endeavors.
A Musical Odyssey: AR Rahman's Rendition
AR Rahman, a maestro in the world of music, took on the monumental task of interpreting Kazi Nazrul Islam's iconic work for the soundtrack of Pippa. "Karar Oi Louho Kopat," known for its profound lyrics and historical significance, is a piece of cultural heritage that resonates deeply with Bengali speakers worldwide. Rahman's rendition, while undoubtedly a display of musical brilliance, prompted varied reactions from listeners, invoking discussions about fidelity to the original composition.
Navigating the Sea of Criticism: The Creators' Response
In response to the criticism, the creators of Pippa have taken a nuanced approach, acknowledging the varied sentiments expressed by the audience. In an era where cultural appreciation and appropriation are delicate themes, the creators aim to engage in a respectful and insightful conversation with those who hold Nazrul's work close to their hearts.
The Art of Interpretation: Navigating Boundaries
Artistic interpretation is a complex dance, especially when traversing the revered creations of literary giants. Rahman's rendition of "Karar Oi Louho Kopat" is not merely a cover but an interpretation, a reimagining that seeks to resonate with contemporary audiences while paying homage to the essence of the original work. The creators emphasize the intent of creating a bridge between generations, fostering a connection with Nazrul's poetry through a modern lens.
Cultural Sensitivity and Collaboration
In a world that values cultural sensitivity, the creators of Pippa express their commitment to fostering collaboration and understanding. Rahman's collaboration on this project is seen as a celebration of diversity and an effort to unite different artistic traditions. The goal is not to replace or diminish the original but to amplify its beauty for a new audience.
The Ongoing Conversation: A Celebration of Nazrul's Legacy
As the conversation around AR Rahman's rendition continues, the creators of Pippa invite fans, critics, and enthusiasts to share their perspectives. It is a testament to the dynamic nature of art, where diverse opinions contribute to a richer understanding of the creative process. The goal remains to celebrate the richness of Nazrul's legacy and ensure that his timeless verses continue to resonate across generations.
Conclusion: A Melody of Unity
In the ever-evolving landscape of art and expression, the conversation sparked by AR Rahman's rendition of "Karar Oi Louho Kopat" is an opportunity for unity. It is a chance for diverse voices to converge, creating a harmonious discourse that transcends geographical and cultural boundaries. As Pippa prepares to weave together the tapestry of history and contemporary expression, the creators invite everyone to be part of this collective journey, where the beauty of Nazrul's poetry continues to be a guiding force in the ever-evolving symphony of creative interpretation.
Group Media Publications
Entertainment News Platforms – anyflix.in      
Construction Infrastructure and Mining News Platform – https://cimreviews.com/
General News Platform – https://ihtlive.com/
Podcast Platforms – https://anyfm.in