The White Tiger Movie Review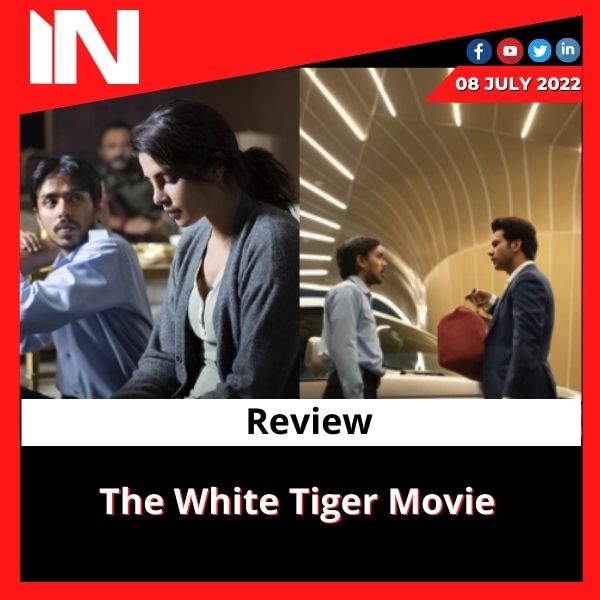 The White Tiger is a movie based on the same-named 2008 book by Aravind Adiga. The caste politics and the rich-poor gap in India are both topics covered in the movie. It provides a reflection on what's wrong with our nation, where the powerful continue dominate those with less money despite having a long history of democracy. The only path up for the poor, according to the somewhat skewed perspective of the movie, is through crime and politics. The movie was created by Ramin Bahrani with Western audiences in mind. So all we see is extreme poverty on the one hand and high society living on the other. It seems as though the enormous Indian middle class, whose purchasing power propels the global economy ahead, doesn't actually exist.
Balram Halwai (Adash Gourav), who has some education and can speak Hindi, is on one end of the spectrum and wants to be Ashok's (Rajkummar Rao), the younger son of the village zamindar (Mahesh Manjrekar). Ashok, an Indian man who studied there, is married to Pinky (Priyanka Chopra), an American-born Indian woman. The only people who treat Balram like a human being are America-returned Ashok and Pinky, whilst the zamindar and his older son (Vijay Maurya) treat him like he is only a step above being an animal. The only true humanitarian in the movie is Pinky. She constantly prods him to resist and refuse to accept things as they are.
Pinky also admitted to running down a youngster while intoxicated. Balram is made to take responsibility for a crime. Does it resemble a well-known hit-and-run incident from Mumbai? His inability to say no drives him to rebel against the invisible restraints that surround him, which results in a night of crime and rebellion but ultimately results in his redemption.
The script contains many inconsistencies. We don't sure why Ashok is portrayed conducting too many transactions in Delhi, much against his will. A picture of his father and sibling on a train in the sleeping car. Once more, this reeks of stupidity because no wealthy person would do that.
The fact that the common guy, the drivers, and Balram's relatives are seen conversing in English among themselves may be the most annoying aspect. Now, a driver may communicate in English with his bosses, but he will not do so with his coworkers. Additionally, when did the Pajero surpass all other luxury vehicles among the wealthy in Delhi?
The class, caste, and religion divisions are only hinted to in the movie, as was previously said. Barking but not biting, it. Maybe the director doesn't know much about India; after all, Adiga's book is only a point of reference. Or maybe he was told not to look too deeply. Whatever the cause, it leaves you feeling unfulfilled.
The excellent acting helps to make up for the lack of depth. As Pinky, who openly rebels against her in-laws' patriarchal norms since she isn't used to them, Priyanka Chopra gives a fantastic performance. She accurately captured their casual misbehaviour with the maids in her reaction photos. Her chemistry with Rajkummar Rao is also electrifying. They resemble a yuppie couple who don't quite fit in and should return to the United States. Although it's not Pinky's narrative, we wish there had been more of Priyanka in the movie. In his part as the younger son who has forgotten that his family is essentially a band of thugs, Rajkummar Rao also comes off as very natural. He is torn between two opposing poles and is unsure of his place in either.
Rao brilliantly conveys the hopelessness of his character. However, Adarsh Gourav is solely responsible for the movie. He personifies Balram. He performs so naturally that it's easy to forget you're seeing an actor. It seems like someone is being followed around by a candid camera that somehow has access to their innermost thoughts.
We'll stress that The White Tiger was created with a Western audience in mind and that it contributes to the myth that India is a destitute, third-world nation. Thankfully, the human drama it presents transcends clichés.
Group Media Publications
Entertainment News Platforms – anyflix.in
Construction Infrastructure and Mining News Platform – https://cimreviews.com/
General News Platform – https://ihtlive.com/
Legal and Laws News Platforms – https://legalmatters.in/
Podcast Platforms – https://anyfm.in/
Gadar 2's third day of box office receipts: Sunny Deol and Ameesha Patel's movie is still doing strong, mints ₹135 cr
In the world of cinema, few things are as exhilarating as witnessing a film's journey to success at the box office. The highly anticipated sequel, Gadar 2, featuring the dynamic duo Sunny Deol and Ameesha Patel, has taken the silver screen by storm. As the movie enters its third day, the box office receipts stand at an impressive ₹135 crore, a testament to the star power, engaging storyline, and fervent anticipation that have fueled its resounding success.
Box Office Triumph Continues: Gadar 2's Third Day Nets ₹135 Crore with Stellar Performance
Gadar 2 takes audiences on a nostalgic journey back to the original Gadar: Ek Prem Katha, which captured hearts and made history. The sequel brings back the iconic chemistry between Sunny Deol and Ameesha Patel while introducing a fresh narrative that resonates with contemporary audiences. This unique blend of nostalgia and novelty has undoubtedly contributed to the film's strong box office performance.
Sunny Deol's Impactful Return
Sunny Deol, a powerhouse performer known for his intense acting style, returns to the screen with Gadar 2, reminding audiences of his unparalleled presence. His portrayal of the resilient and passionate protagonist strikes a chord with fans who have long awaited his return to the silver screen. Sunny Deol's star power and commitment to his craft undoubtedly play a significant role in the film's box office triumph.
Ameesha Patel's Charm and Grace
Ameesha Patel's return to the Gadar franchise adds an extra layer of charm and nostalgia. Her chemistry with Sunny Deol has been a hallmark of the original film, and her reprise in Gadar 2 brings back memories while showcasing her timeless grace. Ameesha's portrayal resonates with audiences, contributing to the film's appeal and success.
Engaging Storyline and Emotional Resonance
Beyond star power, Gadar 2's triumph can be attributed to its captivating storyline. The film touches on themes of love, sacrifice, and patriotism, striking an emotional chord with viewers. The narrative's ability to evoke genuine emotions and connect with audiences on a personal level sets it apart as a cinematic experience that resonates deeply.
Social Media Buzz and Fan Anticipation
In the digital age, the buzz around a film's release is amplified by social media. Fan anticipation, discussions, and positive word-of-mouth have played a pivotal role in driving audiences to theaters. The loyal fan base of the original Gadar has eagerly awaited the sequel, contributing to the film's massive opening and sustained success.
Group Media Publications
Entertainment News Platforms – anyflix.in      
Construction Infrastructure and Mining News Platform – https://cimreviews.com/
General News Platform – https://ihtlive.com/
Podcast Platforms – https://anyfm.in