Doctor Strange In The Multiverse Of Madness Movie Review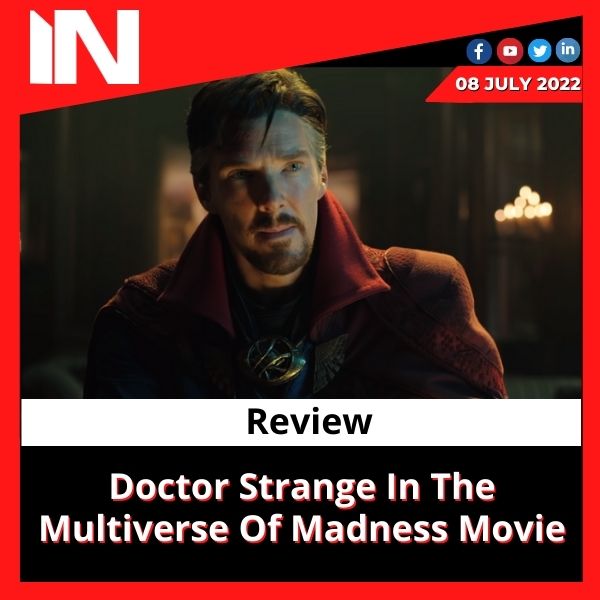 Spider-Man: No Way Home is not the first time Marvel has dabbled with the idea of parallel universes. For Spider-Man fans, that movie was a huge nostalgia trip, but this movie is in a very different level. Although it doesn't belong in any particular genre, it could be generically categorised as a horror movie. However, this multi-genre movie doesn't just focus on the horror genre. Along with being an exciting adventure story, it also serves as America Chavez's character's fascinating origin story. It connects the plot lines of WandaVision and No Way Home and, in a way, predicts the direction of the upcoming Marvel movies. There are a tonne of Easter eggs there. Fans would talk about what they learned from the movie for months to come.
Strange dreams are being experienced by Dr. Strange (Benedict Cumberbatch). He sees himself helping teen America Chavez (Xochitl Gomez) fight off a huge, octopus-like creature in one of his visions. He discovers, to his dismay, that his dream wasn't really a dream at all, but rather a portrayal of true events that occurred to a different Dr. Strange in a parallel reality. He consults Wanda Maximoff (Elizabeth Olsen), the world's leading authority on parallel worlds, who oddly is dreaming of becoming the adoring mother of two gorgeous sons.
He was portrayed in the first Dr. Strange movie as an egotistical physician who was determined to find a cure for his illness and was prepared to go to any lengths to do so. A calmer aspect of him emerges in this situation. In the movie, he is shown comforting a broken heart. Dr. Christine Palmer (Rachel McAdams), to whom he was reluctant to make a proposal, got married to someone else after he grew impatient. Nevertheless, their connection is still quite strong. In the absence of Iron Man, he was depicted as serving as a mentor of sorts to Peter Parker, a.k.a. The Spider-Man, and in this instance, he adopts a new young superhero.
Despite the fact that he is a hesitant mentor, America Chavez is starting to develop feelings for him. Strangely, despite the fact that the movie is named after its protagonist, Dr. Strange, he isn't really the focal point of the story. Wanda Maximoff, also known as The Scarlet Witch, is the rightful occupant of that chair of honour. Wanda has up to now been a minor figure. Yes, a television series was made about her, but it is in this context that she exhibits the full force of her abilities, which, let's just say, are far superior to those of Doctor Strange. Any additional information would amount to a spoiler. Wong (Benedict Wong), another ancillary character, also receives a substantial role this time.
After Spider-Man 3, director Sam Raimi returns to the superhero genre (2003). What a journey the first three Tobey Maguire movies were. Let's just say that this sequel also packs a powerful blow. The Evil Dead is only one of Raimi's cult horror movies. Think of the blood, gore, and terror of his horror movies combined with the vibrant and yet profoundly poignant story of his Spider-Man movies. Raimi is the right choice for Marvel if they ever decide to make a movie based on their Marvel Zombies series of comics. In spite of the visual turmoil and VFX crazy that they exhibit, Marvel movies are known for their emotional heart, and Raimi has made sure he stays faithful to the company's vision
It appears as though Benedict Cumberbatch was destined to play Dr. Strange. Once more, he makes us feel conflicted about the character. Few performers could have given life to such a supernatural figure, but Cumberbatch deserves praise for giving Strange a human face by exposing his turmoil, pain, and vulnerabilities. Wanda Maximoff is played by Elizabeth Olsen, who demonstrates both technical proficiency and adaptability. She has demonstrated that you can also display dramatic talent in a superhero movie. Throughout the course of the movie, she exhibits many facets of her personality and gains our empathy. Marvel appears to be shifting its focus toward younger heroes.
A South Asian superhero will appear in an upcoming Ms. Marvel series. Miles Morales, the Spider-Man from another dimension, and the current Spider-Man are both teenagers. Another superhero they want to develop further is America Chavez, and they couldn't have asked for a better actor to portray the part than Xochitl Gomez. She's a natural on camera and a rising star to keep an eye on.
Fans of horror and superheroes will be thrilled to see Sam Raimi in better form. Everyone will like the film, and the full ensemble cast gives powerful performances. Additionally, it is full of surprises. In conclusion, it's definitely a winner.
Group Media Publications
Entertainment News Platforms – anyflix.in
Construction Infrastructure and Mining News Platform – https://cimreviews.com/
General News Platform – https://ihtlive.com/
Legal and Laws News Platforms – https://legalmatters.in/
Podcast Platforms – https://anyfm.in/
Cirkus box office day one earnings: Rohit Shetty's comedy debuts at almost 7.5 crore despite unfavourable reviews
Cirkus box office day one earnings: Rohit Shetty's comedy debuts at almost 7.5 crore despite unfavourable reviews
Rohit Shetty's comedy circus has debuted at the box office with almost 7.5 crore in earnings, despite unfavourable reviews. The movie has been panned by critics but that has not stopped audiences from flocking to see it. It is clear that Rohit Shetty's formula of high octane action and comedy appeals to a wide section of the audience. The movie may not be winning any awards but it is sure to be a commercial success.
Group Media Publications
Entertainment News Platforms – anyflix.in
Construction Infrastructure and Mining News Platform – https://cimreviews.com/
General News Platform – https://ihtlive.com/
Legal and Laws News Platforms – https://legalmatters.in/
Podcast Platforms – https://anyfm.in/