Thunderstorms in Delhi-NCR cause significant temperature drops; air and road traffic are disrupted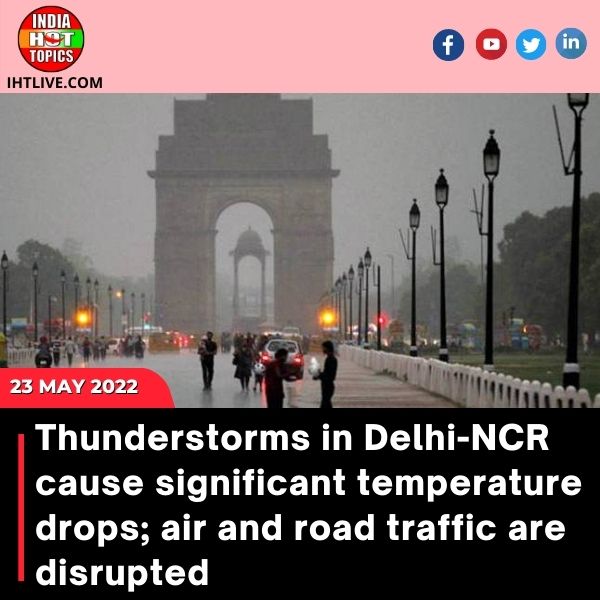 Huge thunderstorms and heavy rains pounded Delhi-NCR on Monday morning, causing a temperature drop of over 11 degrees in less than 1.5 hours and disrupting air and road traffic. Waterlogging and blackouts were reported in several parts of the National Capital Region. At Delhi's Indira Gandhi International Airport, around 100 flights were reported to be delayed, with 19 flights being diverted.
1. Heavy rain on Monday morning brings welcome relief to the national capital and nearby cities after the city set a new record with a day's high of 49 degrees in Mungeshpur, near the Haryana border, last week.
2. In some parts of the national capital, roads were blocked by falling trees, and traffic was clogged during morning rush hour. Traffic jams were also reported in Gurugram.
3. Air traffic was disrupted as well. "Flight operations at @DelhiAirport are affected due to bad weather," the Delhi International Airport Limited had tweeted earlier. Passengers should contact the airline directly for the most up-to-date flight information. #Rain #BadWeather (sic)".
4. According to the Delhi airport's website, bad weather and other issues caused over 40 departure flights to be delayed. Around 18 arrival flights were also delayed, with two flights being cancelled, according to the news agency ANI.
5. Between 5:40 and 7 a.m. on Monday, the temperature dropped 11 degrees Celsius. On Monday, Mahesh Palawat, vice president of private weather agency Skymet, tweeted that the national capital set a new record: "Delhi recorded 17.2 degree minimum temperature today on May 23." May saw its lowest level in a decade. On May 2nd, 1982 (sic), a temperature of 15.2 degrees was set.
6. During thunderstorms, the IMD (India Meteorological Department) predicted wind speeds of 60 to 90 km/h.
7. "A dust storm/thunderstorm with rain (followed by rain) and gusty winds of 50-70 km/h will occur over and adjacent areas of Narnaul (Haryana) Milak, Bareilly, Sahaswan, Kasganj, Sikandra Rao, Raya, Mathura, Jalesar, Etah, Sadabad, Tundla, Agra, Firozaba, Narora, Gabhana, Jattari, Atrauli, Khair,
8. "Light to moderate intensity rain and gusty winds of 30-40 km/h will continue to fall over Gannaur and the surrounding areas." During the next two hours, Sonipat, Kharkhoda (Haryana), Gangoh, Deoband, Nazibabad, Shamli, Muzaffarnagar, Kandhla, Bijnaur, Khatauli, Sakoti Tanda, Hastinapur, Chandpur, Baraut, Daurala, Bagpat, and Khekra (U.P.) will be affected," it added.
9. Parts of Delhi-NCR have experienced power outages.
10. Following a period of extreme heat, people on social media applauded the change in weather.
In Delhi and parts of north India, no heatwave is expected next week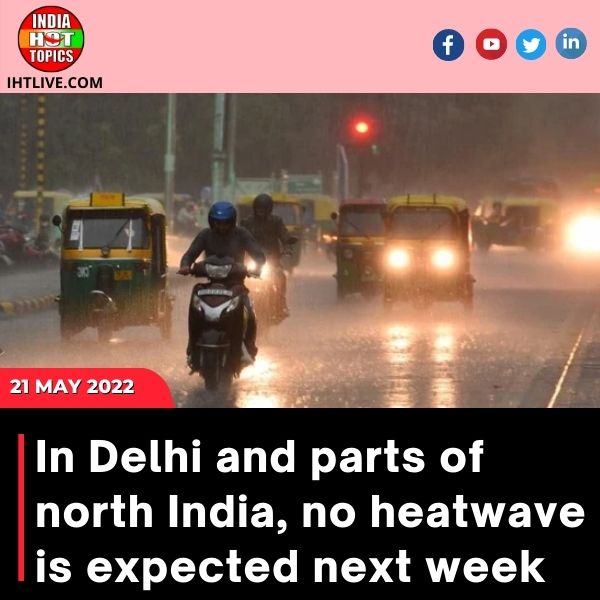 With rain and dust storms on Friday, Delhi breathed a sigh of relief a week after the day's high reached 49 degrees in some parts. According to the weather forecast, many parts of north India, including the national capital, will experience a respite from the scorching heat over the next week. "Back-to-back western disturbances will continue to provide sporadic relief from the heat. For the next week, no heat wave is expected "According to news agency PTI, Mahesh Palawat, vice-president (meteorology and climate change) at Skymet, a private weather forecasting agency, Hailstorms and moderate rain are expected in several parts of north India over the next few days.
1. On Saturday, isolated and scattered thunderstorms, dust storms, and cloudy weather are expected to drop the temperature in Delhi by a few degrees.
2. On Friday, Safdarjung Observatory, Delhi's primary weather station, recorded a maximum temperature of 44.4 degrees Celsius, five degrees above normal, according to PTI.
3. Parts of Haryana were also affected by light rain, which was accompanied by dust storms and strong winds. Heatwave conditions persisted in most parts of Rajasthan, but from Saturday onwards, the state may finally see some relief from the oppressive heat.
4. In Delhi, Punjab, Haryana, Himachal Pradesh, Uttarakhand, and Uttar Pradesh, the weather service has issued a "orange alert" for hail storms and thunderstorms.
5. Over the next five days, light to moderate rain, thunderstorms, and gusty winds are expected in the Western Himalayan region.
6. Isolated hailstorms are forecast for Himachal Pradesh through May 23. Over the next five days, a hailstorm could hit the hilly state of Uttarakhand.
7. On Monday, isolated hailstorms are expected in Punjab, Haryana, and western Uttar Pradesh. Hailstorms are expected in the eastern Upper Peninsula on Monday and Tuesday.
8. Over the next five days, widespread heavy rain with isolated thundersqualls and gusty winds is very likely over the Andaman and Nicobar Islands.
9. In addition, dust storms are expected in parts of Uttar Pradesh on Saturday and western Rajasthan on Monday.
10. Rajasthan may also experience strong surface winds, with gusts of up to 40 km/h.