When Kajol revealed how Tanuja told her about separation with Shomu Mukherjee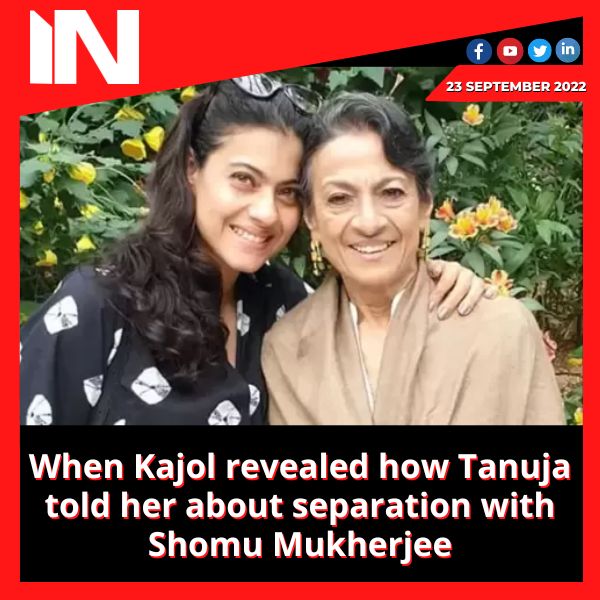 On Friday, seasoned actor Tanuja turns 79. The actor is also the mother of actors Kajol and Tanishaa Mukherjee. She has appeared in successful films like Haathi Mera Saathi, Do Chor, and Anubhav. Kajol mentioned how Tanuja always treated her with respect and like an adult during an interview with Hindustan Times last year.
I never had a rebellion as such with my mum, she stated while describing her parenting approach. She is amazing, so we had the most wonderful connection. She gave me clear explanations for everything she did in my life and said in decisions that she made. Tanuja went so far as to give her reasons for divorcing Shomu Mukherjee. "Whether it was the divorce of my parents, starting to work, or being a working woman. She sat down, talked with me, explained it to me, and waited for me to comprehend, make sense of it, and accept it before getting up from her chair and declaring, "Discussion over," whatever the major events in my life "Kajol quoted her mom.
She stated, "My mother and I have always had the best relationship, and it has only gotten better over time," in a different interview with HT. We don't talk about whether or not I ought to act in a movie. Since I was 16 years old, I have always made this decision alone. When asked about her advise, she remarked, "My mother gave me a lot of advice, but I didn't pay any attention to it until I ran into a problem. At that point, her advice would ring in my ears at the perfect moment, and I would know what the appropriate thing to do was. I didn't pay attention to anything until I needed it.
However, Tanuja claimed in an interview with Scroll that she never gave counsel to her daughter. "I have brought up my daughters. They received no counsel from me. I taught them. That is a distinct matter. Teaching children to think independently, to be independent, to be who they are or who they want to be, is the mother's responsibility. They can decide that. If I teach them the right ideals of life, it's their life, not mine," she remarked. The fundamental principles of Hindu culture are to respect your elders, be kind, compassionate, gentle, and learn to define your own boundaries.
Simply put, whatever decisions you make are your responsibility. Therefore, consider your options carefully before making one, and then live with the results of your decision, she continued.
Group Media Publications
Entertainment News Platforms – anyflix.in
Construction Infrastructure and Mining News Platform – https://cimreviews.com/
General News Platform – https://ihtlive.com/
Legal and Laws News Platforms – https://legalmatters.in/
Podcast Platforms – https://anyfm.in/
The creators of Pippa respond to criticism of AR Rahman's rendition of the song Karar Oi Louho Kopat by Bengali poet Kazi Nazrul Islam
In the realm of art, especially when it involves a beloved poet's work, emotions run deep. The recently released rendition of Kazi Nazrul Islam's timeless composition "Karar Oi Louho Kopat" by the legendary AR Rahman for the upcoming film Pippa has stirred discussions and, inevitably, some criticism. The creators of Pippa have chosen to respond, fostering an open dialogue about artistic interpretation, cultural sensitivity, and the collaborative spirit of creative endeavors.
A Musical Odyssey: AR Rahman's Rendition
AR Rahman, a maestro in the world of music, took on the monumental task of interpreting Kazi Nazrul Islam's iconic work for the soundtrack of Pippa. "Karar Oi Louho Kopat," known for its profound lyrics and historical significance, is a piece of cultural heritage that resonates deeply with Bengali speakers worldwide. Rahman's rendition, while undoubtedly a display of musical brilliance, prompted varied reactions from listeners, invoking discussions about fidelity to the original composition.
Navigating the Sea of Criticism: The Creators' Response
In response to the criticism, the creators of Pippa have taken a nuanced approach, acknowledging the varied sentiments expressed by the audience. In an era where cultural appreciation and appropriation are delicate themes, the creators aim to engage in a respectful and insightful conversation with those who hold Nazrul's work close to their hearts.
The Art of Interpretation: Navigating Boundaries
Artistic interpretation is a complex dance, especially when traversing the revered creations of literary giants. Rahman's rendition of "Karar Oi Louho Kopat" is not merely a cover but an interpretation, a reimagining that seeks to resonate with contemporary audiences while paying homage to the essence of the original work. The creators emphasize the intent of creating a bridge between generations, fostering a connection with Nazrul's poetry through a modern lens.
Cultural Sensitivity and Collaboration
In a world that values cultural sensitivity, the creators of Pippa express their commitment to fostering collaboration and understanding. Rahman's collaboration on this project is seen as a celebration of diversity and an effort to unite different artistic traditions. The goal is not to replace or diminish the original but to amplify its beauty for a new audience.
The Ongoing Conversation: A Celebration of Nazrul's Legacy
As the conversation around AR Rahman's rendition continues, the creators of Pippa invite fans, critics, and enthusiasts to share their perspectives. It is a testament to the dynamic nature of art, where diverse opinions contribute to a richer understanding of the creative process. The goal remains to celebrate the richness of Nazrul's legacy and ensure that his timeless verses continue to resonate across generations.
Conclusion: A Melody of Unity
In the ever-evolving landscape of art and expression, the conversation sparked by AR Rahman's rendition of "Karar Oi Louho Kopat" is an opportunity for unity. It is a chance for diverse voices to converge, creating a harmonious discourse that transcends geographical and cultural boundaries. As Pippa prepares to weave together the tapestry of history and contemporary expression, the creators invite everyone to be part of this collective journey, where the beauty of Nazrul's poetry continues to be a guiding force in the ever-evolving symphony of creative interpretation.
Group Media Publications
Entertainment News Platforms – anyflix.in      
Construction Infrastructure and Mining News Platform – https://cimreviews.com/
General News Platform – https://ihtlive.com/
Podcast Platforms – https://anyfm.in