Why you should include avocado oil in your diet, from lowering blood pressure to protecting joints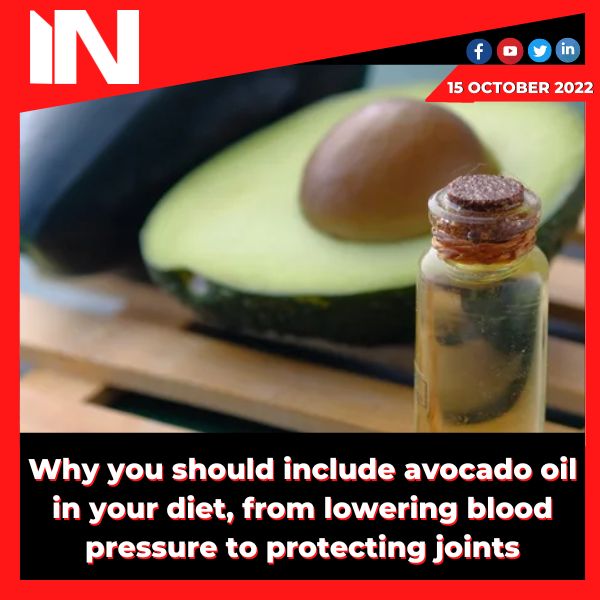 Avocado oil has sparked a growing interest in human nutrition, food industry, and cosmetics and it is extracted from the pulp of the avocado fruit. The process usually involves the separation of the pulp from the fruit and extracting the oil by cold pressing where the lipid content, mainly of monounsaturated fatty acids, is associated with cardiovascular system benefits and anti-inflammatory effects.
Avocado oil is considered as one of the healthiest oils present currently and known as a cooking oil, it is jam-packed with essential nutrients along with being loaded with various vitamins and omega-3 fatty acids. Recommended for cooking due to its high smoke point, avocado oil is a healthier choice.
The phrase "healthiest high-heat cooking oil in India" refers to the new cooking craze that is sweeping the country. It contains multivitamins like A, D, E, and K, which are rich in antioxidants and support the immune system, and it is a fantastic source of Omegas 3, 6, and 9.
The marketing director of Avomexicano, Rakshak Kumar, stated in an interview with HT Lifestyle that the product is a good source of lutein, which is important for eye health and must be consumed through diet. Carotenoids are also found in vegetables like carrots, but the majority of carotenoids' sources are low in fat. Combining plant meals with a healthy oil improves the absorption of carotenoids and vitamins A, D, E, and K. like avocado oil is a way to greatly increase the bioavailability of the antioxidants and nutrients contained in those foods."
1. Cooking at a high temperature guilt-free
You want your favourite fried meals but are hesitant to eat them because of the bad frying oil they are prepared in. Avocado oil is here, so don't be afraid! Avocado oil is a very adaptable product that can be utilised with a number of ingredients and cuisines because to the nutritional benefits it gives. Due to its high smoke point, food can be cooked at temperatures as high as 260 degrees Celsius without losing flavour. Avocado oil is versatile and can be consumed raw, used as a skincare lubricant, drizzled on salads, grilled, baked, fried, and used in marinades.
2. Reducing cholesterol and blood pressure
The healthier a cooking oil is for you, the fewer saturated fats it contains. Monounsaturated fats and barely any saturated fats can be found in avocado oil. Additionally, avocado oil lowers LDL levels (bad cholesterol). It can also assist in balancing the levels of important fatty acids in your kidneys by being a part of your everyday diet. This controls how one's hormones that regulate blood pressure respond! Time to give your family's cravings a healthier indulgence!
3. Guard your skin and joints –
According to studies, consuming and using avocado oil strengthens joints and relieves stiffness and discomfort in the joints. Additionally, avocado oil has the advantage of deeply entering the skin.
4. Antioxidants are abundant in avocado oil
Avocado oil is rich in a variety of disease-preventing antioxidants that battle free radicals (unstable atoms that can damage cells and cause ageing and illness). Regular consumption of avocado oil can also help reduce the risk of developing chronic diseases.
5. Capacity to promote weight loss
Consuming avocado oil can help with weight loss due to the high concentration of monounsaturated fats and oleic acid it contains. Another well-known metabolism-booster is avocado oil. Weight loss is facilitated by a strong metabolism since food is converted into energy more quickly.
Trisha Agarwal, co-founder of Positiv Eats, adds the following to the list of justifications for include avocado oil in your diet:
1. Minimizes oxidative damage
Free radicals are known to generate oxidative stress in the body, which has been linked to type 2 diabetes and heart disease. Additionally, those who have diabetes can consume avocado oil in moderation. That is as a result of its low carbs and glycemic index. Antioxidants included in avocado oil are known to protect against the harm done by free radicals. The way antioxidants function is by giving the radicals electrons, which counteracts their effects. This stops them from hurting the body in any way.
2. Aids in healing skin damage
Avocado oil heals sunburns, hydrates and nourishes the skin, and many other undiscovered great advantages for hair and skin. It also reduces eczema-related irritation. In addition, it lessens skin damage while promoting and influencing the overall collagen content. Important antioxidants like beta carotene, lutein, protein, lecithin, omega fatty acids, and vitamin E are present in avocado oil. These antioxidants support a stronger skin barrier and hasten the recovery of skin damage. Additionally, avocado oil supports skin hydration and UV protection.
3. Heart-healthy oils include avocado oil
You may massage avocado oil into your skin, use it as a face mask, or mix it with creams, lotions, shower gels, and bath oils. An excellent source of monounsaturated fat that has been shown to lower LDL cholesterol and raise HDL cholesterol is avocado oil. Compared to olive oil, avocado oil has a slightly higher smoke point, which means it can withstand greater temperatures without deteriorating and producing free radicals. After utilising this oil, the body would have more energy, which would have positive effects on its health as well. There is little possibility that diseases may develop as a result of poor digestion.
4. Remedy for burnt skin
Normal ageing first manifests itself in the skin. Avocado oil's antioxidants may be able to lessen the effects of a sunburn. The vital fatty acids, protein, lecithin, vitamin E, beta carotene, and vitamin D in the oil can promote skin comfort and healing. Consuming avocados may aid in UV radiation protection for the skin.
5. Reduces hunger and aids in weight reduction
Avocado oil is incredibly satiating and can help you feel fuller for longer because it is packed with vitamins, lipids, and protein. This is excellent for minimising those annoying cravings that cause you to grab for a bag of chips or another quick source of inferior energy. The necessary vitamins, antioxidants, and most importantly, good fats, may promote better health and digestion.
James Cameron loves RRR as Alia Bhatt exclaims, "Uffff what a gorgeous morning," and the movie wins two Critics Choice Awards.
James Cameron's praise of Alia Bhatt's flick RRR drew a response from her. She responded on Instagram to a tweet from the movie's official Twitter account, letting people know that an American journalist had said that the Avatar director "admires" the film. The Critics' Choice Award for Best Foreign Language Film and Best Song for Naatu Naatu have just been given to RRR.
"Uffff what a gorgeous morning," Alia commented on Monday morning after sharing the tweet on her Instagram Stories. James Cameron admires RRR, according to a tweet from American journalist Anne Thompson, which was answered by RRR's Twitter account. @JimCameron, I LOVE YOU. #RRRMovie "RRR wins best foreign film at CCA – every piece of visibility helps get more people to view it," Anne tweeted. Jim Cameron, who sits across from me at the table, and I introduced ourselves to S.S. Rajamouli.
"Congratulations to the cast and crew of @RRRMovie- winners of the #criticschoice Award for Best Foreign Language Film. #CriticsChoiceAwards," read a tweet from the Critics Choice Award account.
RRR, directed by SS Rajamouli, received two Critics' Choice Awards. Following last week's Golden Globe Award for Best Original Song for Naatu Naatu, this marks the movie's second significant triumph. For the Critics' Choice Awards, the movie was nominated for five different categories: best picture, best director, best foreign language film, best song for Naatu Naatu, and best visual effects.
The movie has already made it to the Oscars shortlist for best music (original song) and the BAFTA Feature Awards longlist for "film not in English language." The movie had the biggest box office performance in India in 2022.
The primary actors in RRR are Ram Charan and Jr. NTR, with Ajay Devgan and Alia Bhatt playing supporting roles. Alia plays a crucial part in the plot as Ram Charan's childhood sweetheart and friend. The fictional story RRR is based on the experiences of Alluri Seetharama Raju and Komaram Bheem, two Telugu liberation warriors.
Group Media Publications
Entertainment News Platforms – anyflix.in
Construction Infrastructure and Mining News Platform – https://cimreviews.com/
General News Platform – https://ihtlive.com/
Podcast Platforms – https://anyfm.in