Why you should include avocado oil in your diet, from lowering blood pressure to protecting joints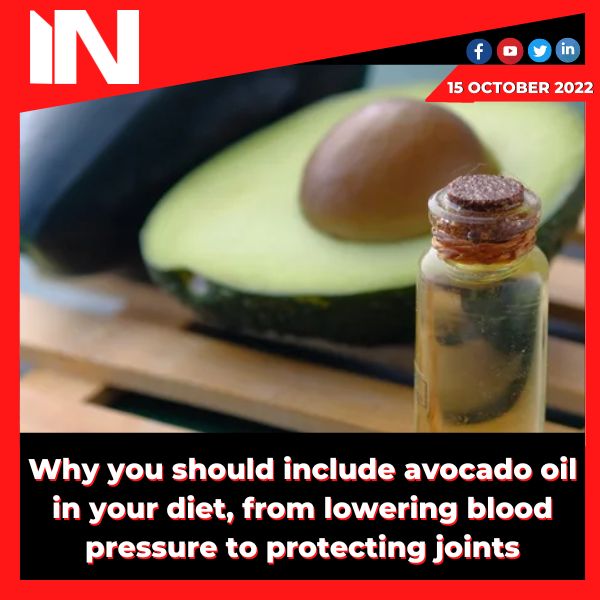 Avocado oil has sparked a growing interest in human nutrition, food industry, and cosmetics and it is extracted from the pulp of the avocado fruit. The process usually involves the separation of the pulp from the fruit and extracting the oil by cold pressing where the lipid content, mainly of monounsaturated fatty acids, is associated with cardiovascular system benefits and anti-inflammatory effects.
Avocado oil is considered as one of the healthiest oils present currently and known as a cooking oil, it is jam-packed with essential nutrients along with being loaded with various vitamins and omega-3 fatty acids. Recommended for cooking due to its high smoke point, avocado oil is a healthier choice.
The phrase "healthiest high-heat cooking oil in India" refers to the new cooking craze that is sweeping the country. It contains multivitamins like A, D, E, and K, which are rich in antioxidants and support the immune system, and it is a fantastic source of Omegas 3, 6, and 9.
The marketing director of Avomexicano, Rakshak Kumar, stated in an interview with HT Lifestyle that the product is a good source of lutein, which is important for eye health and must be consumed through diet. Carotenoids are also found in vegetables like carrots, but the majority of carotenoids' sources are low in fat. Combining plant meals with a healthy oil improves the absorption of carotenoids and vitamins A, D, E, and K. like avocado oil is a way to greatly increase the bioavailability of the antioxidants and nutrients contained in those foods."
1. Cooking at a high temperature guilt-free
You want your favourite fried meals but are hesitant to eat them because of the bad frying oil they are prepared in. Avocado oil is here, so don't be afraid! Avocado oil is a very adaptable product that can be utilised with a number of ingredients and cuisines because to the nutritional benefits it gives. Due to its high smoke point, food can be cooked at temperatures as high as 260 degrees Celsius without losing flavour. Avocado oil is versatile and can be consumed raw, used as a skincare lubricant, drizzled on salads, grilled, baked, fried, and used in marinades.
2. Reducing cholesterol and blood pressure
The healthier a cooking oil is for you, the fewer saturated fats it contains. Monounsaturated fats and barely any saturated fats can be found in avocado oil. Additionally, avocado oil lowers LDL levels (bad cholesterol). It can also assist in balancing the levels of important fatty acids in your kidneys by being a part of your everyday diet. This controls how one's hormones that regulate blood pressure respond! Time to give your family's cravings a healthier indulgence!
3. Guard your skin and joints –
According to studies, consuming and using avocado oil strengthens joints and relieves stiffness and discomfort in the joints. Additionally, avocado oil has the advantage of deeply entering the skin.
4. Antioxidants are abundant in avocado oil
Avocado oil is rich in a variety of disease-preventing antioxidants that battle free radicals (unstable atoms that can damage cells and cause ageing and illness). Regular consumption of avocado oil can also help reduce the risk of developing chronic diseases.
5. Capacity to promote weight loss
Consuming avocado oil can help with weight loss due to the high concentration of monounsaturated fats and oleic acid it contains. Another well-known metabolism-booster is avocado oil. Weight loss is facilitated by a strong metabolism since food is converted into energy more quickly.
Trisha Agarwal, co-founder of Positiv Eats, adds the following to the list of justifications for include avocado oil in your diet:
1. Minimizes oxidative damage
Free radicals are known to generate oxidative stress in the body, which has been linked to type 2 diabetes and heart disease. Additionally, those who have diabetes can consume avocado oil in moderation. That is as a result of its low carbs and glycemic index. Antioxidants included in avocado oil are known to protect against the harm done by free radicals. The way antioxidants function is by giving the radicals electrons, which counteracts their effects. This stops them from hurting the body in any way.
2. Aids in healing skin damage
Avocado oil heals sunburns, hydrates and nourishes the skin, and many other undiscovered great advantages for hair and skin. It also reduces eczema-related irritation. In addition, it lessens skin damage while promoting and influencing the overall collagen content. Important antioxidants like beta carotene, lutein, protein, lecithin, omega fatty acids, and vitamin E are present in avocado oil. These antioxidants support a stronger skin barrier and hasten the recovery of skin damage. Additionally, avocado oil supports skin hydration and UV protection.
3. Heart-healthy oils include avocado oil
You may massage avocado oil into your skin, use it as a face mask, or mix it with creams, lotions, shower gels, and bath oils. An excellent source of monounsaturated fat that has been shown to lower LDL cholesterol and raise HDL cholesterol is avocado oil. Compared to olive oil, avocado oil has a slightly higher smoke point, which means it can withstand greater temperatures without deteriorating and producing free radicals. After utilising this oil, the body would have more energy, which would have positive effects on its health as well. There is little possibility that diseases may develop as a result of poor digestion.
4. Remedy for burnt skin
Normal ageing first manifests itself in the skin. Avocado oil's antioxidants may be able to lessen the effects of a sunburn. The vital fatty acids, protein, lecithin, vitamin E, beta carotene, and vitamin D in the oil can promote skin comfort and healing. Consuming avocados may aid in UV radiation protection for the skin.
5. Reduces hunger and aids in weight reduction
Avocado oil is incredibly satiating and can help you feel fuller for longer because it is packed with vitamins, lipids, and protein. This is excellent for minimising those annoying cravings that cause you to grab for a bag of chips or another quick source of inferior energy. The necessary vitamins, antioxidants, and most importantly, good fats, may promote better health and digestion.
Selena Gomez excitedly displays Taylor Swift's Eras Tour merchandise while cheering on her BFF in LA and exclaims, "Another one!"
The power of friendship and mutual support in the entertainment industry is a heartwarming sight to behold. Recently, Selena Gomez showcased her unwavering support for her best friend, Taylor Swift, by excitedly displaying merchandise from Swift's ongoing Eras Tour while cheering her on in Los Angeles. The heartening display of camaraderie between these two pop icons highlights the beauty of genuine friendships and the infectious excitement that accompanies a friend's success. In this blog post, we explore the significance of Selena Gomez's enthusiastic endorsement of Taylor Swift's tour merchandise and the enduring bond they share.
Celebrating Friendship and Success
Selena Gomez and Taylor Swift's friendship has been a constant source of admiration and inspiration for fans around the world. Their public displays of support for each other's achievements emphasize the importance of uplifting one another, even in the competitive entertainment industry. Gomez's enthusiastic endorsement of Swift's Eras Tour merchandise while cheering her on at a Los Angeles event beautifully encapsulates the spirit of celebrating each other's successes with genuine joy.
The "Another One!" Moment
Gomez's exclamation of "Another one!" as she proudly displayed the Eras Tour merchandise speaks volumes about her excitement and pride in Swift's accomplishments. This endearing moment not only showcases their strong friendship but also emphasizes the joy that comes with witnessing a friend's continuous journey of growth, creativity, and achievement.
The Influence of Celebrity Friendships
Celebrity friendships, like that of Gomez and Swift, hold a unique place in pop culture. They offer fans a glimpse into the personal lives of their favorite stars, making them more relatable and human. Such friendships also challenge the notion of rivalry in the entertainment industry, proving that true friendships can coexist even in a competitive environment.
Supporting Each Other's Creative Ventures
When one celebrity supports another's creative ventures, it sends a powerful message about unity and mutual admiration. Gomez's display of the Eras Tour merchandise not only promotes Swift's work but also encourages fans to engage with and celebrate their favorite artists' achievements. This kind of endorsement resonates deeply with fans, contributing to the overall success of an artist's projects.
Selena Gomez's enthusiastic display of Taylor Swift's Eras Tour merchandise while cheering her on in Los Angeles is a heartening testament to the enduring power of friendship and support in the entertainment industry. This authentic gesture reflects the genuine camaraderie these pop icons share and sends a message of positivity and unity to their fans. As Gomez and Swift continue to inspire each other and celebrate their individual journeys, their friendship remains a shining example of how genuine connections can flourish amidst the glitz and glamour of the celebrity world.
Group Media Publications
Entertainment News Platforms – anyflix.in      
Construction Infrastructure and Mining News Platform – https://cimreviews.com/
General News Platform – https://ihtlive.com/
Podcast Platforms – https://anyfm.in