7 best men's travel T-shirts for style, comfort, and adventure in men's fashion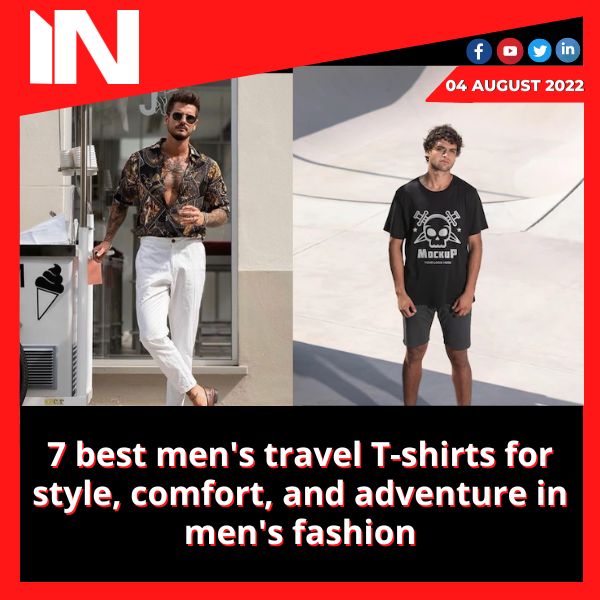 Traveling not only allows you to escape the monotonous daily routine, but it also allows you to unwind, relax, and rejuvenate. Whether you're taking a stroll on the beach, hiking up a mountain, or exploring a new city, maintaining good appearance and comfort is essential for a pleasant trip. The clothing should not only make you look good in pictures, but it should also be durable enough to withstand difficult travel, various weather conditions, and resistance to odours and dirt, etc.
T-shirts are consistently regarded as the best travel clothing because they perfectly satisfy all of these criteria. They not only fit easily in your travel bags, but they also have a fashionable appearance, are cosy and lightweight, are enduring and simple to carry. Anand Singh, the fashion designer manager at DaMENSCH, recommended the following 7 types of T-shirts for men's hassle-free travel in an interview with HT Lifestyle:
1. Basic Raw Edge Tees – This product offers a raw look for the edgy people and is stronger, premium, and clean. It has a slub, texture, lycra, and a vibrant selection of colours. They completely stand out in the market thanks to their high quality, never-fade colours made with high IQ dyes, comfort, and better fit. The lycra makes it easy.
2. Popcorn Casual Tees – If you're sick of the usual solid T-shirts that are readily available, these tees are great. They fit comfortably not only for outdoor travel but also for evening parties or opulent lounges thanks to their premium design and structured neck. The herringbone neck completes the product's premium appearance, and the popcorn texture gives it a really fashionable appearance.
3. Round merino wool t-shirts This tee, which is made of a blend of merino wool and nylon, is very comfortable and an all-arounder for different occasions or conditions. It is very good at controlling your body temperature and has anti-microbial qualities to keep your skin free from infections. These are highly durable, lightweight, comfortable, and soft to the touch.
Quick-Dry T-Shirts – Traveling causes a lot of perspiration, so you should pick quick-dry tees that are sweat-wicking and long-lasting to ensure that you are not constantly perspiring. These are also a great option because they are so comfortable, soft, and wearable. They are appropriate for sports and hiking and are made of materials like cotton and polyester. Therefore, if you enjoy exploring new places, a quick-dry tee should be in your luggage.
5. Easily Packable Tees – Carrying extra weight can always be a hassle for hassle-free travel. Choose tees that are wrinkle-free, travel-friendly, and fit easily inside your bags to lessen the burden of carrying additional luggage. There are numerous t-shirts that can be easily folded and are lightweight and easily withstand dirt, heat and sweat. They are odour-resistant, dry easily, fit well and most importantly, easy on your pockets as well.
6. The Henley – The Henley, whether it has long or short sleeves, enhances your fashion statement and fits perfectly to look great in travel photos. These are a great option for standing out because they depart from the conventional looks. Today, a variety of options are offered with various materials, such as merino wool, which is odor-resistant, light, soft, and comfortable. While travelling, having a Henley T-shirt in your bag can help you look adaptable.
7. The Polos – The traditional polos with collars are timeless. These t-shirts are fashionable, practical for travel, and simple to wear. They are made of various materials such as nylon, wool, etc. They can keep you at ease and prepared for a variety of situations. They dry quickly, wick away sweat, fit better, and are stylish. Having a polo on hand can make your trip memorable and help you look good in restaurants, at nightclubs, and at the airport.
T-shirts are a fantastic option for travelling, and choosing the one that fits your needs and style the best can work wonders. To make the most of your travel experience, be sure to choose the right one.
Group Media Publications
Entertainment News Platforms – anyflix.in
Construction Infrastructure and Mining News Platform – https://cimreviews.com/
General News Platform – https://ihtlive.com/
Legal and Laws News Platforms – https://legalmatters.in/
Podcast Platforms – https://anyfm.in/
The 24-Carat Gold Printed Saree Worn by Kriti Sanon at the Adipurush Trailer Debut
Title: The 24-Carat Gold Printed Saree Worn by Kriti Sanon at the Adipurush Trailer Debut: A Majestic Blend of Tradition and Glamour
Introduction
Bollywood actress Kriti Sanon has always been known for her impeccable fashion choices, and she recently stole the limelight yet again with her stunning appearance at the trailer debut of the highly anticipated film "Adipurush." Kriti donned a mesmerizing 24-carat gold printed saree that left everyone in awe. In this blog post, we delve into the details of this exquisite ensemble, exploring the fusion of tradition and glamour showcased by the talented actress.
The Glamorous Gold Saree
Kriti Sanon's appearance at the Adipurush trailer debut event was nothing short of breathtaking. The talented actress chose to embrace the elegance of a traditional Indian saree while adding a touch of opulence with a modern twist. Her choice of a 24-carat gold printed saree instantly turned heads and became the talk of the town.
A Celebration of Tradition
Sarees have always been an integral part of Indian culture, representing grace, beauty, and tradition. Kriti's choice to wear a saree for this high-profile event paid homage to the country's rich heritage and showcased the enduring charm of this iconic garment. The gold-printed design further accentuated the regal aura, making her stand out as a true fashion icon.
The Fusion of Modernity and Tradition
What made Kriti Sanon's attire truly unique was the amalgamation of traditional elements with contemporary sensibilities. While the saree adhered to the traditional drape and silhouette, the 24-carat gold print added a modern touch of luxury. This fusion of styles demonstrated the versatility and adaptability of Indian fashion, seamlessly blending the past and the present.
Craftsmanship and Detailing
The craftsmanship and detailing of Kriti's gold printed saree were nothing short of remarkable. The intricate gold motifs meticulously embellished on the fabric added a touch of grandeur and finesse. The meticulous artistry involved in creating such an exquisite piece is a testament to the skilled artisans who keep traditional Indian textile techniques alive.
Accessorizing with Elegance
To complement the resplendent saree, Kriti Sanon chose minimal yet impactful accessories. She adorned herself with statement gold earrings, subtly enhancing the overall regal look. The minimalistic approach to jewelry allowed the saree to take center stage, proving that sometimes less is more when it comes to achieving a truly iconic fashion statement.
Inspiration for Fashion Enthusiasts
Kriti Sanon's choice to wear a 24-carat gold printed saree at the Adipurush trailer debut serves as an inspiration for fashion enthusiasts worldwide. It beautifully showcases how one can embrace tradition while adding a modern touch, creating a style that is both timeless and contemporary. The ensemble stands as a testament to the enduring charm of Indian fashion and its ability to captivate the global audience.
Conclusion
Kriti Sanon's appearance in the 24-carat gold printed saree at the Adipurush trailer debut was a magnificent display of elegance, tradition, and glamour. The fusion of modernity and tradition, combined with the intricate craftsmanship, made the ensemble truly exceptional. The actress's choice serves as an inspiration for fashion enthusiasts to explore the beauty of Indian textiles and embrace the rich heritage while adding their unique flair. Kriti's memorable look will undoubtedly be etched in the minds of fashion connoisseurs for years to come.
Group Media Publications
Entertainment News Platforms – anyflix.in      
Construction Infrastructure and Mining News Platform – https://cimreviews.com/
General News Platform – https://ihtlive.com/
Podcast Platforms – https://anyfm.in