Here are some hair care hints for the sexiest hairstyle on TikTok, 3D curls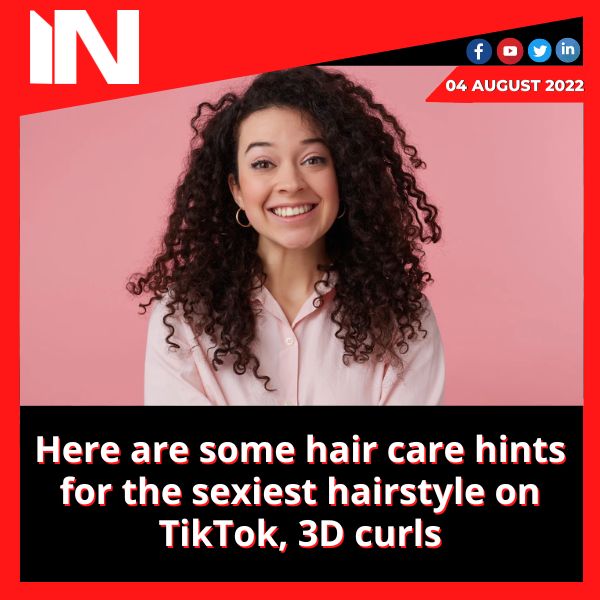 It's official: 3D curls will rule in 2022. To highlight the multifaceted beauty of curly hair, embrace your locks while enhancing the lovely, springy texture you were born with. Three-dimensional curls, one of the hottest hair trends for 2022, can also be obtained by using hair care methods that strengthen and define curls, eliminate frizz, and add dimension.
The sexiest hairstyles on TikTok for 2022 are understated sophistication, according to Nishanth and Kabir, Senior Stylists at Looks Salon, in an interview with HT Lifestyle. Initially popular were bottleneck bangs, but now 3D curls are becoming more popular. Natural hair texture is taking centre stage with this amazing style. 3D curls are used to highlight the multidimensional shape.
"It seems like the curlier the hair, the better," they continued. The aim of 3D curls is to give each individual curl dimension by displaying its curvature, but to get that highly desired 3D curl pop, more than just good genes are required. To find out what works best for you, though, may require some trial and error because everyone is different.

Co-Founders of Manetain Hinshara Habeeb and Yuba Khan offered the following advice when discussing how to achieve 3D curls:

1. Start by hydrating with a leave-in conditioning cream or spray. Locking in moisture now will help you achieve that defined, soft look when your hair is dry. Apply it in sections using a brush or a fine-tooth comb, and then proceed.
2. After just washing your hair, use your preferred strong hold styling product. Apply liberally to sections of your hair with curls. The most important step in creating a hard cast is letting the gel dry. Avoid touching the curls as they are drying. This keeps the ideal form intact.
3. After the curl cast has dried, it's time to take it off. While gently massaging the curls to give them that touchable bounce, scrunch as you go to maintain the shape. Avoid finger combing the curls because you want to preserve their multidimensional definition. Massage keeps the bounce of the curls while reducing the crunch of a strong hold gel.
4. Finish with a shine spray – After detangling your curls, spray some shine to highlight the glossy 3D coils.
Group Media Publications
Entertainment News Platforms – anyflix.in
Construction Infrastructure and Mining News Platform – https://cimreviews.com/
General News Platform – https://ihtlive.com/
Legal and Laws News Platforms – https://legalmatters.in/
Podcast Platforms – https://anyfm.in/
The 24-Carat Gold Printed Saree Worn by Kriti Sanon at the Adipurush Trailer Debut
Title: The 24-Carat Gold Printed Saree Worn by Kriti Sanon at the Adipurush Trailer Debut: A Majestic Blend of Tradition and Glamour
Introduction
Bollywood actress Kriti Sanon has always been known for her impeccable fashion choices, and she recently stole the limelight yet again with her stunning appearance at the trailer debut of the highly anticipated film "Adipurush." Kriti donned a mesmerizing 24-carat gold printed saree that left everyone in awe. In this blog post, we delve into the details of this exquisite ensemble, exploring the fusion of tradition and glamour showcased by the talented actress.
The Glamorous Gold Saree
Kriti Sanon's appearance at the Adipurush trailer debut event was nothing short of breathtaking. The talented actress chose to embrace the elegance of a traditional Indian saree while adding a touch of opulence with a modern twist. Her choice of a 24-carat gold printed saree instantly turned heads and became the talk of the town.
A Celebration of Tradition
Sarees have always been an integral part of Indian culture, representing grace, beauty, and tradition. Kriti's choice to wear a saree for this high-profile event paid homage to the country's rich heritage and showcased the enduring charm of this iconic garment. The gold-printed design further accentuated the regal aura, making her stand out as a true fashion icon.
The Fusion of Modernity and Tradition
What made Kriti Sanon's attire truly unique was the amalgamation of traditional elements with contemporary sensibilities. While the saree adhered to the traditional drape and silhouette, the 24-carat gold print added a modern touch of luxury. This fusion of styles demonstrated the versatility and adaptability of Indian fashion, seamlessly blending the past and the present.
Craftsmanship and Detailing
The craftsmanship and detailing of Kriti's gold printed saree were nothing short of remarkable. The intricate gold motifs meticulously embellished on the fabric added a touch of grandeur and finesse. The meticulous artistry involved in creating such an exquisite piece is a testament to the skilled artisans who keep traditional Indian textile techniques alive.
Accessorizing with Elegance
To complement the resplendent saree, Kriti Sanon chose minimal yet impactful accessories. She adorned herself with statement gold earrings, subtly enhancing the overall regal look. The minimalistic approach to jewelry allowed the saree to take center stage, proving that sometimes less is more when it comes to achieving a truly iconic fashion statement.
Inspiration for Fashion Enthusiasts
Kriti Sanon's choice to wear a 24-carat gold printed saree at the Adipurush trailer debut serves as an inspiration for fashion enthusiasts worldwide. It beautifully showcases how one can embrace tradition while adding a modern touch, creating a style that is both timeless and contemporary. The ensemble stands as a testament to the enduring charm of Indian fashion and its ability to captivate the global audience.
Conclusion
Kriti Sanon's appearance in the 24-carat gold printed saree at the Adipurush trailer debut was a magnificent display of elegance, tradition, and glamour. The fusion of modernity and tradition, combined with the intricate craftsmanship, made the ensemble truly exceptional. The actress's choice serves as an inspiration for fashion enthusiasts to explore the beauty of Indian textiles and embrace the rich heritage while adding their unique flair. Kriti's memorable look will undoubtedly be etched in the minds of fashion connoisseurs for years to come.
Group Media Publications
Entertainment News Platforms – anyflix.in      
Construction Infrastructure and Mining News Platform – https://cimreviews.com/
General News Platform – https://ihtlive.com/
Podcast Platforms – https://anyfm.in