A great Type-C Hub for people on a budget for less than 1,000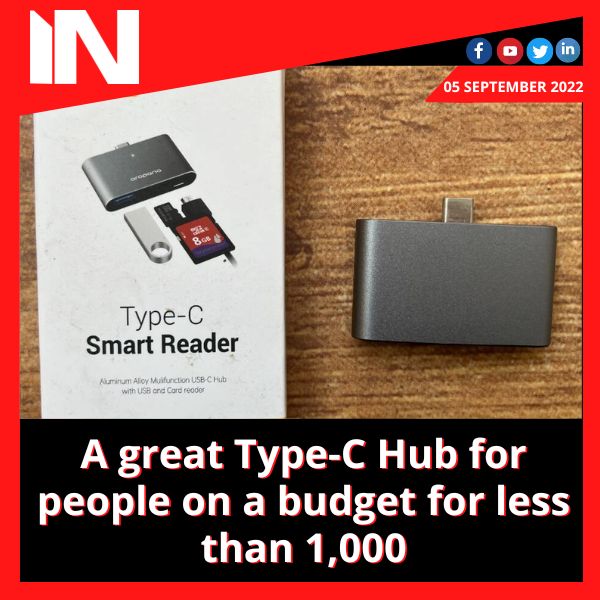 While most mid-segment phones may soon lack memory card slots and most notebooks will only have USB Type-C connections, this does not mean that memory cards and peripherals that connect to normal USB type A ports will become obsolete. In actuality, they are still widely utilised.
Even rudimentary devices like wired keyboards and mice typically have standard USB ports, most flash drives still have standard USB rather than Type C connectivity, and memory cards are still very much alive and well despite the fact that some smartphones, tablets, and laptops may be getting slots to support them.
Because of this, the majority of us who use mid- to high-end notebooks and smartphones frequently find ourselves carrying adaptors and port hubs in order to connect various devices, such as keyboards, memory cards, and cameras, to them. Additionally, carrying these adaptors can be cumbersome and expensive. Some even have wires attached to them, which makes them more fragile and difficult to transport.
Because of this, we are really pleased with the Aropana Type-C Smart Reader. No, we haven't heard much about the company, but we've heard good things about its goods.
We put the adaptor into a MacBook Air and it appeared at home there because of its aluminium appearance, which gives it a very sturdy and expensive feel. In comparison to other of the inexpensive plastic choices we have seen in this price bracket, it feels significantly better to use. It also has no cables, unlike the majority of inexpensive solutions; instead, it is a single block that can be inserted into a device. This is quite convenient as it eliminates the concern of the adaptor dangling from a device. It also makes carrying it very simple because it is compact and lightweight enough to fit in a pocket.
With Mac OS, Windows, and Android devices, as well as an iPad Air and Chromebook with a Type C port, the Aropana Type-C Smart Reader performs admirably. You can connect your device to any other device that has a conventional USB port and a micro USB port using this discrete connection method. Additionally, the converter has slots for microSD and SD cards.
It is therefore an extremely practical tool for anyone utilising a laptop, smartphone, or tablet that primarily has a USB type C port. This handy little gadget lets you connect a flash drive, a portable hard drive, and a keyboard to them. It goes without saying that the ability to simply take out a SD card from their cameras and transfer images to their notebooks or phones, without having to bother about fussy (and often erratic and interrupted) wireless transfers.
Data transfer speeds are decent and we have experienced no issues with dropping connections. Please keep in mind that cases prohibit the adaptor from fitting neatly into the ports of your phones and tablets, so take them off before using this gadget with them.
The Aropana Type-C Smart Reader isn't great, in our opinion. The tiny USB port was completely useless to us; perhaps a Type C port would have been preferable in its place. Additionally, despite the adaptor being connected directly to a USB Type C port on another device without a wire thanks to its block-like design and lack of a wire, its shape results in it obstructing other ports close to it.
The Aropana Type-C Smart Reader is still a great deal for anyone looking for a well-designed, dependable adaptor to connect their USB Type C port from their smartphone, tablet, or laptop to the Type A port of another device or simply to transfer data from flash drives or memory cards at a price of less than Rs 800. Simply confirm that OTG connectivity is supported by your phone or tablet (most do!).

Group Media Publications
Entertainment News Platforms – anyflix.in
Construction Infrastructure and Mining News Platform – https://cimreviews.com/
General News Platform – https://ihtlive.com/
Legal and Laws News Platforms – https://legalmatters.in/
Podcast Platforms – https://anyfm.in/
Google I/O 2023 will introduce the Google Pixel 7a tomorrow. ways to view it live
Google I/O is an annual developer conference held by Google, where the company showcases its latest products, software updates, and innovations. The conference is a highly anticipated event for technology enthusiasts and fans of Google products. This year, Google I/O 2023 is expected to introduce the Google Pixel 7a, the latest addition to the Google Pixel smartphone lineup.
If you are excited to see the unveiling of the Google Pixel 7a and want to watch it live, there are several ways to do so. Here are some of the ways you can view the announcement:
Watch the Livestream on YouTube
Google I/O will be livestreamed on YouTube, so you can watch the entire event from the comfort of your own home. The livestream will be available on the Google Developers YouTube channel, and you can watch it on your computer, smartphone, or tablet.
Follow the Event on Twitter
Google I/O will also be covered on Twitter, so you can follow the official Google I/O Twitter account to get live updates and news about the event. You can also follow tech journalists and bloggers who will be attending the conference to get a more detailed view of the announcements.
Check Out Tech News Websites
Many tech news websites, such as The Verge, TechCrunch, and Engadget, will be covering the Google I/O event and the unveiling of the Google Pixel 7a. You can visit these websites to get the latest news and analysis about the product, as well as other announcements made during the event.
In conclusion, the Google I/O 2023 conference is an exciting event for tech enthusiasts, and the unveiling of the Google Pixel 7a is expected to be a highlight of the conference. By watching the livestream on YouTube, following the event on Twitter, or checking out tech news websites, you can stay up-to-date on the latest developments and announcements. Whatever method you choose, it's sure to be an exciting and informative event for anyone interested in technology and the Google Pixel lineup.
Group Media Publications
Entertainment News Platforms – anyflix.in      
Construction Infrastructure and Mining News Platform – https://cimreviews.com/
General News Platform – https://ihtlive.com/
Podcast Platforms – https://anyfm.in