Akshara and Goenkas prepare for the Savan Milni festival in Yeh Rishta Kya Kehlata Hai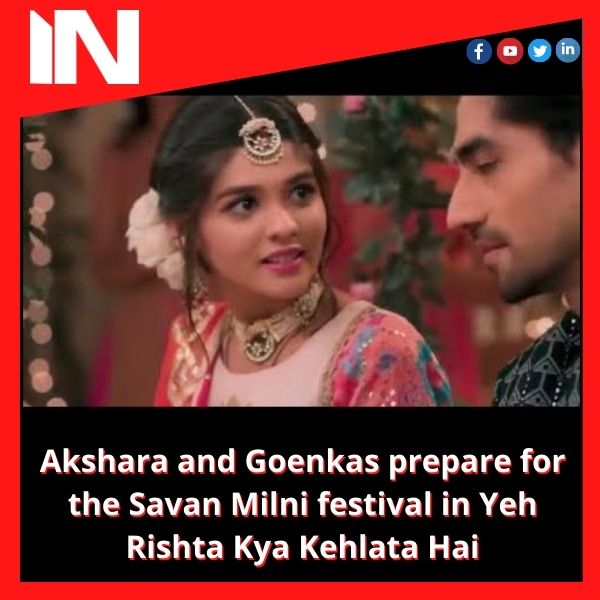 While the Goenkas prepare for the Savan Milni festival, Akshara and Abhimanyu are concerned about seeming normal in front of their relatives. As Akshara and Abhimanyu's feud continues in the new episode of Yeh Rishta Kya Kehlata Hai, we will see more tension in the Birla family. To learn more, keep reading this article.
The Goenka family was shown preparing for the Savan Milni festival in the previous episode. The family is overjoyed to be able to invite Abhimanyu and his family to the celebration, but Akshara is concerned. She understands that, even if they ask him, Abhimanyu may or may not show up after the massive battle. Suhasini and Akshara, on the other hand, meet Abhimanyu at the market by chance as they go shopping. Suhasini extends an invitation to Abhimanyu to attend the event. He tries unsuccessfully to refute it. Soon after, he discovers that even Akshara tried to avoid asking him to the party. This infuriates him, and he decides not to go.
It appears like the web of misconceptions between them is tightening and that nothing will be resolved very soon. Manjari receives the invitation from Suvarna at home and accepts it right away. Shefali and Parth also decide to join her. Despite the fact that the Birla family accepted the offer, Akshara is still concerned about Abhimanyu's participation. Aarohi observes her anxiety and inquires whether everything is okay. She tries to persuade her that their relationship is fine, but Aarohi refuses. Continue reading to find out if Abhimanyu will attend the event for Akshara or if Aarohi's fears are realised.
Abhimanyu has become estranged from Manjari since she refused the divorce. Harsh continues to hold her responsible for his dismissal from the hospital. Manjari is alone at this crossroads, and even Akshra has left the house. Manjari is attempting to keep the family together, but the family is disintegrating. This event has been a boon to her because it has given her the opportunity to reunite Abhimanyu and Akshara.
She travels to the hospital to prepare Abhimanyu for the event, but he refuses to go. Manjari tried to persuade him, but all she received was rage and disappointment in return. Abhimanyu is still furious with her for not divorcing Harsh and lying to him about Neil. Is he ever going to forgive her? It may appear difficult at the moment, but how can Abhimanyu remain enraged at his mother for long? He will return to both Manjari and Akshara in the near future, but there will be a lot more drama in the meanwhile, and we will keep you updated.
Abhimanyu's absence from the function in the forthcoming episode will strengthen everyone's worries regarding his relationship with Akshara. Akshara will be concerned about their marriage's future, but Abhimanyu will astound everyone with his stunning entrance. To learn more, keep reading HT highlights.
anyflix.in      Group Media Publications
Construction Infrastructure and Mining News Platform – https://cimreviews.com/
General News Platform – https://ihtlive.com/
Legal and Laws News Platforms – https://legalmatters.in/
Podcast Platforms – https://anyfm.in/
At an event, Rupali Ganguly touches an experienced journalist's foot, to which the audience responds, "Success has not changed her."
Actress Rupali Ganguly is gaining popularity online after a video of her from an event went viral. The Anupamaa actress appeared to present veteran journalist Chaitanya Padukone with an award at the Expandable Awards. She touched his feet after presenting him with the prize and introduced her on-screen persona to the audience.
Rupali wore a purple sari with shine to the occasion. She knelt down in the video and brushed the journalist's feet, asking for his blessing. Chaitanya appeared overwhelmed in reaction. An account belonging to a paparazzi has uploaded the video.
"Rupali is extremely down to earth," a user commented in response to it in the comment area. Success hasn't altered her because she was raised by the fantastic director and all-around positive person Anil Ganguly, whose home she grew up in. I grew up watching all of his movies, so that is undoubtedly where it all begins. Another person said, "Ise bolte hain Asli Sanskaar (this is referred to as authentic culture)"
"That's why Rupali mam is so successful and widely known, down to earth and never leave her root," another person added. Rupali was referred to as "grace" by filmmaker Ram Kamal Mukherjee in the comments section.
Rupali began her acting career as a child performer and later achieved recognition as the lead in the television series Sarabhai vs. Sarabhai, in which Ratna Pathak Shah co-starred as Monisha Sarabhai. She later became a celebrity of television programmes like Baa Bahoo Aur Baby and Parvarrish – Kuchh Khattee Kuchh Meethi.
Currently, Rupali is portraying the Gujarati homemaker Anupamaa in the lead character of the television series Anupamaa. It is one of the most watched serials on Star Plus. Rupali recently shared her thoughts on the show in response to complaints from viewers regarding the length of her monologues.
She said, "Fans ki baatein sar aankhon par (I will always put my fans' needs first)" to Pinkvilla. My creators are quite aware of the message they want to get across with Anupamaa. Regardless of what he (producer Rajan Shahi) has envisioned for Anupamaa to do, I shall strive to express it with all of my passion. I'll give it my all and do it to the best of my skills.
Group Media Publications
Entertainment News Platforms – anyflix.in
Construction Infrastructure and Mining News Platform – https://cimreviews.com/
General News Platform – https://ihtlive.com/
Podcast Platforms – https://anyfm.in