Ankita Lokhande Jain and Vicky Jain have set goals for Gudi Padwa.
Lokhande enjoys the Maharashtrian New Year, which involves rituals such as gudi's pooja and haldi and kumkum.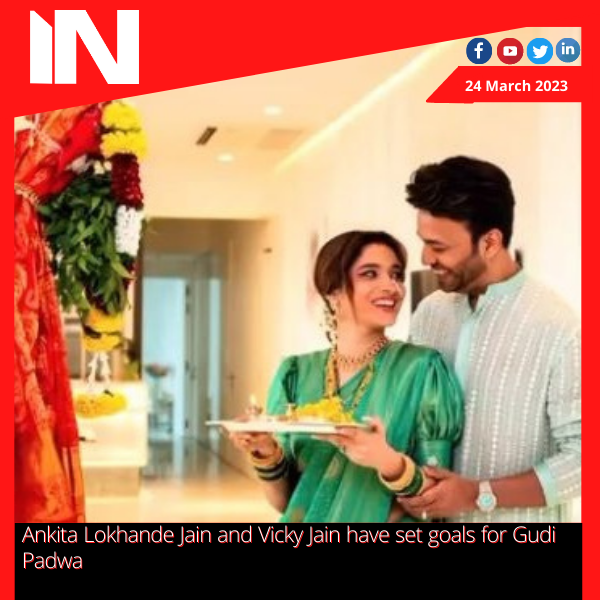 Ankita Lokhande and Vikas Jain celebrate their first Gudi Padwa in a swanky Mumbai house, with Ankita dancing and singing to Marathi songs. Lokhande has been celebrating Gudi Padwa since she was a child, and after her marriage with Ankita, they celebrated it in their new Andheri house.
Lokhande enjoys the Maharashtrian New Year, which involves rituals such as gudi's pooja and haldi and kumkum.
Lokhande is fascinated by the Maharashtrian New Year, as it brings together the entire family and involves rituals such as gudi's pooja and haldi and kumkum.
Lokhande enjoys the Maharashtrian New Year, which involves rituals such as gudi's pooja and haldi and kumkum. We are working on our own selves and setting fitness goals to meet them. Life after marriage is smooth and nice, and we are enjoying it with our family and friends.
The two are making an effort to understand each other's cultures and celebrate each festival together. Vicky and Ankita discuss the importance of food and sweets in an Indian festical conversation. Aam ras bana hai Gudi Padwa ka special, aagya ka paalan karungi.
Group Media Publications
Entertainment News Platforms – anyflix.in
Construction Infrastructure and Mining News Platform – https://cimreviews.com/
General News Platform – https://ihtlive.com/
Podcast Platforms – https://anyfm.in
Jungkook's song Seven has become the fastest to surpass 900 million streams on Spotify.
Jungkook's "Seven": A Record-Breaking Phenomenon on Spotify
In the world of music streaming, there are certain milestones that artists dream of achieving, and breaking records is often one of them. Recently, Jungkook, a member of the globally renowned K-pop group BTS, achieved a remarkable feat when his solo track, "Seven," became the fastest song to surpass 900 million streams on Spotify.
BTS, known for their chart-topping hits and dedicated fanbase, has been at the forefront of the K-pop revolution, captivating audiences worldwide. While the group's collective success is widely recognized, Jungkook's individual accomplishments have been equally awe-inspiring. His solo track "Seven" is a testament to his talent and the unwavering support of the ARMY, BTS's dedicated fanbase.
"Seven," a soulful and heartfelt song, showcases Jungkook's versatility as an artist. The track's captivating melody and poignant lyrics have resonated with fans on a profound level, making it a favorite in his discography. Its soaring popularity and streaming records are a reflection of the emotional connection that Jungkook shares with his listeners.
Spotify, one of the world's leading music streaming platforms, has become a barometer for an artist's global reach and impact. The fact that "Seven" achieved this milestone on the platform in record time speaks volumes about Jungkook's popularity and the loyalty of the ARMY.
It's important to acknowledge the influence and significance of this accomplishment. Surpassing 900 million streams is not just about the number; it's a testament to the emotional resonance that "Seven" has with listeners around the world. It's a song that has offered solace and inspiration to fans during challenging times, underlining the profound impact of music.
Jungkook's rise as a solo artist within the BTS universe is a testament to the group's commitment to individual growth and artistic exploration. "Seven" serves as a shining example of how each member of the group has something unique to offer, and Jungkook's success reaffirms the power of their collective and individual talents.
The ARMY, known for their unwavering support, played a crucial role in this achievement. Their dedication and passion for BTS and its members have consistently propelled the group and its individual members to new heights. This milestone stands as a testament to their love and commitment.
As "Seven" continues to make waves on Spotify and Jungkook's star continues to rise, it's clear that K-pop and BTS have transcended borders, languages, and cultures. They have redefined the global music landscape, and this record-breaking achievement only further solidifies their status as trailblazers in the industry.
In the world of music streaming, Jungkook's "Seven" has made history, and in the hearts of fans, it has created lasting memories. It's a reminder of the power of music to unite, inspire, and break records, and it paves the way for a future where K-pop continues to shine on the global stage. Congratulations to Jungkook and the ARMY for this remarkable achievement!
Group Media Publications
Entertainment News Platforms – anyflix.in      
Construction Infrastructure and Mining News Platform – https://cimreviews.com/
General News Platform – https://ihtlive.com/
Podcast Platforms – https://anyfm.in