At the airport, AR Rahman runs into Ilaiyaraaja and declares, "TN is always the destination"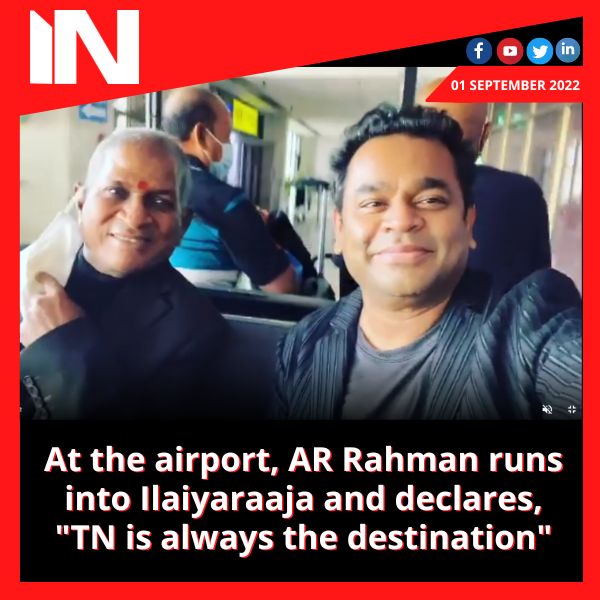 At the airport, Ilaiyaraaja and I are both returning from separate countries, but our final destination is always Tamil Nadu, says AR Rahman.
The renowned composer Ilaiyaraaja and composer AR Rahman shared a selfie video on Instagram on Thursday when they crossed paths at Chennai International Airport. Both of them were returning from different countries, but Tamil Nadu was their final destination, according to AR Rahman's caption.
We are returning from many continents, but our final destination is always Tamil Nadu (sic)," AR Rahman said as the video's caption. Ilaiyaraaja was arriving from Budapest as AR Rahman was departing from the US, he said. At the Chennai airport, both ran into one another.
Fans expressed their delight at seeing them interact in the comments area. Many of them used heart emojis in their replies. The image was dubbed legendary and epic by some. Enough happiness for the day (sic), read one comment. The best post to start our day with, according to singer Nivas.
Ponniyin Selvan, the upcoming film from Mani Ratnam, is something AR Rahman is eagerly anticipating. This is his fifteenth endeavour with the seasoned veteran.
At the CII Dakshin 2022 – South India Media & Entertainment Summit, which was put on by the CII, Southern Region, AR Rahman recently made a comment regarding the representation of South Indian actors in films. AR Rahman gave a powerful speech about celebrating differences and bringing people together via art.
He cited an incident during his seven-year vacation to Malaysia, saying, "I met a Chinese guy there. He was a gentleman. He was expressing his preference for India and the fairer people of North India. Their films are far more endearing.
The statement, according to AR Rahman, severely distressed him. "I was baffled as to how he arrived at the opinion that North India is superior. I questioned whether he had ever seen southern-produced movies. I felt quite uneasy. Casting people with colour, in my humble view, is what we need to do. Make them more effective. Give them personas that will elevate them. South Indians should prioritise this since we value our culture.
Group Media Publications
Entertainment News Platforms – anyflix.in
Construction Infrastructure and Mining News Platform – https://cimreviews.com/
General News Platform – https://ihtlive.com/
Legal and Laws News Platforms – https://legalmatters.in/
Podcast Platforms – https://anyfm.in/
Singer Papon was recently admitted to a hospital in Mumbai, where he claims his kid served as his "night attendant."
Title: Papon's Heartfelt Gesture: His Kid as a Night Attendant during Hospitalization
Introduction: Renowned singer Papon, known for his melodious voice and soulful performances, recently made headlines when he was admitted to a hospital in Mumbai. However, what caught the attention of many was his heartfelt revelation that his own child served as his "night attendant" during his stay. In this blog post, we explore the touching story behind Papon's admission and the significance of his child's involvement in his recovery process.
Papon's Hospitalization: The news of Papon's hospitalization took the music industry and his fans by surprise. The singer, facing health challenges, required medical attention and care. His decision to seek treatment underscores the importance of prioritizing one's well-being, even for those in the public eye.
A Special Role for His Child: During his stay at the hospital, Papon revealed that his own child took on the role of his "night attendant." This heartfelt gesture showcases the bond between a parent and a child, where love and support transcend societal norms and roles. It highlights the extraordinary nature of this relationship and the willingness of family members to go above and beyond to provide care and comfort.
Emotional Support in Healing: Having a loved one, especially a child, by one's side during challenging times can offer significant emotional support. The presence of a caring family member can uplift spirits, reduce anxiety, and contribute to a positive healing environment. Papon's experience demonstrates the therapeutic value of familial connections and the importance of a strong support system during periods of vulnerability.
Redefining Traditional Roles: Papon's acknowledgment of his child's involvement challenges traditional gender roles and societal expectations. In a world where caregiving responsibilities are often assigned based on gender, his story stands as a powerful testament to the fluidity of these roles and the recognition of each individual's unique abilities to provide care and support.
The Power of Family: Papon's experience resonates with many individuals who understand the crucial role family plays in times of distress. The unconditional love and support of family members can significantly impact the healing process and contribute to a faster recovery. It serves as a reminder to cherish and nurture these bonds, appreciating the immense value they bring to our lives.
Conclusion: Papon's recent hospitalization brought forth a heartwarming story of his child serving as his "night attendant" during his stay. This tale of familial love and support emphasizes the powerful role family plays in times of adversity. It challenges traditional gender roles and exemplifies the unique bond between a parent and a child. Papon's experience serves as an inspiration for individuals to appreciate the significance of family and the profound impact their support can have on one's healing journey.
Group Media Publications
Entertainment News Platforms – anyflix.in
Construction Infrastructure and Mining News Platform – https://cimreviews.com/
General News Platform – https://ihtlive.com/
Podcast Platforms – https://anyfm.in