Before International Yoga Day, Malaika Arora posted a yoga video with core-strengthening postures that everyone may perform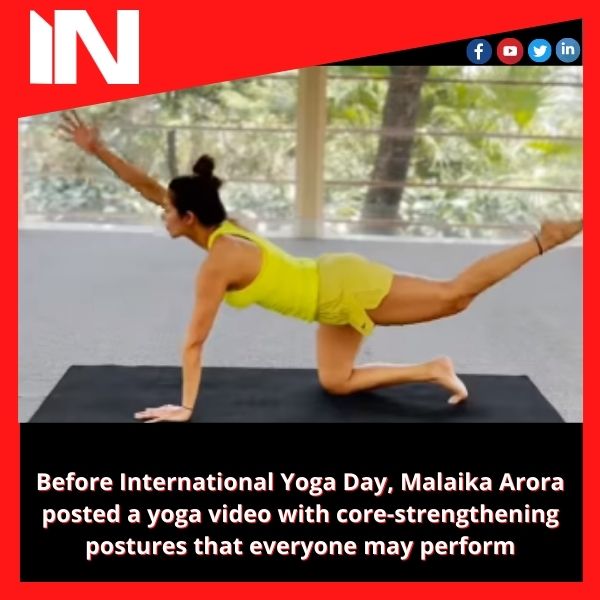 International Day of Yoga 2022: Actor Malaika Arora is a devoted yoga practitioner, as seen by her numerous online articles on the ancient technique. The exercise enthusiast, like many others, is looking forward to the annual International Yoga Day on June 21. Malaika took to Instagram today, a day before the event, to share a core-strengthening yoga flow routine with her fans. Anyone can do the yoga flow sequence that the star posted, and it has a lot of benefits.
Malaika Arora's official Sarva Yoga studio Instagram account shared a video of the star practising a vigorous yoga flow programme to strengthen her core. Malaika performed the Vyaghrasana, or Tiger Pose, and a Cat Pose version while clad in a lemon green tank top and shorts. "Yoga isn't rigid, which is why I enjoy practising these dynamic sequences. This month, especially in today's incentive, it's all about getting creative. #yoga #yogainspiration #yogadrills #yogaday #sarvayogastudios #malaikasmoveoftheweek, #yoga #yogainspiration #yogadrills #yogaday #sarvayogastudios #malaikasmoveoftheweek, "The video was captioned by Malaika.
Malaika opens the video by performing the Vyaghrasana, or Tiger Pose, followed by a one-legged variation of the Cat Pose. She began by assuming the Table Top position and then extended one leg and the opposing hand on opposite ends. Malaika then squeezed her outstretched hand and leg together right below her chest, joining the elbow and knee. In the video, she conducted the flow exercise for four counts.
Vyaghrasana, also known as the Tiger Pose, heals back pain, relieves sciatica by calming the sciatic nerves, loosens leg and hip joints, increases spine flexibility, develops the abdominal, back, buttocks, hips, and legs core muscles, and targets the spine. It's also a good exercise for new mothers right after they give birth.
Meanwhile, since 2015, the International Day of Yoga has been observed yearly on June 21. 'Yoga for mankind' is the theme for the International Day of Yoga in 2022.
anyflix.in      Group Media Publications
Construction Infrastructure and Mining News Platform – https://cimreviews.com/
General News Platform – https://ihtlive.com/
Legal and Laws News Platforms – https://legalmatters.in/
Podcast Platforms – https://anyfm.in/
Winter-related ear popping: causes, remedies, and strategies for prevention
If you live in a cold climate, you're probably no stranger to the sensation of your ears popping when you step outside. This is caused by the change in pressure between the warm air inside your body and the cold air outside. While this is usually a harmless phenomenon, it can be quite annoying. In this article, we'll explore the causes of winter-related ear popping, as well as some remedies and strategies for prevention.
One of the main causes of ear popping is a difference in air pressure. When you step outside into the cold air, the pressure outside is lower than the pressure inside your body. This difference in pressure can cause your ears to pop.
There are a few things you can do to ease the discomfort of ear popping. First, try yawning or swallowing. These activities can help equalize the pressure in your ears. You can also try chewing gum or sucking on candy. If you're flying, drink plenty of fluids and avoid chewing gum during takeoff and landing.
There are also some preventive measures you can take to avoid ear popping. If you know you'll be exposed to cold air, try to take a deep breath before you go outside. This will help equalize the pressure in your lungs and prevent your ears
Group Media Publications
Entertainment News Platforms – anyflix.in      
Construction Infrastructure and Mining News Platform – https://cimreviews.com/
General News Platform – https://ihtlive.com/
Legal and Laws News Platforms – https://legalmatters.in/
Podcast Platforms – https://anyfm.in