Destruction of the Noida twin towers: Heart and lung health advice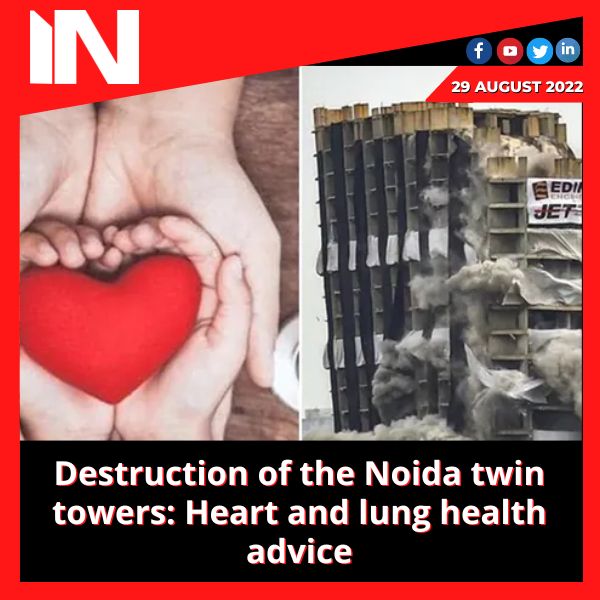 Due to the short footage of the explosion going viral online, the destruction of Noida's twin buildings is receiving a lot of media attention. The massive pile of trash and dust clouds will take some time to clear away, and as the particulate matter worsens the air pollution in the area, those with respiratory and cardiovascular conditions must keep an eye out for any health difficulties and take the necessary precautions to stay healthy. A study found that following a dust storm, the risk of heart attack rises by 1.5 times daily. Lung injury might also result from the silica in dust particles. Here are some professional recommendations for heart, lung, and kidney health.
"Tonnes of debris have been produced by the demolition of Noida's twin towers, which is predicted to cause a five-fold rise in air pollution. There are now more health risks due to the dust and smoke. Before its effect starts to fade, it could take a few weeks "the Marengo QRG Hospital in Faridabad's Director of Pulmonology, Dr. Gurmeet Singh Chabbra.
DUST POLLUTION: CAN IT LEAD TO HEART PROBLEMS
The most hazardous particles for our lungs and respiratory system are PM2.5 and ultrafine particles, according to Dr. Nishith Chandra, Principal Director, Interventional Cardiology, Fortis Escorts Heart Institute, Okhla Road, New Delhi. These particles may also cause inflammation in the inner lining of blood vessels.
"Particulate and gaseous contaminants can be separated. The category of particulates includes dust. They can be divided into three categories according on their particle sizes: PM10, which are those between 2.5 and 10 microns; PM2.5, which are those under 2.5 microns; and ultrafine particles, which are those smaller than 0.1 microns. The PM2.5 and ultrafine particles are the most hazardous of them. They go inside of us through the nose and respiratory system, where they settle in the lung alveoli and start to inflame and destroy our lungs. Due to their small size, these particles may also be absorbed into the bloodstream, where they may trigger irritation of the endothelium, the inner lining of blood vessels, leading to plaque rupture. Heart attacks, strokes, or kidney failure may result from this "Dr. Chandra adds.
Common household dust and construction dust fall into the PM10 category. Typically, dust particles range in size from 2 to 10 microns.
WHO HAS A HIGHER RISK OF A HEART ATTACK OR OTHER HEALTH CONDITIONS DUE TO EXCESS DUST?
Researchers discovered that a day following a dust storm, the risk of heart attack increases by 1.5 times, according to a study that was published in the European Heart Journal. Lung injury might also result from the silica in dust particles.
"Some persons are notably more prone to heart disease after dust exposure, such as people over 75, men, hypertension, diabetes, and/or chronic renal disease patients had 2.45 times the odds of having an immediate heart attack following a dust storm incident," adds Dr. Chandra.
"A worsening of symptoms or an attack may occur in patients with chronic lung diseases such COPD (chronic bronchitis and emphysema), bronchial asthma, and bronchiectasis. They are encouraged to closely follow their treatment plan and visit a professional if their cough, sputum production, tightness in their chest, wheeze, or shortness of breath increases "explains Chabbra.
Possibile health issues following demolition
Dr. Chabbra describes additional health problems that may develop as air pollution and dust levels grow.
– A high concentration of suspended particles, especially PM 2.5, causes the covid virus to linger in the air for a longer period of time, which promotes the virus's transmission. Potential SARS Cov 2 carriers include PM2.5.
– The destruction of buildings produces significant amounts of PM2.5 with high levels of heavy metals. Additionally, breathing in heavy metals has been linked to conditions like sarcoidosis.
– The severity and fatality of Covid 19 would worsen, and even PM10 levels in the air would rise.
– Worsening ENT issues such nasal congestion, obstruction, and discharge, sneezing, throat irritation, and post nasal drip are further health concerns. You can get headaches and a flare-up of skin allergies.
– Heart and diabetes patients should exercise caution and seek prompt medical attention if they experience chest pain..
– It is advised that everyone who lives near a tower that has been dismantled use a mask before leaving their homes. They might utilise vacuum cleaners and air purifiers with Hepa filters at home.
PREVENTION MEASURES FOR HEART ATTACK AND LUNG PROBLEMS IN SUSPICIOUS GROUP AFTER DEMOLITION
Dr. Chandra offers advice on how to shield people from heart and lung problems during construction:
The first step is to prevent exposure by staying indoors and keeping the windows shut.
– Don appropriate masks.
– Surgical masks, which are widely available, are ill-fitting, do not function as filters, and let particles of all sizes enter the respiratory tract. Since the N-95 masks filter 95% of particles with a diameter of less than 0.3 m, they should be able to capture the majority of the dust particles. These masks can be pricey, too, and the most must be thrown away after 8 hours of use.
Additionally promising as a health intervention for dust occurrences are air filters. It may be conceivable to employ a high efficiency particulate air (HEPA) filter in high-risk families, but doing so would be prohibitively expensive for many individuals. HEPA filters can remove 99.97% of particles as small as 0.3 microns. Cheaper, non-HEPA air purifiers might work well.
– To boost their heart health, the vulnerable populations should instil healthy lifestyle habits. For example, engaging in adequate exercise for at least 30 minutes each day, cutting out carbohydrates and fats from their diet, losing weight, quitting smoking, and maintaining careful control of blood sugar and cholesterol.

Group Media Publications
Entertainment News Platforms – anyflix.in
Construction Infrastructure and Mining News Platform – https://cimreviews.com/
General News Platform – https://ihtlive.com/
Legal and Laws News Platforms – https://legalmatters.in/
Podcast Platforms – https://anyfm.in/
Winter-related ear popping: causes, remedies, and strategies for prevention
If you live in a cold climate, you're probably no stranger to the sensation of your ears popping when you step outside. This is caused by the change in pressure between the warm air inside your body and the cold air outside. While this is usually a harmless phenomenon, it can be quite annoying. In this article, we'll explore the causes of winter-related ear popping, as well as some remedies and strategies for prevention.
One of the main causes of ear popping is a difference in air pressure. When you step outside into the cold air, the pressure outside is lower than the pressure inside your body. This difference in pressure can cause your ears to pop.
There are a few things you can do to ease the discomfort of ear popping. First, try yawning or swallowing. These activities can help equalize the pressure in your ears. You can also try chewing gum or sucking on candy. If you're flying, drink plenty of fluids and avoid chewing gum during takeoff and landing.
There are also some preventive measures you can take to avoid ear popping. If you know you'll be exposed to cold air, try to take a deep breath before you go outside. This will help equalize the pressure in your lungs and prevent your ears
Group Media Publications
Entertainment News Platforms – anyflix.in      
Construction Infrastructure and Mining News Platform – https://cimreviews.com/
General News Platform – https://ihtlive.com/
Legal and Laws News Platforms – https://legalmatters.in/
Podcast Platforms – https://anyfm.in