DEVIALET INTRODUCES DEVIALET DIONE, THE ALL-IN-ONE SOUNDBAR THAT BRINGS A TRULY CINEMATIC EXPERIENCE TO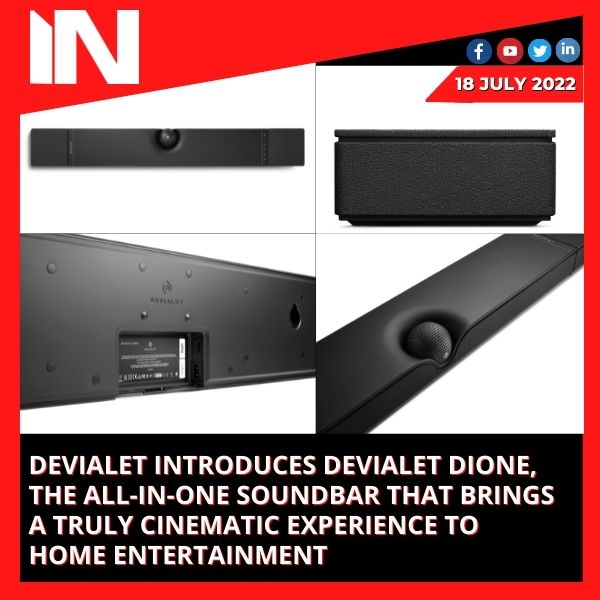 India, 15 July, 2022: Devialet today announces the arrival of its new product, Devialet Dione, the ultimate all-in-one soundbar, now available to order.
Strikingly immersive but surprisingly slim, Devialet Dione marks the next step towards the company's mission to elevate sound to its rightful place in people's lives. Once again shattering industry standards in audio engineering, Devialet Dione offers world-class sound quality with zero compromise, breathing new life into the way people watch and listen to their TV content, without the need for a separate subwoofer.
A fusion of Devialet's iconic qualities – superior audio engineering and cutting edge, purposeful design – Devialet Dione is powered by a suite of patented Devialet technologies that ensure exceptional sound experience for every home entertainment need.
Franck Lebouchard, Devialet's CEO, says:
"At Devialet, we thrive on creating extraordinary products that deliver unprecedented sound
experiences. We have pursued our vision of redefining the place sound holds in people's lives
through our unique amplifiers, Phantom speakers, and true wireless earbuds. Now, Devialet
Dione, our first soundbar, brings us even closer to our goal."
DEVIALET ENGINEERING AT ITS FINEST, FOR AN UNPARALLELED SOUND EXPERIENCE
Featuring two new patented technologies, combined with a host of existing proprietary technologies, Devialet Dione has been carefully crafted to provide a truly immersive sound experience in an all-in-one compact device.
SPACE™ actively upscales any content into Devialet Dione 5.1.2 audio channels creating an enveloping spatialization effect
Advanced Dimensional Experience (ADE), a new digital signal processing technology, that uses beamforming to reinforce 3D immersion
ORB®️ enables the central sphere to adapt mechanically and acoustically to the position of the soundbar, maximizing sound restitution no matter where the soundbar is positioned
In addition to these dedicated proprietary technologies, Devialet Dione embeds award-winning ADH® analog-digital amplification technology inside a unique audio system on a chip (SoC), uniting the precision of analog with the power and compactness of digital into a single 1cm² silicon die, to provide unrivaled clarity of sound while greatly optimizing power consumption.
Alongside ADH®, Devialet Dione combines an unprecedented seventeen Devialet-designed neodymium drivers, including eight long-throw subwoofers in a SAM®-powered (Speaker Active Matching) push-push configuration to deliver unbelievably powerful, deep bass whatever the volume and eliminate the need for a separate subwoofer. It also creates an impressively thin but powerful soundbar with an industry-leading compactness to performance ratio.
TRULY IMMERSIVE

Devialet Dione is compatible with Dolby Atmos, offering the latest innovations in multichannel and object-based audio. The soundbar is also capable of enhancing immersion on any content such as TV channels thanks to SPACE™, Devialet's proprietary 3D upmixing sound algorithm.
Owing to the eight subwoofers, nine aluminum full-range speakers, room calibration scan and cutting-edge beamforming techniques – canceling noise and improving spatialization – Devialet Dione provides full immersion capabilities.
Devialet Dione offers 2 positionings on which sound immersion has been worked on. Thanks to ADE technology, immersion remains perfect whether Dione is wall-mounted or placed flat on a piece of furniture. The internal gyro sensor automatically detects its position and adjusts the audio signal accordingly, to maximize impact and immersion.
PURPOSEFUL DESIGN, TAILORED TO EVERY NEED
With best-in-class performance-to-thinness ratio, sitting at just 77mm high, Devialet Dione stands out in sound quality, as well as in design.
Devialet Dione's sleek appearance blends seamlessly into any space while its eye-catching central ORB®️ offers a nod to Devialet Phantom's signature aesthetic, and most importantly maintains perfect front-facing orientation no matter the position.
Controlled via the Devialet app, users can use the room calibration scan to ensure the sound perfectly suits their surroundings.
With four unique listening modes – Movie and Spatial modes actively converts stereo content into a full-fledged multichannel experience using SPACE™ algorithms; Voice mode boosts accuracy and intelligibility of podcasts and news programs while Music mode faithfully reproduces a stereo setup and disables all spatialization effects – Devialet Dione delivers phenomenal sound, whatever the occasion.
LEADING CONNECTIVITY FOR SMOOTH USABILITY
Alongside its iconic design, breathtakingly immersive atmosphere and superior sound quality, Devialet Dione boasts industry-leading plug-and-play features including HDMI 2.1 eARC with CEC, Optical (TOSLINK), Airplay 2, Spotify Connect, UPnP and Bluetooth 5.0.
Devialet Dione is available to pre-order now. Retailing at INR 239000, the product will be available to India buyers in stores from July 2022
-ENDS-
About Devialet
Founded in 2007, Devialet is an acoustic engineering company operating at the intersection of luxury and cutting-edge technology whose mission is to put sound back at its true place in people's life.
The company is rooted in a series of patented innovations embedded within their award-winning line of products, which include the Expert Pro amplifiers and connected Phantom speakers. Among many innovations, the most notable company technologies are ADH® (first pioneer patent filed in 2004), numerous acoustic and microelectronic technologies and SAM®. ADH®, for Analog Digital Hybrid technology, is Devialet's core innovation in sound amplification, combining the sophistication of analog amplification with the power and compactness of digital technology. SAM® (Speaker Active Matching) technology provides the best sound reproduction possible considering the physical properties of the speaker.
By coupling an unrivaled sound quality with a sleek and modern design, Devialet's world-class engineers are committed to provide uniquely impactful and meaningful innovations to deliver unmatched sound experiences.
Since 2017, Devialet has also strengthened its licensing activity portfolio alongside its first-party range, offering partners custom-made acoustic solutions that leverage the company's know-how & tech.
Group Media Publications
Entertainment News Platforms – anyflix.in      
Construction Infrastructure and Mining News Platform – https://cimreviews.com/
General News Platform – https://ihtlive.com/
Legal and Laws News Platforms – https://legalmatters.in/
Podcast Platforms – https://anyfm.in/
A great Type-C Hub for people on a budget for less than 1,000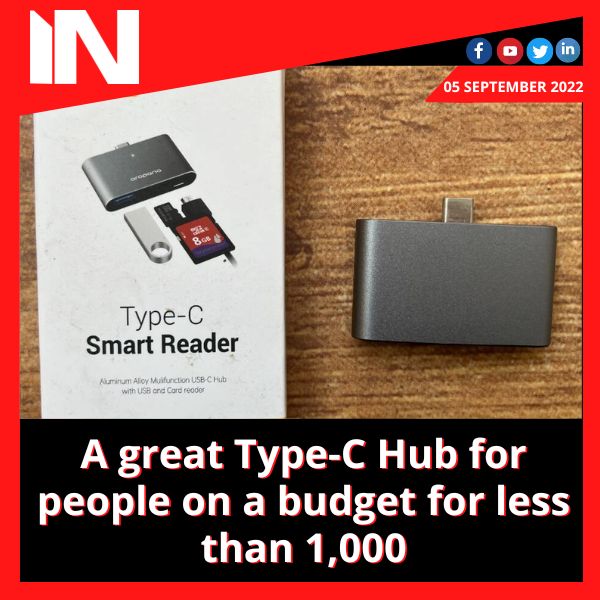 While most mid-segment phones may soon lack memory card slots and most notebooks will only have USB Type-C connections, this does not mean that memory cards and peripherals that connect to normal USB type A ports will become obsolete. In actuality, they are still widely utilised.
Even rudimentary devices like wired keyboards and mice typically have standard USB ports, most flash drives still have standard USB rather than Type C connectivity, and memory cards are still very much alive and well despite the fact that some smartphones, tablets, and laptops may be getting slots to support them.
Because of this, the majority of us who use mid- to high-end notebooks and smartphones frequently find ourselves carrying adaptors and port hubs in order to connect various devices, such as keyboards, memory cards, and cameras, to them. Additionally, carrying these adaptors can be cumbersome and expensive. Some even have wires attached to them, which makes them more fragile and difficult to transport.
Because of this, we are really pleased with the Aropana Type-C Smart Reader. No, we haven't heard much about the company, but we've heard good things about its goods.
We put the adaptor into a MacBook Air and it appeared at home there because of its aluminium appearance, which gives it a very sturdy and expensive feel. In comparison to other of the inexpensive plastic choices we have seen in this price bracket, it feels significantly better to use. It also has no cables, unlike the majority of inexpensive solutions; instead, it is a single block that can be inserted into a device. This is quite convenient as it eliminates the concern of the adaptor dangling from a device. It also makes carrying it very simple because it is compact and lightweight enough to fit in a pocket.
With Mac OS, Windows, and Android devices, as well as an iPad Air and Chromebook with a Type C port, the Aropana Type-C Smart Reader performs admirably. You can connect your device to any other device that has a conventional USB port and a micro USB port using this discrete connection method. Additionally, the converter has slots for microSD and SD cards.
It is therefore an extremely practical tool for anyone utilising a laptop, smartphone, or tablet that primarily has a USB type C port. This handy little gadget lets you connect a flash drive, a portable hard drive, and a keyboard to them. It goes without saying that the ability to simply take out a SD card from their cameras and transfer images to their notebooks or phones, without having to bother about fussy (and often erratic and interrupted) wireless transfers.
Data transfer speeds are decent and we have experienced no issues with dropping connections. Please keep in mind that cases prohibit the adaptor from fitting neatly into the ports of your phones and tablets, so take them off before using this gadget with them.
The Aropana Type-C Smart Reader isn't great, in our opinion. The tiny USB port was completely useless to us; perhaps a Type C port would have been preferable in its place. Additionally, despite the adaptor being connected directly to a USB Type C port on another device without a wire thanks to its block-like design and lack of a wire, its shape results in it obstructing other ports close to it.
The Aropana Type-C Smart Reader is still a great deal for anyone looking for a well-designed, dependable adaptor to connect their USB Type C port from their smartphone, tablet, or laptop to the Type A port of another device or simply to transfer data from flash drives or memory cards at a price of less than Rs 800. Simply confirm that OTG connectivity is supported by your phone or tablet (most do!).

Group Media Publications
Entertainment News Platforms – anyflix.in
Construction Infrastructure and Mining News Platform – https://cimreviews.com/
General News Platform – https://ihtlive.com/
Legal and Laws News Platforms – https://legalmatters.in/
Podcast Platforms – https://anyfm.in/