Fans praise Ryan Gosling's "perfect" first appearance as Ken in Barbie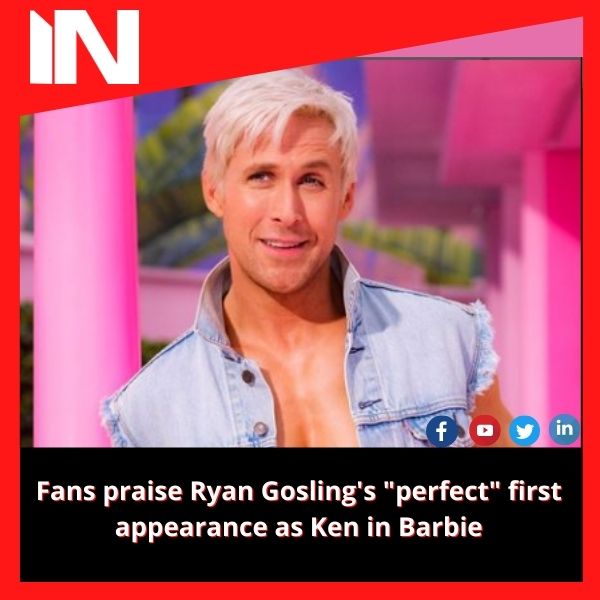 Ryan Gosling's first glimpse as Barbie's boyfriend Ken was unveiled on Wednesday. Greta Gerwig's film Barbie stars Margot Robbie as the iconic heroine who became renowned as a doll. Ryan flaunts six-pack abs and blonde hair in a snapshot provided by Warner Bros. Pictures. The actor is dressed in a sleeveless denim vest with no shirt and his own name emblazoned on his underpants. In front of him is a bright pink backdrop.
The studio also said that the film will be released in theatres in July 2023, alongside the photo. On social media, Ryan Gosling's followers reacted to the actor's transition into Ken. "Ryan, you nailed it," one Instagram user exclaimed, while another said, "Can't wait for the teaser!" Please upload it as soon as possible." "OMG!" exclaimed another user. "This is the ideal Ken casting!" "This is going to be the best movie of all time," one Twitter user said of Barbie. Meanwhile, one Twitter user said, "This is drag."
The first image from the film was revealed in April 2020. Margot Robbie smiled at the camera as she sat in a pink convertible. She accessorised with a blue and white halter top, a matching bracelet, and a matching headband.
Margot stated about the film in a 2021 interview with British Vogue, "There's a lot of baggage attached to it! There are a lot of nostalgic links as well. However, this opens up a slew of new avenues to assault it. When they hear Barbie, they usually say to themselves, "I know what that movie is going to be," but when they learn that Greta Gerwig is writing and directing it, they think to themselves, "Oh, well, maybe I don't…""
America Ferrera, Simu Liu, Kate McKinnon, Ariana Greenblatt, Alexandra Shipp, Emma Mackey, Will Ferrell, Issa Rae, Michael Cera, Hari Nef, Kingsley Ben-Adir, Rhea Perlman, Ncuti Gatwa, Emerald Fennell, Sharon Rooney, Scott Evans, Ana Cruz Kayne, Connor Swindells, Ritu Arya, and Jamie Demetriou are among the Barbie cast members The film is currently being shot in London.
Greta Gerwig is a writer and filmmaker who has worked on films such as Lady Bird and Little Women.
anyflix.in          Group Media Publications
Construction Infrastructure and Mining News Platform – https://cimreviews.com/
General News Platform – https://ihtlive.com/
Legal and Laws News Platforms – https://legalmatters.in/
Podcast Platforms – https://anyfm.in/
The creators of Pippa respond to criticism of AR Rahman's rendition of the song Karar Oi Louho Kopat by Bengali poet Kazi Nazrul Islam
In the realm of art, especially when it involves a beloved poet's work, emotions run deep. The recently released rendition of Kazi Nazrul Islam's timeless composition "Karar Oi Louho Kopat" by the legendary AR Rahman for the upcoming film Pippa has stirred discussions and, inevitably, some criticism. The creators of Pippa have chosen to respond, fostering an open dialogue about artistic interpretation, cultural sensitivity, and the collaborative spirit of creative endeavors.
A Musical Odyssey: AR Rahman's Rendition
AR Rahman, a maestro in the world of music, took on the monumental task of interpreting Kazi Nazrul Islam's iconic work for the soundtrack of Pippa. "Karar Oi Louho Kopat," known for its profound lyrics and historical significance, is a piece of cultural heritage that resonates deeply with Bengali speakers worldwide. Rahman's rendition, while undoubtedly a display of musical brilliance, prompted varied reactions from listeners, invoking discussions about fidelity to the original composition.
Navigating the Sea of Criticism: The Creators' Response
In response to the criticism, the creators of Pippa have taken a nuanced approach, acknowledging the varied sentiments expressed by the audience. In an era where cultural appreciation and appropriation are delicate themes, the creators aim to engage in a respectful and insightful conversation with those who hold Nazrul's work close to their hearts.
The Art of Interpretation: Navigating Boundaries
Artistic interpretation is a complex dance, especially when traversing the revered creations of literary giants. Rahman's rendition of "Karar Oi Louho Kopat" is not merely a cover but an interpretation, a reimagining that seeks to resonate with contemporary audiences while paying homage to the essence of the original work. The creators emphasize the intent of creating a bridge between generations, fostering a connection with Nazrul's poetry through a modern lens.
Cultural Sensitivity and Collaboration
In a world that values cultural sensitivity, the creators of Pippa express their commitment to fostering collaboration and understanding. Rahman's collaboration on this project is seen as a celebration of diversity and an effort to unite different artistic traditions. The goal is not to replace or diminish the original but to amplify its beauty for a new audience.
The Ongoing Conversation: A Celebration of Nazrul's Legacy
As the conversation around AR Rahman's rendition continues, the creators of Pippa invite fans, critics, and enthusiasts to share their perspectives. It is a testament to the dynamic nature of art, where diverse opinions contribute to a richer understanding of the creative process. The goal remains to celebrate the richness of Nazrul's legacy and ensure that his timeless verses continue to resonate across generations.
Conclusion: A Melody of Unity
In the ever-evolving landscape of art and expression, the conversation sparked by AR Rahman's rendition of "Karar Oi Louho Kopat" is an opportunity for unity. It is a chance for diverse voices to converge, creating a harmonious discourse that transcends geographical and cultural boundaries. As Pippa prepares to weave together the tapestry of history and contemporary expression, the creators invite everyone to be part of this collective journey, where the beauty of Nazrul's poetry continues to be a guiding force in the ever-evolving symphony of creative interpretation.
Group Media Publications
Entertainment News Platforms – anyflix.in      
Construction Infrastructure and Mining News Platform – https://cimreviews.com/
General News Platform – https://ihtlive.com/
Podcast Platforms – https://anyfm.in