Four decades have passed since a movie about a brother-and-sister relationship, according to Akshay Kumar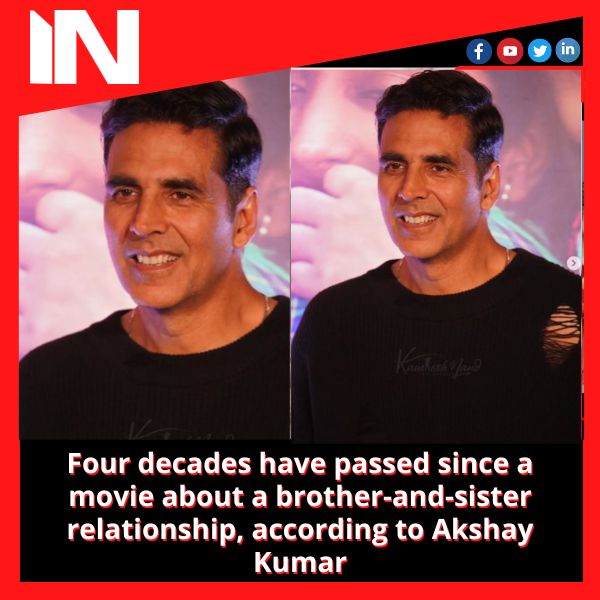 His "driving force" is subjects, and "socially relevant films" are among those that encourage him more. "I can easily make a Rowdy Rathore 2 or Singh is Kinng 2 and make triple the amount of money, but these are social awareness films, and I like making such films because they can make a difference," actor Akshay Kumar tells us as we catch up with him the day before the release of Raksha Bandhan. I said to my director (Aanand L Rai) that I would consider it a success if even 10 people decided not to accept or offer dowry after watching our film.
In addition, Kumar says that although people don't frequently consider it, the film contains the fundamental emotion of bhai-behen, jo sabke ghar par chalta hai. We produce movies about all kinds of feelings and connections, but it's been more than 40 years since we produced a movie about the relationship between brothers and sisters. The last movie about this was probably Tapasya (1976).
Alka Bhatia, Kumar's sister, and he undoubtedly have a close relationship. And while he was promoting his film on a reality show, viewers witnessed him become incredibly emotional as he received a message from her. I hardly ever get emotional during a show, the 54-year-old claims. However, I lost control when I watched the video in which my sister spoke. Men are strong, we say.
Everyone was interested in the various videos and images from the cast's promotional tour, and Kumar was seen showering his on-screen sisters with gifts wherever they went. "I asked them what they wanted during a game of ludo, and they said [that] I treat them wherever we go. I have been keeping my promise by purchasing ghewar in Jaipur, chikankari items and kebabs in Lucknow, something from Indore, and jewellery from somewhere.
When he posted on Instagram, "Filmmaking is a cakewalk, par promotions bache ki jaan le lete hain," he also acknowledged how challenging these tours can be. He explains, "It's not easy in the morning in Kolkata, the day in Lucknow, and the night in Delhi. However, since we want people to visit theatres, it's imperative for the business and the economy that promotions take place.
The actor declares the film to be the best of his career and says, "It made me realise how such a simple subject can be amazing."
"At the end of the day, it's good films that matter," Kumar says in reference to competition with films from the South. Many South Asian films failed, while a few were huge successes. Like that, some of our films were successful while others were not.
Group Media Publications
Entertainment News Platforms – anyflix.in
Construction Infrastructure and Mining News Platform – https://cimreviews.com/
General News Platform – https://ihtlive.com/
Legal and Laws News Platforms – https://legalmatters.in/
Podcast Platforms – https://anyfm.in/
The creators of Pippa respond to criticism of AR Rahman's rendition of the song Karar Oi Louho Kopat by Bengali poet Kazi Nazrul Islam
In the realm of art, especially when it involves a beloved poet's work, emotions run deep. The recently released rendition of Kazi Nazrul Islam's timeless composition "Karar Oi Louho Kopat" by the legendary AR Rahman for the upcoming film Pippa has stirred discussions and, inevitably, some criticism. The creators of Pippa have chosen to respond, fostering an open dialogue about artistic interpretation, cultural sensitivity, and the collaborative spirit of creative endeavors.
A Musical Odyssey: AR Rahman's Rendition
AR Rahman, a maestro in the world of music, took on the monumental task of interpreting Kazi Nazrul Islam's iconic work for the soundtrack of Pippa. "Karar Oi Louho Kopat," known for its profound lyrics and historical significance, is a piece of cultural heritage that resonates deeply with Bengali speakers worldwide. Rahman's rendition, while undoubtedly a display of musical brilliance, prompted varied reactions from listeners, invoking discussions about fidelity to the original composition.
Navigating the Sea of Criticism: The Creators' Response
In response to the criticism, the creators of Pippa have taken a nuanced approach, acknowledging the varied sentiments expressed by the audience. In an era where cultural appreciation and appropriation are delicate themes, the creators aim to engage in a respectful and insightful conversation with those who hold Nazrul's work close to their hearts.
The Art of Interpretation: Navigating Boundaries
Artistic interpretation is a complex dance, especially when traversing the revered creations of literary giants. Rahman's rendition of "Karar Oi Louho Kopat" is not merely a cover but an interpretation, a reimagining that seeks to resonate with contemporary audiences while paying homage to the essence of the original work. The creators emphasize the intent of creating a bridge between generations, fostering a connection with Nazrul's poetry through a modern lens.
Cultural Sensitivity and Collaboration
In a world that values cultural sensitivity, the creators of Pippa express their commitment to fostering collaboration and understanding. Rahman's collaboration on this project is seen as a celebration of diversity and an effort to unite different artistic traditions. The goal is not to replace or diminish the original but to amplify its beauty for a new audience.
The Ongoing Conversation: A Celebration of Nazrul's Legacy
As the conversation around AR Rahman's rendition continues, the creators of Pippa invite fans, critics, and enthusiasts to share their perspectives. It is a testament to the dynamic nature of art, where diverse opinions contribute to a richer understanding of the creative process. The goal remains to celebrate the richness of Nazrul's legacy and ensure that his timeless verses continue to resonate across generations.
Conclusion: A Melody of Unity
In the ever-evolving landscape of art and expression, the conversation sparked by AR Rahman's rendition of "Karar Oi Louho Kopat" is an opportunity for unity. It is a chance for diverse voices to converge, creating a harmonious discourse that transcends geographical and cultural boundaries. As Pippa prepares to weave together the tapestry of history and contemporary expression, the creators invite everyone to be part of this collective journey, where the beauty of Nazrul's poetry continues to be a guiding force in the ever-evolving symphony of creative interpretation.
Group Media Publications
Entertainment News Platforms – anyflix.in      
Construction Infrastructure and Mining News Platform – https://cimreviews.com/
General News Platform – https://ihtlive.com/
Podcast Platforms – https://anyfm.in