From RRR to Tumbbad and Dharm, India's biggest Oscars entry snubs over the years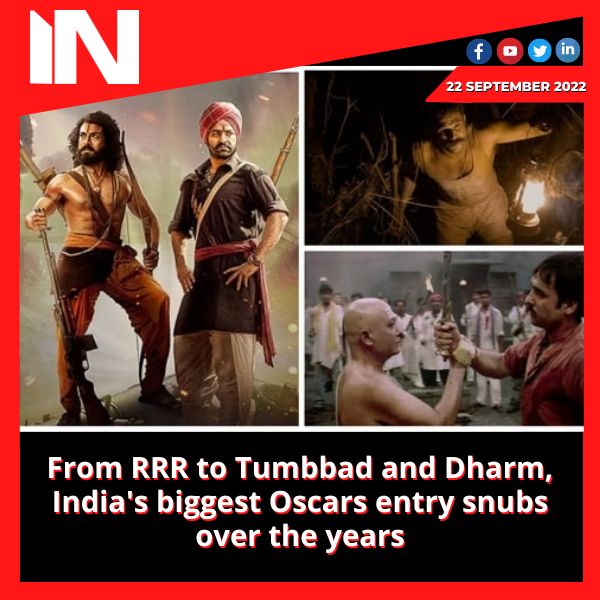 After weeks of rumours, hoopla, and fan initiatives, RRR was not chosen as India's official entry for the upcoming Academy Awards. Instead, the Gujarati film Chhello Show was chosen by the Film Federation of India (FFI), the organisation in charge of choosing the submission. It is not the first time that the FFI has passed over a highly regarded film in favour of an unexpected selection. Since 1957, when India began submitting official entries to the Oscars, there have frequently been disputes regarding the choices made. Here are some of the important ones in brief:
RRR has recently left the largest cultural imprint of any Indian movie in the US. Everyone in America is obsessed with it, from Marvel directors to casual fans. It would be simple for the movie to gain support in the Oscars race given that craze. Chhello Show, a movie about a young boy's love of movies, had a greater chance, in the opinion of FFI. It goes without saying that many RRR fans, as well as cinephiles and business insiders, were not too pleased. Many observed that Chhello Show wasn't a good choice despite RRR's popularity, given its similarities to the Italian classic Cinema Paradiso in subject and plot. Lack of talent is one thing that Oscar jurors do not appreciate.
Tumbbad, the surprise smash from Sohum Shah, has been hailed as one of the greatest horror movies ever produced in India, with analogies to Pan's Labyrinth and Eraserhead. Publications like The Hollywood Reporter and Reuters appreciated it internationally as well. It gained a specialised following across the globe and was mentioned as a front-runner for the Oscar entry place. The FFI made the controversial decision to go with Gully Boy instead. The Ranveer Singh-led movie was well received by critics, but due to its themes' resemblance to those of other Hollywood productions, including 8 Mile, the Academy was not inclined to see it favourably.
The Lunchbox, directed by Ritesh Batra, was hailed as the year's best Indian movie when it made its world premiere at the Cannes Film Festival. It had a significant US distributor in Sony Pictures Classic, and rumours of an Oscar win—rather than just a nomination—started to circulate. Finally, FFI decided on the Gujarati film The Good Road. Given that The Good Road was not even released in the US, many criticised the selection. In a furious open letter to the FFI, the director of The Lunchbox pleaded with the organisation, "Sir, please use your good offices to offer us a transparent, impartial process with a public and not a secret jury." In response, the FFI sought an apology. Eventually, Tom Bernard of Sony Pictures Classic informed Deadline,
The best film in India might be nominated, but not the best film in the entire globe, according to India.

Pankaj Kapur plays an orthodox Hindu priest in the little-remembered classic Dharm who struggles with caring for a Muslim youngster during communal unrest. The movie won accolades at various film festivals, including Cancun and Palm Springs, and it closed the World Cinema Section at Cannes. The acquisition of the global distribution rights by Films Distribution, France gave the film a chance to get more recognition in the US before the Oscars. In the end, Eklavya: The Royal Guard triumphed. The subsequent dispute even prompted the Bombay High Court to request FFI's justification for the selection, involving the Academy.
The components an Oscar jury adores were all present in Ashutosh Gowariker's Swades. It was about a NASA engineer returning to his hometown and assisting the villagers in generating electricity. Reverse migration, culture shock, poverty porn, and a semi-white man's burden are all included. It felt like a foregone conclusion when you consider that the director was well-known in the Oscar community because his previous film, Lagaan, had received an Oscar nomination. It is still unclear why the FFI decided Paheli, a movie that wasn't even well received in India, was a better option.
Jeans, a three-hour family drama, defeats the Berlin Prize winner in 1998. Dil Se
Shah Rukh Khan was a favourite of European film festivals before he rose to prominence as the king of international box office thanks to Uyire/Dil Se. The Mani Ratnam movie received awards everywhere, including the National Award at home. It received interest that few Indian films achieve when it was screened at numerous other festivals around the world. Analysts believed that the fact that Shah Rukh was a well-known face and that it was based on an uprising in south Asia made it simple to promote to the Academy. Shankar's Jeans, a three-hour family comedy that many said was not what Oscar jurors seek for, was sent in its place by the FFI after they disagreed.
FFI chooses not to send Mughal-e-Azam in 1960.
In 1957, India sent its first official Oscars submissions. The Academy honoured films that did so in a way that Hollywood couldn't, as the first few years of its existence demonstrated. With its grandeur and splendour, Mughal-e-Azam exemplified this concept. However, it was not submitted as India's Oscar entry. In a pretty perplexing turn of events, India sent no films to the Academy that year. Only 60 years after K Asif's masterpiece was released, when its screenplay was added to the Oscars archive, it became clear how highly regarded it is in the West.
Group Media Publications
Entertainment News Platforms – anyflix.in
Construction Infrastructure and Mining News Platform – https://cimreviews.com/
General News Platform – https://ihtlive.com/
Legal and Laws News Platforms – https://legalmatters.in/
Podcast Platforms – https://anyfm.in/
Official Announcement: Welcome To The Jungle (Welcome 3) Will Be Released on December 20, 2024, In Time For Christmas
Table of Contents
It's time to mark your calendars and get your holiday spirits high because there's some thrilling news for all fans of the "Welcome" series! The official announcement has just dropped, and it's bringing us the best gift of all—a brand new installment titled "Welcome To The Jungle (Welcome 3)," set to be released on December 20, 2024, just in time to add some extra excitement to your Christmas celebrations.
A Journey Through the Jungle: What to Expect
For those who have been eagerly following the "Welcome" series, you already know that each installment has taken us on a unique adventure with a diverse and lovable cast of characters. From "Welcome to the City" to "Welcome to the Beach," we've laughed, cried, and cheered alongside these characters as they navigate life's challenges in charming and heartwarming ways.
With "Welcome To The Jungle (Welcome 3)," it's safe to say that we're in for another incredible journey. While specific plot details are being kept under wraps, the title alone suggests a lush, vibrant, and adventurous setting. Will our beloved characters find themselves in a remote jungle paradise, uncovering hidden secrets and forging new friendships? Or perhaps they'll be facing unique challenges and obstacles that only the jungle can provide.
One thing we can be certain of is that the creative team behind the "Welcome" series has consistently delivered engaging and emotionally resonant stories. So, prepare to be transported to a world of excitement, wonder, and heartwarming moments.
A Perfect Christmas Gift
What makes this announcement even more special is the timing of the release. "Welcome To The Jungle (Welcome 3)" is scheduled to hit the shelves on December 20, 2024. This means you can cozy up by the fireplace, sip on some hot cocoa, and immerse yourself in this captivating tale as part of your holiday festivities. It's the perfect gift for readers of all ages, and it's sure to add that extra touch of magic to your Christmas season.
Stay Tuned for More Updates
As we eagerly await the release of "Welcome To The Jungle (Welcome 3)," be sure to keep an eye out for more updates, including cover reveals, sneak peeks, and pre-order information. And if you haven't had the chance to read the previous books in the series, there's no better time than now to catch up on the adventures that led us to this exciting new chapter.
So, mark your calendars for December 20, 2024, and get ready to embark on a festive adventure like no other. "Welcome To The Jungle (Welcome 3)" promises to be a delightful addition to the series, and it's a gift we can all look forward to this Christmas season.
Group Media Publications
Entertainment News Platforms – anyflix.in
Construction Infrastructure and Mining News Platform – https://cimreviews.com/
General News Platform – https://ihtlive.com/
Podcast Platforms – https://anyfm.in