Hosting cricket shows, Karishma Kotak was terrified of "looking like a bimbo."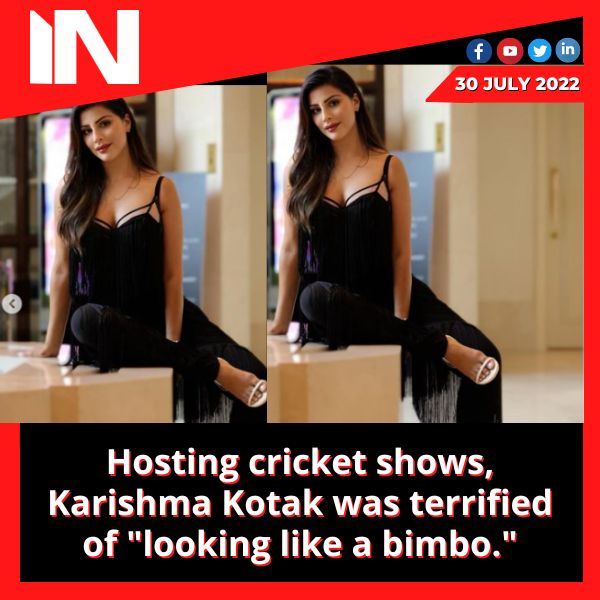 Karishma Kotak, an actor and model who frequently hosted pre-match shows at cricket competitions, has spoken out about how it has been for women at such events. Karishma recalled that when she first began hosting, the goal was for women to dress glamorously and ask a few questions. 'I was very paranoid that I shouldn't look like a bimbo,' Karishma continued.
In 2012, Karishma competed as a contestant on season 6 of the reality series Bigg Boss. She has hosted the television programme Extraaa Innings T20, which features a post-game analysis of the 2013 Indian Premier League. She presided over the 2019 Cricket World Cup as well.
"I feel that now it's much better than when I started in 2011–12," Karishma said in a statement to News18. But Mandira (Bedi) got going first. Prior to me, Shonali (Nagrani) started. So it seemed to me that a few women had kind of paved the way. It wasn't unusual for another girl to be hired as an IPL host because they were already there, but I believe that initially the protocol was more along the lines of "Glamorous dikho, chaar sawal karo and nikal jaao" (Look glamorous, ask a few questions, and then leave). How does it feel to play alongside Dhoni? It used to be those simple questions, and I was terrified I should not appear to be a bimbo.
She continued, "I think stereotypes about women emerge quite quickly, and I think it happens even at work, where we have to put in extra effort to show that we're more than just pretty faces. I sat down in the commentator's box and listened to them commentate because that's how you learn, so when I did feel that way a little bit, that's when I did it. I know what I'm doing and I know what I'm saying. Because you're sitting down and watching, you get the inside scoop because what you see as a commentator and what you see as an audience are two different things. I used to just listen, and I still do. I believe it is much better now.
Karishma is currently anticipating the debut of her Sam Bhattacharjee-produced movie IRaH. The artificial intelligence theme of the film, which also stars Rohit Roy, Ameet Chana, Fagun Thakrar, and Rajesh Sharma, is explored.

Group Media Publications
Entertainment News Platforms – anyflix.in
Construction Infrastructure and Mining News Platform – https://cimreviews.com/
General News Platform – https://ihtlive.com/
Legal and Laws News Platforms – https://legalmatters.in/
Podcast Platforms – https://anyfm.in/
Disha Parmar and Nakuul Mehta discuss working together again for Bade Achhe Lagte Hain 3 and other topics.
Title: Reunion of Talent: Disha Parmar and Nakuul Mehta Discuss Working Together Again for "Bade Achhe Lagte Hain 3" and More
Introduction: The television industry has been abuzz with excitement as Disha Parmar and Nakuul Mehta, two immensely talented actors, reunite for the highly anticipated show "Bade Achhe Lagte Hain 3." Their on-screen chemistry and exceptional performances in the past have won the hearts of audiences, making their collaboration once again a cause for celebration. Recently, Disha and Nakuul shared their thoughts on working together again, their experiences, and their future aspirations.
A Trip Down Memory Lane: "Bade Achhe Lagte Hain," the original series that captivated viewers, left an indelible mark on the hearts of millions. Disha Parmar and Nakuul Mehta played pivotal roles in the show's success with their nuanced performances as Priya and Ram, respectively. Their effortless chemistry and ability to bring their characters to life made the show an unforgettable experience for fans. Now, with the announcement of the show's third installment, viewers are eagerly awaiting their on-screen reunion.
A Reunion of Talent and Camaraderie: In a recent interview, Disha Parmar and Nakuul Mehta expressed their excitement and joy at the prospect of working together once again. They shared stories of their past experiences on the set of "Bade Achhe Lagte Hain" and how the show holds a special place in their hearts. The duo praised each other's professionalism and the strong bond they formed during their previous collaboration, making their reunion all the more special.
Exploring New Dimensions: While the return to "Bade Achhe Lagte Hain" is undoubtedly a much-anticipated event, Disha and Nakuul also discussed their aspirations to explore different genres and characters beyond their previous roles. They expressed their desire to push boundaries and challenge themselves as actors, eager to embark on new projects that offer diverse and exciting opportunities for growth.
Fans' Anticipation: The announcement of Disha Parmar and Nakuul Mehta's reunion has sparked a wave of anticipation among fans. Social media platforms are buzzing with excitement as viewers eagerly await the return of their favorite on-screen pair. The fans' unwavering support and love have been a driving force for Disha and Nakuul, inspiring them to give their best performances and create magic on screen once again.
A Promising Future: As Disha Parmar and Nakuul Mehta prepare to step into their respective characters for "Bade Achhe Lagte Hain 3," the duo is poised to deliver yet another memorable performance. Their talent, combined with the creative vision of the show's makers, promises an engaging and entertaining experience for viewers. The audience can look forward to witnessing the evolution of these exceptional actors as they breathe life into new narratives and explore the depths of their characters.
Conclusion: The reunion of Disha Parmar and Nakuul Mehta for "Bade Achhe Lagte Hain 3" is a moment of excitement and nostalgia for both the actors and their fans. Their on-screen chemistry and remarkable performances have left an indelible impression in the minds and hearts of viewers. As they embark on this new journey together, audiences eagerly await their captivating performances and the magic they will create once again. With their shared talent and passion for their craft, Disha and Nakuul are poised to deliver yet another exceptional television experience that will be etched in the annals of television history.
Group Media Publications
Entertainment News Platforms – anyflix.in
Construction Infrastructure and Mining News Platform – https://cimreviews.com/
General News Platform – https://ihtlive.com/
Podcast Platforms – https://anyfm.in