Recap of Anupamaa: Anupamaa makes a promise to leave the Shah home while Vanraj and Anuj argue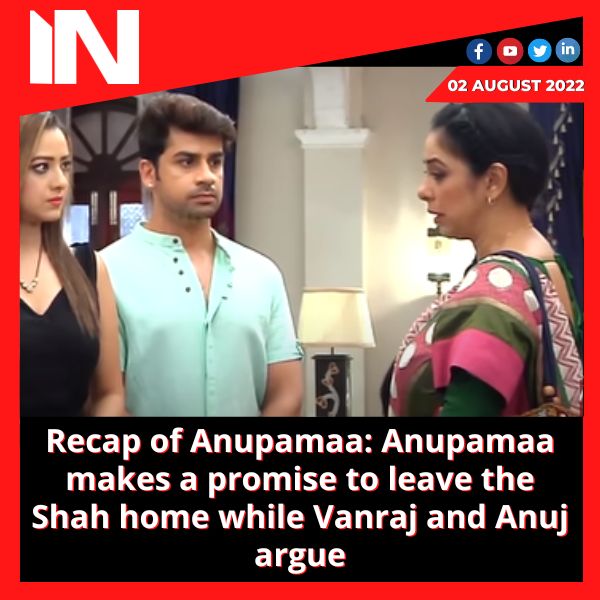 In the previous episode, Pakhi expressed a great deal of animosity toward Anupamaa, and the tension reaches a breaking point when Anuj must arrive to assist Anupamaa. As Vanraj continues to disparage Anupamaa, Anuj and Vanraj get into a heated argument. For all the information from the most recent episode, read this article.
Anuj steps in to protect Anupamaa as Vanraj continues to denigrate her. He attacks Vanraj, Toshu, Leela, and Pakhi with his rage. A fight breaks out between Vanraj and Anupamaa over Pakhi and Anupamaa's problem. While everyone tries to keep them apart, Anupamaa becomes anxious and stands in a corner. When she finally caves, she requests that they stop.
Hasmukh cares for young Anu while reading her a story in the meantime. He tries to reassure her even though he is constantly concerned for her. He shares with her a tale about the triumph of good over evil. Anupamaa suffers back at the Shah home as she is constantly subjected to derogatory remarks while the two converse about the triumph of good over evil. Find out what transpires after Anupamaa decides to permanently leave the Shah home by reading on.
Pakhi's final words from Anupama
Anuj asks Anupamaa to leave after realising there is no hope with the Shah family. He is asked by Anupamaa to wait outside with Anu so that she can have a brief encounter with the Shahs. Vanraj then orders her to leave, but she asks him to give her two minutes alone with the housewives. Vanraj makes fun of her but orders her to finish her work right away and leave.
Pakhi, Leela, Rakhi, Kavya, and Kinjal are introduced to Anupama separately. No matter what happens, Pakhi will always be her daughter, she reassures Pakhi. She also promises her that she won't ever forget the insult and won't return to the Shah residence. She then apologises for Anuj's remarks to Leela. Kinjal begs Rakhi not to leave her because of Pakhi, and Rakhi assures him that she will take care of Kinjal. Anupamaa cradles Kavya and comforts Kinjal. Kavya and Kinjal look at Pakhi hoping for one last ray of hope as she departs the Shah home for good. It appears that Anupamaa's relationship with the Shahs has ended, and her wish to maintain the unity of both her families has come true.
Anupamaa will officially bid the Shah home farewell in the upcoming episode. Hasmukh is also informed by Anuj that Anupamaa won't ever go back to his house, not even for him. Read the HT highlights to learn how Anupamaa will cope with this new challenge.

Group Media Publications
Entertainment News Platforms – anyflix.in
Construction Infrastructure and Mining News Platform – https://cimreviews.com/
General News Platform – https://ihtlive.com/
Legal and Laws News Platforms – https://legalmatters.in/
Podcast Platforms – https://anyfm.in/
Bigg Boss OTT Season 2 VotingResults: BBOTT 2 Supporting Elvish Yadav
Reality TV shows have an unparalleled ability to captivate audiences, and Bigg Boss OTT is no exception. With its unique format and unscripted drama, the show has become a favorite among viewers. The recently concluded Season 2 of Bigg Boss OTT saw social media buzzing with discussions, predictions, and fervent voting campaigns. Among the contestants who garnered significant attention and fan support was the popular YouTuber and comedian, Elvish Yadav.
Elvish Yadav: From YouTube to BBOTT
Elvish Yadav, known for his comedic sketches and relatable content on YouTube, stepped into the world of reality TV with Bigg Boss OTT Season 2. His charismatic personality, witty humor, and relatability quickly endeared him to both his existing fan base and new viewers. Elvish's journey in the Bigg Boss house was marked by entertaining moments, genuine connections, and emotional introspection.
The Power of Fan Support
Throughout the season, Elvish Yadav's supporters took to social media platforms to rally behind him. Hashtags like #ElvishInBBOTT2, #TeamElvish, and #ElvishKaGame gained momentum as fans discussed his game strategy, memorable moments, and their reasons for supporting him. From sharing his lighthearted moments to showcasing his emotional side, fans went above and beyond to showcase their dedication.
Voting Campaigns and Strategies
In a show like Bigg Boss OTT, where viewers have the power to save their favorite contestants through voting, fans play a crucial role. Elvish Yadav's supporters took their efforts a step further by launching strategic voting campaigns. These campaigns included organizing voting marathons, creating eye-catching graphics, and even collaborating with fellow fans to maximize their impact.
Emotional Connect and Relatability
Elvish Yadav's popularity can be attributed to his relatability. His journey on Bigg Boss OTT was not just about entertainment; it was about showcasing his authentic self. From sharing his personal stories to expressing vulnerability, Elvish managed to strike an emotional chord with viewers. This genuine approach resonated with fans who appreciated his authenticity.
Voting Results: A Testimony of Support
As the season reached its finale, the voting results spoke volumes about the immense support Elvish Yadav had garnered. With a significant percentage of votes in his favor, he managed to capture the hearts of viewers and secure a strong position in the competition. The fan base's dedication and voting efforts were evident in the numbers, reflecting their unwavering commitment to him.
Group Media Publications
Entertainment News Platforms – anyflix.in      
Construction Infrastructure and Mining News Platform – https://cimreviews.com/
General News Platform – https://ihtlive.com/
Podcast Platforms – https://anyfm.in