In a video taken during Ayushmann Khurrana's Diwali party, Kartik Aaryan is seen flashing a sizable wad of cash. W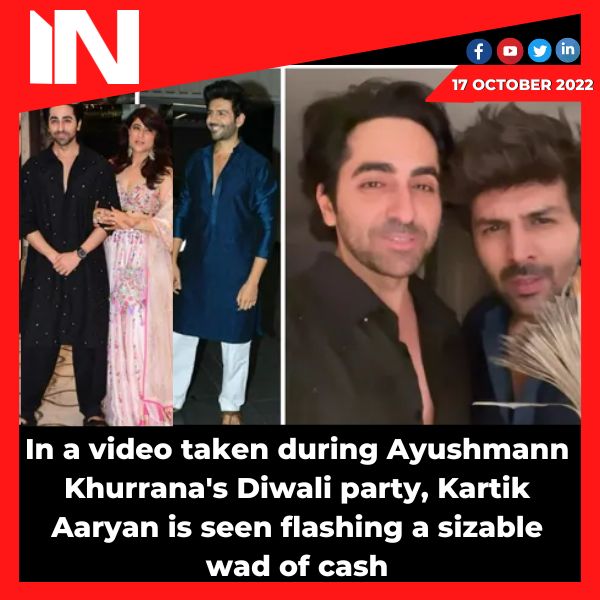 Kartik Aaryan genuinely has a lot of money in his hands. The actor earned a large sum of money playing games at Ayushmann Khurrana's Diwali celebration on Sunday in Mumbai. Kartik can even be seen holding a large bundle of cash in a video that Ayushmann uploaded.
In the video, Ayushmann is shown standing next to Kartik Aaryan, who is seen beaming and holding numerous 500 rupee bills. He says, "Ye aadmi box office pe hi nahi Diwali pe bhi itne saare paise jeet gaya hai. What kind of picture is that, itne saare paise kisko milne chahiye? (This man has made a tonne of money not just at the box office, but also on Diwali. Which movie deserves a lot of money)? "I believe Doctor G ko milne chahiye," Kartik responds. I believe Doctor G ought to receive a large sum of money. Sab log jaise jald se jald nazdeekhi aur door ke cinema gharo mein The movie should be seen by everyone in local and international theatres. "Khelne wapis jao" is Ayushmann's command to send the man back.
"Yeh aadmi chahta hai ki #DoctorG ko box office par paise milne chahiye!" Ayushmann remarked after posting the video on Instagram. @kartikaaryan #DiwaliBash (this man wants Doctor G to earn a lot of money at the box office)

The two actors' admirers were pleased to see them working together. "Koki with Ayush, ommggg I can't believe," said a fan. "2 self-made superstars together," said another. When boys find money in their jeans, a fan joked. Another supporter remarked, "ED ki raid dalane padegi fir" (the Enforcement Directorate will need to search your home).
The school comedy Doctor G, which debuted in theatres on Friday, stars Ayushmann. In the first two days, it brought in Rs. 9 crore. Rakul Preet Singh, his co-star, was there at the party as well.
Kartik Aaryan is currently enjoying success thanks to the box office draw of Bhool Bhulaiyaa 2. With a total worldwide revenue of 266 crore, it is the third-highest grossing Bollywood movie of 2022.
Group Media Publications
Entertainment News Platforms – anyflix.in
Construction Infrastructure and Mining News Platform – https://cimreviews.com/
General News Platform – https://ihtlive.com/
Legal and Laws News Platforms – https://legalmatters.in/
Podcast Platforms – https://anyfm.in/
Selena Gomez excitedly displays Taylor Swift's Eras Tour merchandise while cheering on her BFF in LA and exclaims, "Another one!"
The power of friendship and mutual support in the entertainment industry is a heartwarming sight to behold. Recently, Selena Gomez showcased her unwavering support for her best friend, Taylor Swift, by excitedly displaying merchandise from Swift's ongoing Eras Tour while cheering her on in Los Angeles. The heartening display of camaraderie between these two pop icons highlights the beauty of genuine friendships and the infectious excitement that accompanies a friend's success. In this blog post, we explore the significance of Selena Gomez's enthusiastic endorsement of Taylor Swift's tour merchandise and the enduring bond they share.
Celebrating Friendship and Success
Selena Gomez and Taylor Swift's friendship has been a constant source of admiration and inspiration for fans around the world. Their public displays of support for each other's achievements emphasize the importance of uplifting one another, even in the competitive entertainment industry. Gomez's enthusiastic endorsement of Swift's Eras Tour merchandise while cheering her on at a Los Angeles event beautifully encapsulates the spirit of celebrating each other's successes with genuine joy.
The "Another One!" Moment
Gomez's exclamation of "Another one!" as she proudly displayed the Eras Tour merchandise speaks volumes about her excitement and pride in Swift's accomplishments. This endearing moment not only showcases their strong friendship but also emphasizes the joy that comes with witnessing a friend's continuous journey of growth, creativity, and achievement.
The Influence of Celebrity Friendships
Celebrity friendships, like that of Gomez and Swift, hold a unique place in pop culture. They offer fans a glimpse into the personal lives of their favorite stars, making them more relatable and human. Such friendships also challenge the notion of rivalry in the entertainment industry, proving that true friendships can coexist even in a competitive environment.
Supporting Each Other's Creative Ventures
When one celebrity supports another's creative ventures, it sends a powerful message about unity and mutual admiration. Gomez's display of the Eras Tour merchandise not only promotes Swift's work but also encourages fans to engage with and celebrate their favorite artists' achievements. This kind of endorsement resonates deeply with fans, contributing to the overall success of an artist's projects.
Selena Gomez's enthusiastic display of Taylor Swift's Eras Tour merchandise while cheering her on in Los Angeles is a heartening testament to the enduring power of friendship and support in the entertainment industry. This authentic gesture reflects the genuine camaraderie these pop icons share and sends a message of positivity and unity to their fans. As Gomez and Swift continue to inspire each other and celebrate their individual journeys, their friendship remains a shining example of how genuine connections can flourish amidst the glitz and glamour of the celebrity world.
Group Media Publications
Entertainment News Platforms – anyflix.in      
Construction Infrastructure and Mining News Platform – https://cimreviews.com/
General News Platform – https://ihtlive.com/
Podcast Platforms – https://anyfm.in