In an unreleased photo, Priyanka Chopra smiles and plays with Malti Marie. "My entire heart"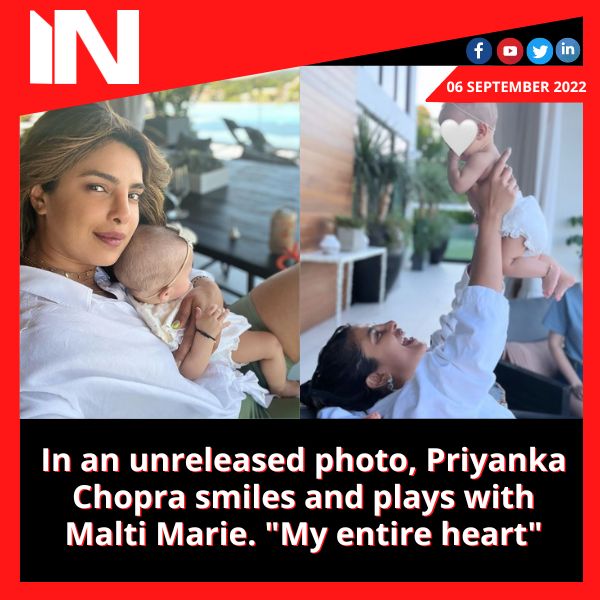 Malti Marie Chopra Jonas, the actress Priyanka Chopra's daughter, has been shown to fans. On Tuesday, Priyanka shared an unpublished photo from her time playing with Malti Marie on Instagram Stories. Priyanka did not, however, reveal her daughter's face. The faces of Malti Marie and Nick Jonas, Priyanka's husband and singer, have not yet been made public.
In the image, Priyanka was seated on a couch, leaning back, and lifting Malti Marie. Priyanka smiled while nursing her infant. The mother and daughter were photographed as they were enjoying time outside. Priyanka donned a white outfit in the image. She covered Malti's face with a white love emoji while adding the words "My full (red heart emoji)".
Malti Marie has been the subject of frequent Instagram posts from Priyanka. Priyanka recently provided fans with a sneak peek at her weekend with Malti Marie. In the image, Priyanka is seen holding her baby while taking a selfie and giving her an embrace.
The song Genda Phool from the movie Delhi 6 with Sonam Kapoor and Abhishek Bachchan playing in the background was featured in an earlier post by the actor. The infant in the video appeared to appreciate the music since she kept bobbing her head to the tune. Saturday mornings are like, Priyanka captioned the image.
In December 2018, Priyanka and Nick exchanged vows in the Umaid Bhawan Palace in Jodhpur during Christian and Hindu ceremonies. The couple later held two receptions in Mumbai and Delhi. The two revealed in January 2022 that they had adopted daughter Malti Marie through surrogacy.
Fans can catch Priyanka in a number of works, including It's All Coming Back To Me and the television series Citadel. Citadel, a Russo Brothers production, will be made available on Prime Video. Patrick Morgan is helming the next science fiction drama series, which also features Richard Madden and Priyanka. She also has Alia Bhatt and Katrina Kaif in Farhan Akhtar's Jee Le Zaraa.
Group Media Publications
Entertainment News Platforms – anyflix.in
Construction Infrastructure and Mining News Platform – https://cimreviews.com/
General News Platform – https://ihtlive.com/
Legal and Laws News Platforms – https://legalmatters.in/
Podcast Platforms – https://anyfm.in/
Day 6 of the box office take for Chandramukhi 2 shows a drop to 2 crore for the Kangana Ranaut movie following the long weekend.
In the world of cinema, box office numbers can often serve as a barometer of a movie's success and audience reception. Kangana Ranaut's highly anticipated film, "Chandramukhi 2," has been making waves since its release. However, as the dust settles after the long weekend, day 6 at the box office has shown a significant drop in earnings, with the film raking in 2 crore rupees. Let's delve into what this means for the movie's overall performance and what factors could be contributing to the change in numbers.
A Promising Start
"Chandramukhi 2" generated substantial buzz and anticipation leading up to its release. Kangana Ranaut's powerhouse performances and the film's intriguing storyline had audiences eager to witness the movie on the big screen. As expected, the film got off to a strong start during its opening weekend, with impressive box office collections.
Long Weekend Highs
The long weekend, often a boon for movie releases, saw "Chandramukhi 2" enjoying robust earnings. Audiences flocked to theaters to catch the film, resulting in a surge in box office numbers. This surge is typical for highly anticipated films and can lead to a misleadingly positive perception of a movie's performance.
The Day 6 Drop
However, as the week progressed and the long weekend euphoria subsided, "Chandramukhi 2" experienced a notable drop in earnings on day 6. The movie's collection decreased to 2 crore rupees, raising questions about its ability to maintain momentum.
Factors at Play
Several factors could contribute to the drop in box office earnings:
Weekday Blues: Weekdays typically witness lower footfall at theaters due to work and school commitments. This trend often results in reduced box office numbers compared to weekends.
Audience Word-of-Mouth: The initial excitement around a film can sometimes lead to mixed or negative reviews from viewers. Word-of-mouth recommendations or critiques can impact a movie's performance as the week progresses.
Competition: The presence of other releases in theaters can divert audiences' attention and affect the box office performance of a particular film.
Marketing and Promotion: The intensity and effectiveness of a film's marketing and promotional campaigns can influence its long-term success.
The Bigger Picture
While the drop in earnings on day 6 is a noteworthy development, it's essential to remember that the box office is a dynamic arena. A single day's collection does not necessarily determine the overall success or quality of a film. "Chandramukhi 2" still has ample opportunity to recapture audience interest and sustain its box office performance.
Kangana Ranaut's dedication to her craft and her ability to deliver powerful performances are well-known in the industry. As audiences continue to flock to theaters to experience "Chandramukhi 2," the movie's ultimate box office fate will become clearer over time.
In conclusion, day 6 of box office collections for "Chandramukhi 2" reflects the natural ebb and flow of a film's performance after the initial excitement of its release. It's a reminder that the movie industry is ever-evolving, and a film's true success is often measured not just by its opening numbers but by its enduring impact on audiences.
Group Media Publications
Entertainment News Platforms – anyflix.in      
Construction Infrastructure and Mining News Platform – https://cimreviews.com/
General News Platform – https://ihtlive.com/
Podcast Platforms – https://anyfm.in