Include these organic foods in your diet for better flavor and better health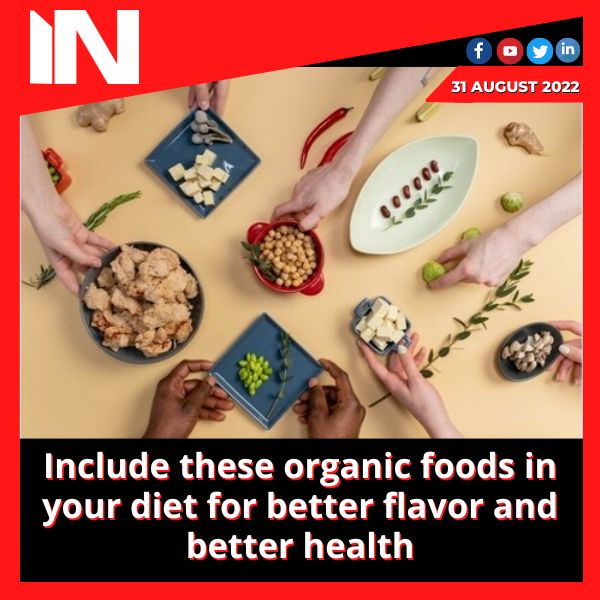 It all boils down to picking the right veggies and proteins that provide us enough nutrition for a healthy body and mind without compromising flavor. Healthy eating does not need you to give up on taste. Here are some quick and easy ways to include them in a daily meal that is both tasty and healthy.
1. Add protein.
One of the best sources of omega-3 fatty acids, which reduces the risk of heart disease, and protein is fish. The fish with the highest concentrations of omega-3 are salmon, tuna steaks, mackerel, herring, trout, anchovies, and sardines. To add to it and make it healthier and richer, pick some leafy greens. Calcium, vitamin C, vitamin A, and many phytochemicals are all abundant in leafy greens, which are also a great source of iron.
The founder of HealthVeda, Abhishek Sharma, stated in an interview with HT lifestyle that "food items like tofu, soy milk, and sprouts contain all 9 essential amino acids. Including them in your diet can help those who want to reduce weight quickly without giving up flavor.
Add greens next.
Foods that are high in nutrients include Chinese cabbage, kale, arugula, spinach, green beans, broccoli, brussels sprouts, and asparagus. To improve flavor, try adding olive oil, a spicy sauce, or topping your salad greens with nuts, chickpeas, or parmesan. Non-vegetarians can add the vegetables and protein to salads or sauté them in a little olive oil. Stews and soups can also contain greens.
Instead of boiling or steaming the green veggies, consider grilling, roasting, or pan-frying them with chili flakes, garlic, shallots, mushrooms, or onion if you are a vegetarian or don't want to eat your protein with it. A good source of plant protein is nuts, such as pecans, hazelnuts, walnuts, and almonds, which you can also opt to include. They also include monounsaturated fats, which may aid in reducing the risk of heart disease.
One of the best sources of minerals and vitamins, according to Kamayani Naresh, founder of Zyropathy, is readily available green vegetables. Additionally, they contain an adequate amount of fiber, which keeps you full for a long time and saves you from ingesting a lot of calories.
3. The necessity of vitamin C
Brighter, deeper-colored vegetables can alter the flavor of meals in addition to having increased concentrations of vitamins, minerals, and antioxidants. To add color, add fresh or dried tomatoes, glazed carrots, beetroot, or sweet, vibrant peppers. Prostate cancer incidence has been shown to be reduced by lycopene and vitamin C. Tomatoes can be added to a salad or used to make pasta sauce. Additionally, they can be used in soups, stews, and chili. Lycopene is more easily absorbed by the body when tomatoes are cooked and heated in a healthy fat like olive oil.
The tomato is one of the most often utilized items in every Indian kitchen, according to Kamayani Naresh. It is regarded as the most straightforward source of vitamins C and A. It not only guards against diseases but also improves eye eyesight. Its potassium content also promotes healthy cardiac function. Additionally, because they improve bright complexion, tomatoes are a favorite among many celebrities.
4. Avoid sugar.
Naturally sweet vegetables, such carrots, beets, sweet potatoes, yams, onions, bell peppers, and squash, enhance the sweetness of your meals and reduce your urge for additional sugar. They can also be included in spaghetti sauces, stews, and soups.
"We all enjoy the occasional sugary treat, but they are known to be connected to detrimental medical repercussions," said Abhishek Sharma. Increased consumption may result in diabetes, weight gain, and high blood pressure, all of which raise the risk of heart attack and stroke.
Remember that you don't have to fully give up your favorite foods. Try coming up with novel suggestions for preparing wholesome meals. For instance, you can reduce the amount of fat in recipes by using a different cooking technique, such as grilling, stir-frying, baking, boiling, or microwaving. Reduce the size of your meals or food rather than fully giving it up. These few straightforward meal selections are ways to become a healthier and more fit version of yourself.
Group Media Publications
Entertainment News Platforms – anyflix.in
Construction Infrastructure and Mining News Platform – https://cimreviews.com/
General News Platform – https://ihtlive.com/
Legal and Laws News Platforms – https://legalmatters.in/
Podcast Platforms – https://anyfm.in/
Winter-related ear popping: causes, remedies, and strategies for prevention
If you live in a cold climate, you're probably no stranger to the sensation of your ears popping when you step outside. This is caused by the change in pressure between the warm air inside your body and the cold air outside. While this is usually a harmless phenomenon, it can be quite annoying. In this article, we'll explore the causes of winter-related ear popping, as well as some remedies and strategies for prevention.
One of the main causes of ear popping is a difference in air pressure. When you step outside into the cold air, the pressure outside is lower than the pressure inside your body. This difference in pressure can cause your ears to pop.
There are a few things you can do to ease the discomfort of ear popping. First, try yawning or swallowing. These activities can help equalize the pressure in your ears. You can also try chewing gum or sucking on candy. If you're flying, drink plenty of fluids and avoid chewing gum during takeoff and landing.
There are also some preventive measures you can take to avoid ear popping. If you know you'll be exposed to cold air, try to take a deep breath before you go outside. This will help equalize the pressure in your lungs and prevent your ears
Group Media Publications
Entertainment News Platforms – anyflix.in      
Construction Infrastructure and Mining News Platform – https://cimreviews.com/
General News Platform – https://ihtlive.com/
Legal and Laws News Platforms – https://legalmatters.in/
Podcast Platforms – https://anyfm.in