Jimmy Kimmel's tearful monologue about the Texas shooting was cut short in the state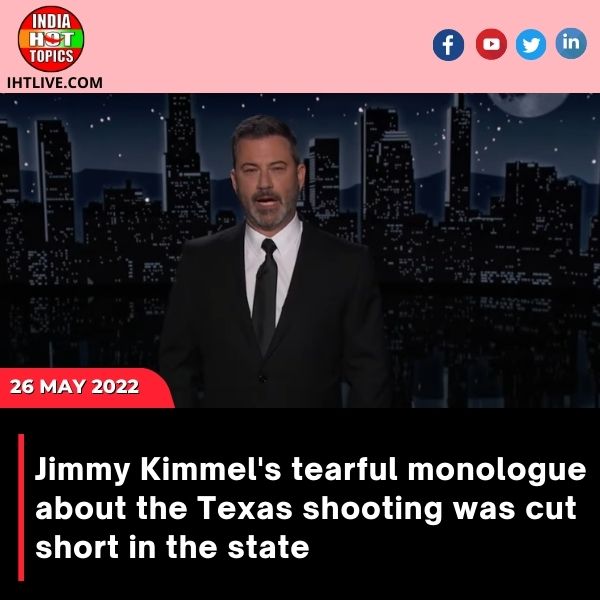 A gunman opened fire in a Texas elementary school on Tuesday, causing yet another tragic mass shooting in the United States. Celebrities and regular people alike have expressed their displeasure with the incident, which has sparked debate about gun control and mass shootings in the United States. Jimmy Kimmel, the host of Jimmy Kimmel Live, addressed the incident in his opening monologue on Wednesday. However, the monologue was cut short by a Texas network, prompting speculation that it was done on purpose.
Officials said an 18-year-old gunman opened fire at a Texas elementary school on Tuesday, killing at least 19 children as he moved from classroom to classroom. It was the deadliest school shooting in nearly a decade and the latest gruesome moment for a country scarred by a string of mass shootings. Law enforcement shot and killed the assailant. Two adults were also killed, according to authorities. One of the two, according to Governor Greg Abbott, was a teacher.
Jimmy began his monologue without the studio audience on Wednesday in an unusually quiet manner. "Once again, we grieve for the little boys and girls whose lives have been cut short and whose families have been destroyed," the comedian said through tears. While our right-wing leaders, members of Congress, Fox News, and other media outlets warn us not to politicise this, we must. They slam our president for even mentioning that something should be done to stop it. They don't want to talk about it because they are aware of what they have done and what they haven't done. And they're well aware that it's unjustifiable, so they'd rather sweep it under the rug."
Jimmy slammed the leaders, calling them 'cowardly,' and saying, "Our cowardly leaders just aren't listening to us." They're paying attention to the NRA and the people who write them checks to keep them in power. That's the way politics works."
Jimmy tweeted that he later learned from viewers and other feedback that his monologue, in which he also criticised Texas Governor Abbott, had been cancelled by a state television network. "To my friends in Dallas who are asking: I do not know whether our ABC Network affiliate WFAA cut away from my monologue tonight intentionally or inadvertently," Kimmel tweeted, adding his full monologue to the post for those in Dallas who "didn't get to see."
"Kimmel's six-minute monologue was cut short by a string of commercials, beginning with an in-house WFAA/Ch. 8 news spot," according to the Fort Worth Star-Telegram. Before cutting back into the end of the monologue, which Kimmel used for a three-minute Everytown.org commercial, the ABC affiliate played a few more commercials. The organization's goal is to implement 'evidence-based solutions' to reduce gun violence."
WFAA, a network that broadcasts ABC shows in Texas, cut the telecast. WFAA's director of digital content, Peter Freedman, responded to Jimmy on Twitter, saying that "they were on the same team." "We'd made the decision earlier in the day to extend our 10 o'clock news to include extra Uvalde coverage in our broadcast, it had nothing to do with your monologue," he said, claiming that the decision to cut the segment was made in advance. We're both on the same side."
Jimmy received a tweet from the network apologising for his actions. "Please accept our apologies for the technical difficulties we experienced last night. "You can find a full explanation of the technical issues, as well as your entire monologue, here (link)," their tweet read.
Priyanka Chopra, Taylor Swift, Jennifer Aniston, Selena Gomez, and Matthew McConaughey, among others, had previously expressed their sadness and anger over the tragedy.
When Katrina Kaif discussed the factors that influence her choice of films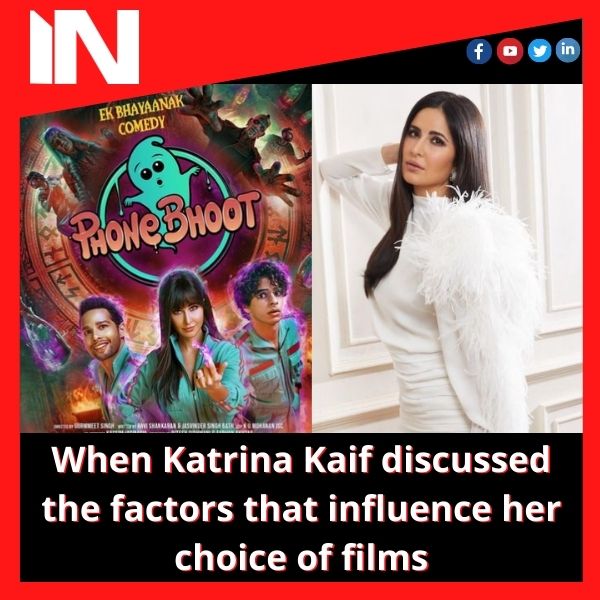 There is no denying that Katrina Kaif is one of Bollywood's most successful actors and actresses. The actress has starred in a number of blockbuster films throughout the course of her 20-year career. Katrina actually believes in wearing her heart on her sleeve and has never shied away from acknowledging her flaws. It should be noted that the Ajab Prem Ki Ghazab Kahani actress has undoubtedly seen her fair share of highs and lows thus far, and her journey has served as a great source of inspiration for her admirers. In reality, we have access to a vintage interview with Katrina in which she discussed the process she uses to polish a script.
When discussing it, Katrina remarked that neither the cast nor the storyline have any bearing on her decision to watch a particular movie. Instead, she makes that particular decision based on her gut feeling. "I don't do calculations or pick scripts. I would already know in my head that this is what I want to do when I say yes, the actress had previously told IANS. Katrina continued by recalling how she completed the Dhoom 3 script while listening to a song. The singer said, "I felt I want to do something different with the songs I am doing.
It's interesting to note that Katrina has collaborated with actors like Salman Khan, Ali Zafar, Akshay Kumar, and Shah Rukh Khan. As a result, when asked if she picks her co-stars carefully, Tiger Zinda Hai actress Katrina responded that it depends on the storyline. "I don't believe anyone approaches me with a cast in mind. I was involved in two of my most recent five movies before the male actors had even been cast. A well-known actor or major star would be cast automatically in a decent script, Katrina was quoted as saying.
Currently, Katrina Kaif is anticipating the release of Phone Bhoot, a "bhayanak comedy" she is starring in opposite Siddhant Chaturvedi and Ishaan Khatter. Her first foray into the horror-comedy genre, the film will be released on October 7 this year. Along with Salman Khan and Emraan Hashmi, she will also be featured in the third Tiger movie. The lead actors will reprise their roles as Tiger and Zoya, respectively, in the espionage thriller drama. Emraan will play the main antagonist in the meantime.
In addition, Katrina has worked on a superhero movie with her close buddy Ali Abbas Zafar. Alongside Vijay Sethupathi, she will appear in Sriram Raghavan's thriller Merry Christmas.
Not only that. For Jee Le Zaraa, Katrina has also collaborated for the first time with Priyanka Chopra and Alia Bhatt. Farhan Akhtar will direct the film, which will be his first project in ten years. Fans were thrilled by the announcement, although Pinkvilla had exclusively revealed last week that the movie is still on hold.
"Everyone was looking forward to a wonderful road vacation starting in September of this year, but the plans have all changed. The three main characters' bulk dates currently do not coincide, which has caused an indefinite delay in the movie. Once everything is locked, a new timeline will be drawn "according to a source familiar with the development.
anyflix.in      Group Media Publications
Construction Infrastructure and Mining News Platform – https://cimreviews.com/
General News Platform – https://ihtlive.com/
Legal and Laws News Platforms – https://legalmatters.in/
Podcast Platforms – https://anyfm.in/