Madhuri Dixit DISCLAIMS her first experience with stardom: It was, I believe…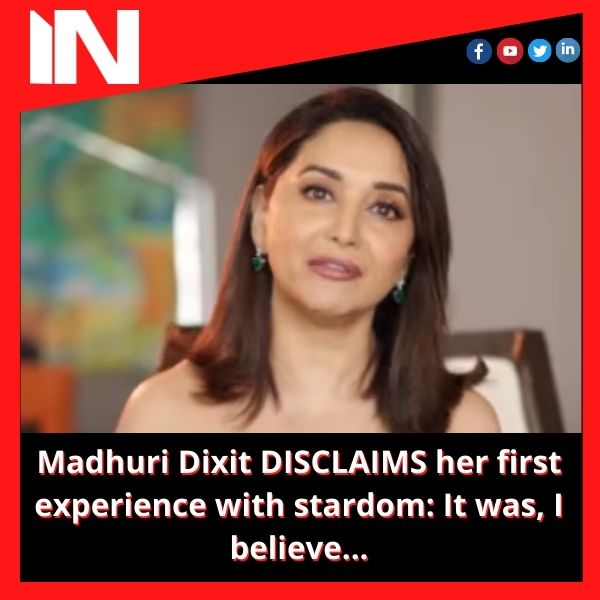 Madhuri Dixit is adored by everyone. No need to introduce Madhuri. She is one of Bollywood's most attractive stars. She has consistently astounded us with her extraordinary abilities. She excels in all areas. Madhuri is a pro at everything, including acting, dancing, and singing. Now that Madhuri is the Instagram queen, her charming photos are always a blessing to our accounts. She also updates her followers on her life. She only released a really fascinating video on Friday.
Madhuri discussed her "firsts" in the reel. She discussed the spaghetti dish that she had successfully prepared as her very first dinner. She further revealed that meeting Amitabh Bachchan was her first encounter with fame. She continued, saying she was truly tongue-tied.
She also admitted that after acting in a movie, she first realised she wanted to be a professional actress. When asked about her first time behind the wheel, she recalled learning from her father when she was 17 years old. She also disclosed that her very first school mate was still her friend from school.
Madhuri's most recent professional appearance was in the online series The Fame Game, which was created by Karan Johar and starred Sanjay Kapoor and Manav Kaul. On the other hand, she also made available her single "Tu Hai Mera" in May.
Panchak, her subsequent Marathi film, is currently being prepared for distribution. "That will be my next release as a producer, but we'll have to decide which direction we want to go first. Now, my movie (Maja Maa) on Amazon Prime will also arrive. The movie ought to be released before the year is over. In a conversation with us, Madhuri said, "We are finished with the shooting.
anyflix.in Group Media Publications
Construction Infrastructure and Mining News Platform – https://cimreviews.com/
General News Platform – https://ihtlive.com/
Legal and Laws News Platforms – https://legalmatters.in/
Podcast Platforms – https://anyfm.in/
Day 6 of the box office take for Chandramukhi 2 shows a drop to 2 crore for the Kangana Ranaut movie following the long weekend.
In the world of cinema, box office numbers can often serve as a barometer of a movie's success and audience reception. Kangana Ranaut's highly anticipated film, "Chandramukhi 2," has been making waves since its release. However, as the dust settles after the long weekend, day 6 at the box office has shown a significant drop in earnings, with the film raking in 2 crore rupees. Let's delve into what this means for the movie's overall performance and what factors could be contributing to the change in numbers.
A Promising Start
"Chandramukhi 2" generated substantial buzz and anticipation leading up to its release. Kangana Ranaut's powerhouse performances and the film's intriguing storyline had audiences eager to witness the movie on the big screen. As expected, the film got off to a strong start during its opening weekend, with impressive box office collections.
Long Weekend Highs
The long weekend, often a boon for movie releases, saw "Chandramukhi 2" enjoying robust earnings. Audiences flocked to theaters to catch the film, resulting in a surge in box office numbers. This surge is typical for highly anticipated films and can lead to a misleadingly positive perception of a movie's performance.
The Day 6 Drop
However, as the week progressed and the long weekend euphoria subsided, "Chandramukhi 2" experienced a notable drop in earnings on day 6. The movie's collection decreased to 2 crore rupees, raising questions about its ability to maintain momentum.
Factors at Play
Several factors could contribute to the drop in box office earnings:
Weekday Blues: Weekdays typically witness lower footfall at theaters due to work and school commitments. This trend often results in reduced box office numbers compared to weekends.
Audience Word-of-Mouth: The initial excitement around a film can sometimes lead to mixed or negative reviews from viewers. Word-of-mouth recommendations or critiques can impact a movie's performance as the week progresses.
Competition: The presence of other releases in theaters can divert audiences' attention and affect the box office performance of a particular film.
Marketing and Promotion: The intensity and effectiveness of a film's marketing and promotional campaigns can influence its long-term success.
The Bigger Picture
While the drop in earnings on day 6 is a noteworthy development, it's essential to remember that the box office is a dynamic arena. A single day's collection does not necessarily determine the overall success or quality of a film. "Chandramukhi 2" still has ample opportunity to recapture audience interest and sustain its box office performance.
Kangana Ranaut's dedication to her craft and her ability to deliver powerful performances are well-known in the industry. As audiences continue to flock to theaters to experience "Chandramukhi 2," the movie's ultimate box office fate will become clearer over time.
In conclusion, day 6 of box office collections for "Chandramukhi 2" reflects the natural ebb and flow of a film's performance after the initial excitement of its release. It's a reminder that the movie industry is ever-evolving, and a film's true success is often measured not just by its opening numbers but by its enduring impact on audiences.
Group Media Publications
Entertainment News Platforms – anyflix.in      
Construction Infrastructure and Mining News Platform – https://cimreviews.com/
General News Platform – https://ihtlive.com/
Podcast Platforms – https://anyfm.in