Neha Chauhan: I like acting, but I want to direct more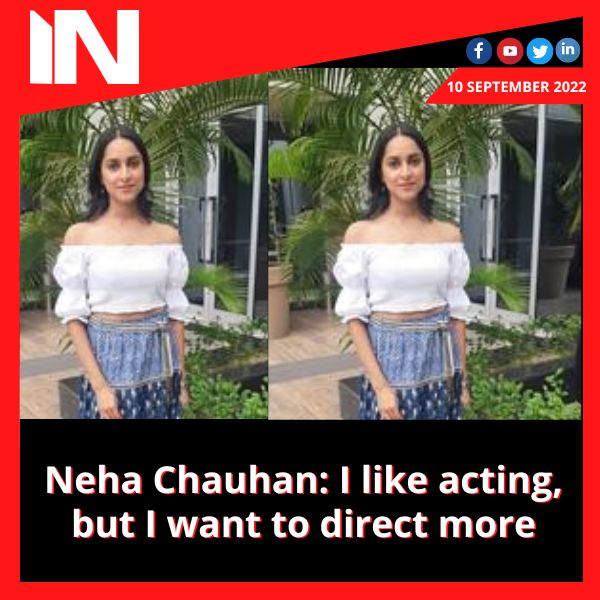 Actress Neha Chauhan, who made her acting debut in LSD: Love Sex and Dhokha (2010), claims that she never considered becoming a front-of-the-camera star and that she originally moved to Mumbai to pursue a career in directing. The actor, who was last seen as a political strategist in Maharani-2, said, "I have heard about destiny, but I have seen it play out in my life.
"When I moved from Indore, I did not have any acting dreams," the young person recalls. In actuality, I had never considered being an actress! I completed a direction course before coming here to direct. I was asked to act by Dibakar (Banerjee, the director) in a matter of months, but I declined! Then I became involved with the casting of the same movie and production process. Finally, I agreed to act and it turned out to be a cult film."

She switched between directions. Letters to Dharavi (2011), which is based on a unique method used by postmen to distribute mail, was written and directed by myself.

Chauhan was involved in numerous initiatives. "For me, there was never a break. I performed as the lead in two Tamil and one Haryanvi movies, worked on a Telugu film with an ensemble cast, performed in theatre with Pramod Pathak, appeared in commercials, and was involved in numerous web projects, such as Humorously Yours, It's Not That Simple, Shaitani Haveli, and Inside Edge. I therefore never went unemployed, but now that OTT has taken off, it's much more common. I simply want to keep up the enthusiasm.
She hasn't been interested in TV though. "Scripts without a beginning and an end don't interest me, and I know I won't be able to give them right, so why get involved prematurely and regret it later? I agree that working in television pays well, but money can't be the primary driving force.
Her desire to direct has finally begun to materialise. "At the moment, my mind, body, and soul are wholly devoted to performing, but I have a gnawing need to start directing once more. I'll start with the short films I've written and use my acting talents and background working with renowned directors like Satish Kaushik, Dibakar, and Shubhash Kapoor. Most likely, something will occur in a year.
She has a good connection to UP. "My mother is from Moradabad, and my father is from Bijnor. I was born in Nigeria, yet I later lived in Faridabad and Indore for the majority of my life. I shot the movie Kaagaz in Lucknow's surroundings in 2019 and am currently filming another series (Moonlight) in the state capital.
Additionally, she will return to Rocket Boys in the upcoming season.
"I am pleased to say that I enjoy working with the folks I do. I don't have high expectations, and I just strive to set a little bit higher standards with each assignment. She claims that it's a wonderful experience to embody and maintain the persona throughout the days of filming.
Group Media Publications
Entertainment News Platforms – anyflix.in
Construction Infrastructure and Mining News Platform – https://cimreviews.com/
General News Platform – https://ihtlive.com/
Legal and Laws News Platforms – https://legalmatters.in/
Podcast Platforms – https://anyfm.in/
Watch Vicky Kaushal blush when Katrina Kaif.
Title: Vicky Kaushal's Blushing Affection: Fans Bring Up Katrina Kaif During the "Zara Hatke Zara Bachke" Promotions
Introduction: The world of Bollywood is always abuzz with gossip and speculation, especially when it comes to celebrity relationships. Recently, during the promotional events for the film "Zara Hatke Zara Bachke," fans managed to put Vicky Kaushal in a rather adorable spot by mentioning his rumored romantic interest, Katrina Kaif. The actor's blushing response and the ensuing excitement among fans added a touch of sweetness and intrigue to the film's promotions.
Fans' Curiosity: As Vicky Kaushal stepped out to promote his latest project, "Zara Hatke Zara Bachke," fans couldn't resist bringing up the topic of his alleged relationship with Katrina Kaif. The couple's rumored romance has been the subject of much speculation in the media and has piqued the curiosity of fans worldwide. During various interactions, fans took the opportunity to tease Vicky and observe his reaction when Katrina's name was mentioned.
Vicky's Blushing Affection: Much to the delight of fans, Vicky Kaushal couldn't hide his blushing smile when Katrina Kaif's name came up during the promotions. Despite maintaining a certain level of privacy about their personal lives, Vicky's reaction spoke volumes about his affection for the Bollywood diva. His genuine blush and sheepish smile instantly became a viral moment, capturing the attention of fans and adding an element of charm to the film's promotions.
The Power of Speculation: Celebrity relationships have long been a source of fascination for fans, and the Vicky Kaushal-Katrina Kaif pairing is no exception. The duo's alleged romance has sparked a wave of speculation and has fans eagerly awaiting any confirmation or denial from the actors themselves. The excitement surrounding their possible relationship has not only fueled curiosity but has also propelled the film's promotions to new heights.
Maintaining Privacy: Despite the constant scrutiny and interest in their personal lives, both Vicky Kaushal and Katrina Kaif have been relatively private about their relationship status. They have chosen to let their work and performances speak for themselves, keeping their personal lives away from the prying eyes of the media. This discretion has only added to the allure and intrigue surrounding their rumored romance, leaving fans eagerly anticipating any official statement or revelation.
Fans' Reactions: The adorable moment of Vicky Kaushal blushing when Katrina Kaif's name was mentioned quickly spread across social media platforms. Fans couldn't help but swoon over the actor's genuine reaction, expressing their excitement and support for the potential couple. Memes, fan art, and heartwarming messages flooded the internet, showcasing the extent of fans' enthusiasm and affection for the duo.
Looking Ahead: As Vicky Kaushal continues his promotional journey for "Zara Hatke Zara Bachke," fans eagerly anticipate any further interactions or revelations between him and Katrina Kaif. The duo's undeniable chemistry, both on and off-screen, has only fueled the curiosity surrounding their relationship. Whether they choose to keep their personal lives private or make an official announcement, fans remain dedicated and excited to witness their favorite actors' journey, both professionally and personally.
Conclusion: The promotion of "Zara Hatke Zara Bachke" became even more exciting as fans playfully brought up Katrina Kaif's name to observe Vicky Kaushal's blush-inducing response. The actor's heartfelt reaction delighted fans and added a touch of sweetness to the promotional events. While Vicky and Katrina choose to maintain their privacy, their rumored romance continues to captivate fans, who eagerly await any confirmation or further glimpses into their relationship. As the promotional journey unfolds, fans will continue to.
Group Media Publications
Entertainment News Platforms – anyflix.in
Construction Infrastructure and Mining News Platform – https://cimreviews.com/
General News Platform – https://ihtlive.com/
Podcast Platforms – https://anyfm.in