Pavan Malhotra says many heroes have never given a hit 'but are still stars'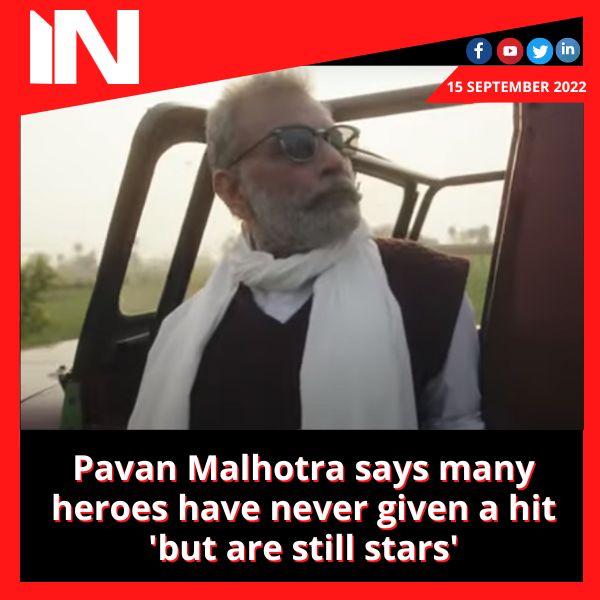 Shiksha Mandal is the latest film to focus on school fraud in India, following SonyLiv's Whisteblower and Lionsgate Play's Jugaadistan. Additionally, there is the 2019 movie Setters, which even has Pavan in a significant role. It's safe to say that there are plenty of stories about this subject. However, Pavan thinks there is still room for alternative interpretations. He comments, "Almost 3–4 years earlier, I had done a film on the same subject and we couldn't present the tale effectively," when alluding to Setters. But I really believed that this issue needed to be clearly communicated to the public. I might have assumed that I had already done this when it first occurred to me.
Although the actor has worked in the business for more than three decades, he claims that occasionally he still experiences moments of anxiety, one of which occurred on the Shiksha Mandal set. In the programme, Pavan performs the role of Madhya Pra-based criminal mastermind Dhanshu Yadav. On this episode, I had a problem with the accent and I felt I wasn't able to give my 100%, Pavan recalls his difficulties with the dialogue. Although the dialect coach and the director said it was fine, I was worried about how it would come across. I threw in the towel after two days and said, "Let's get this done quickly." However, I believed that being afraid is preferable to being overconfident.
The anecdote, according to Pavan, is significant because it discusses how "undeserving people" often replace those who are more brilliant or deserving. This naturally leads to the discussion of nepotism in the entertainment sector. The actor claims that Bollywood too has similar issue. It occurs in all professions, and nepotism is not necessarily to blame. The other person frequently exhibits poor judgement. Sometimes a producer decides to pick this star over another actor because they believe he is "saleable." Additionally, everyone has a journey and a destiny in movies, making it difficult to determine why one character is picked over another, according to him.
Over the course of a 35-year career, Pavan has been in a number of films and television programmes, but has mainly avoided repetition. He explains his technique, saying, "I learned to say no. If I was offered similar positions or work that I didn't like, I said no to it, even if it meant taking a break for six months to a year. Of course, you must pay your expenses at some point, and if there is a significant gap, you will attempt to make the best decision. You must follow your passions in order to earn enough money to maintain your respect and dignity.
However, he rejects the idea of typecasting, contending that each job is unique. The actor cites one of the many Sikh personalities he has portrayed by saying, "Even gangster or negative characters are different. For instance, even though I've played a Sardar several times, each time I did so, the character was substantially different. Do you believe Tabbar and Bhaag Milkha Bhaag's characters were similar? They are extremely dissimilar individuals. They are not interchangeable just because they both have beards and turbans.
Although he has garnered praise and accolades, including a National Award, traditional celebrity has escaped him; yet, Pavan isn't complaining. The 64-year-old actor, when discussing the idea of celebrity in Bollywood, states that there are certain actors who haven't delivered a single hit as a hero but have cultivated the impression that they are stars through the media. Unless someone has given one hit in 25 films, their flicks wash out at 12 o'clock. However, due to the perception they have fostered, they continue to be stars.
He continues by saying that his idea is to act and be sincere without caring about the consequence or the result. I try to refrain from using the same gestures and etiquette. Every director wants you to repeat a gesture you make or a certain body language you adopt that gets popular. However, I don't want to repeat it. I'll let it go. Your words and demeanour must adapt to the character. The best actors are those who are impossible to imitate. But the issue is that you won't become a star without a distinctive personal style. Nothing sticks with the public, so an actor who cannot be imitated won't become a star, he laughs.
Shiksha Mandal, which was directed by Syed Ahmed Afzal and features Gauahar Khan and Gulshan Devaiah, says it was "inspired by genuine events surrounding the biggest education scam in India." On MXPlayer, the programme will start streaming on September 15.

Group Media Publications
Entertainment News Platforms – anyflix.in
Construction Infrastructure and Mining News Platform – https://cimreviews.com/
General News Platform – https://ihtlive.com/
Legal and Laws News Platforms – https://legalmatters.in/
Podcast Platforms – https://anyfm.in/
Jawan box office collection Day 16: Shah Rukh Khan film grosses ₹953 crore globally
In the world of Indian cinema, Shah Rukh Khan has been a beloved and iconic figure for decades. His latest film, "Jawan," has taken the box office by storm, showcasing the enduring popularity of the Bollywood superstar. As the film completes its 16th day in theaters, "Jawan" continues to shatter records and has now grossed a staggering ₹953 crore globally. Let's dive into the incredible success story of this film.
Shah Rukh Khan's "Jawan" – A Blockbuster Sensation
"Jawan," featuring Shah Rukh Khan in a pivotal role, has been one of the most highly anticipated films of the year. The movie, which combines action, drama, and a captivating storyline, has resonated with audiences across the globe.
Box Office Triumph
As "Jawan" completes its 16th day in theaters, its box office collections have soared to an astounding ₹953 crore worldwide. This remarkable feat highlights the film's universal appeal and the enduring star power of Shah Rukh Khan. It is worth noting that "Jawan" has received acclaim not only in India but also in international markets, further expanding its global reach.
International Success
One of the striking aspects of "Jawan's" success is its performance in international markets. The film has not only connected with the Indian diaspora but has also found a substantial fan base among non-Indian audiences. This achievement underscores the global appeal of Shah Rukh Khan and Bollywood cinema as a whole.
Impact on Indian Cinema
"Jawan" has not only set new records in terms of box office collections but has also made a significant impact on the Indian film industry. It has demonstrated that well-crafted storytelling, stellar performances, and a compelling screenplay can still draw massive audiences to theaters, even in the age of digital streaming platforms.
Shah Rukh Khan's Stature
Shah Rukh Khan, often referred to as the "King of Bollywood," has once again proven why he remains a prominent figure in the film industry. His ability to connect with audiences across generations and borders is a testament to his enduring charisma and talent.
As "Jawan" continues its remarkable journey at the box office, it reaffirms Shah Rukh Khan's status as one of the most influential and beloved actors in the world of entertainment. The film's tremendous success reflects not only the star power of its lead but also the collective efforts of the entire cast and crew. With its global reach and record-breaking collections, "Jawan" has left an indelible mark on the landscape of Indian cinema, setting a new standard for excellence and entertainment.
Group Media Publications
Entertainment News Platforms – anyflix.in      
Construction Infrastructure and Mining News Platform – https://cimreviews.com/
General News Platform – https://ihtlive.com/
Podcast Platforms – https://anyfm.in