Regarding the 'boycott' craze, Kapil Sharma said, "Let me avoid Twitter"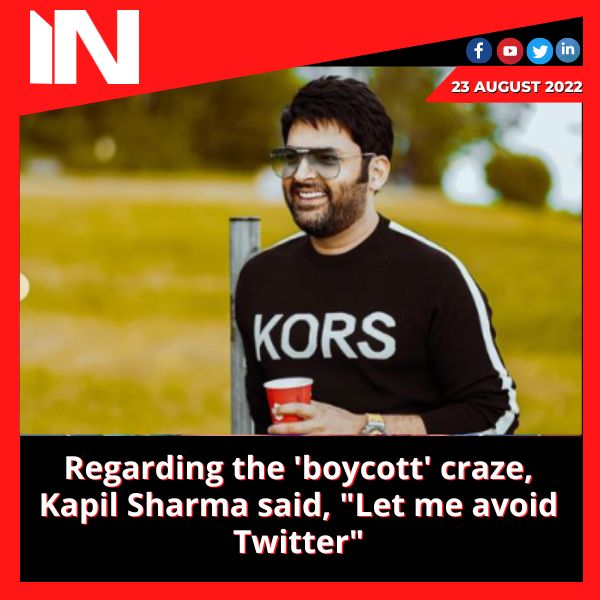 According to Kapil Sharma, tendencies toward cinema boycotts are only a question of time, and he hasn't heard of any boycotts of any Akshay Kumar films. Additionally, Kapil reflected on his own contentious Twitter experience and pleaded with the press to keep him away from the platform.
Laal Singh Chaddha, starring Aamir Khan, Raksha Bandhan, starring Akshay Kumar, and Dobaaraa, directed by Anurag Kashyap, have all received boycott requests.
When asked to comment on the current boycotting of movies and the film industry in general by online trolls, Kapil responded, "Pata nahi sir, me itna intellectual aadmi nahi. Film in my abhi apni is not yet available. The current tendency is ceasing to exist. Waqt ki baat hoti hai, yes. (I have no idea; I'm not that smart. As of right now, I don't have a film release. But these trends continue to emerge. Only a question of time will pass)."
The actor-comedian responded to a reporter who claimed that Kapil's close buddy Akshay Kumar's most recent movie Raksha Bandhan was also boycotted, "The boycott of this movie is in Maine. The Twitter world is open to you, sir.
Nikla hoon mai badi mushkil se (I have not heard of any boycott of his films of this nature. It took a lot for me to emerge from the realm of Twitter, so please let me avoid it.
On the sidelines of the Beti Fashion Show, Kapil was talking. At the fashion event that Anu Ranjan organised, he made his runway debut. Fans have been comparing Kapil's appearance to Ranveer Singh's fashion since he appeared on the show wearing a black jacket and black-golden leggings. At the fashion show, he stole the show by striking some sensual positions while giggling. Along with the other models, Kapil too walked the runway and struck a photogenic posture.
Mother of Anushka Ranjan, actor Anu Ranjan. Anushka and her on-screen spouse Aditya Seal were also present. Sussanne Khan, Poonam Dhillon, Gulshan Grover, and Satish Shah Along with many others, Pooja Batra and Arslan Goni were in attendance.
The popular show The Kapil Sharma Show's new season is currently being prepared by Kapil Sharma. The Kapil Sharma Show's final season concluded in June of this year.
Group Media Publications
Entertainment News Platforms – anyflix.in
Construction Infrastructure and Mining News Platform – https://cimreviews.com/
General News Platform – https://ihtlive.com/
Legal and Laws News Platforms – https://legalmatters.in/
Podcast Platforms – https://anyfm.in/
Disha Parmar and Nakuul Mehta discuss working together again for Bade Achhe Lagte Hain 3 and other topics.
Title: Reunion of Talent: Disha Parmar and Nakuul Mehta Discuss Working Together Again for "Bade Achhe Lagte Hain 3" and More
Introduction: The television industry has been abuzz with excitement as Disha Parmar and Nakuul Mehta, two immensely talented actors, reunite for the highly anticipated show "Bade Achhe Lagte Hain 3." Their on-screen chemistry and exceptional performances in the past have won the hearts of audiences, making their collaboration once again a cause for celebration. Recently, Disha and Nakuul shared their thoughts on working together again, their experiences, and their future aspirations.
A Trip Down Memory Lane: "Bade Achhe Lagte Hain," the original series that captivated viewers, left an indelible mark on the hearts of millions. Disha Parmar and Nakuul Mehta played pivotal roles in the show's success with their nuanced performances as Priya and Ram, respectively. Their effortless chemistry and ability to bring their characters to life made the show an unforgettable experience for fans. Now, with the announcement of the show's third installment, viewers are eagerly awaiting their on-screen reunion.
A Reunion of Talent and Camaraderie: In a recent interview, Disha Parmar and Nakuul Mehta expressed their excitement and joy at the prospect of working together once again. They shared stories of their past experiences on the set of "Bade Achhe Lagte Hain" and how the show holds a special place in their hearts. The duo praised each other's professionalism and the strong bond they formed during their previous collaboration, making their reunion all the more special.
Exploring New Dimensions: While the return to "Bade Achhe Lagte Hain" is undoubtedly a much-anticipated event, Disha and Nakuul also discussed their aspirations to explore different genres and characters beyond their previous roles. They expressed their desire to push boundaries and challenge themselves as actors, eager to embark on new projects that offer diverse and exciting opportunities for growth.
Fans' Anticipation: The announcement of Disha Parmar and Nakuul Mehta's reunion has sparked a wave of anticipation among fans. Social media platforms are buzzing with excitement as viewers eagerly await the return of their favorite on-screen pair. The fans' unwavering support and love have been a driving force for Disha and Nakuul, inspiring them to give their best performances and create magic on screen once again.
A Promising Future: As Disha Parmar and Nakuul Mehta prepare to step into their respective characters for "Bade Achhe Lagte Hain 3," the duo is poised to deliver yet another memorable performance. Their talent, combined with the creative vision of the show's makers, promises an engaging and entertaining experience for viewers. The audience can look forward to witnessing the evolution of these exceptional actors as they breathe life into new narratives and explore the depths of their characters.
Conclusion: The reunion of Disha Parmar and Nakuul Mehta for "Bade Achhe Lagte Hain 3" is a moment of excitement and nostalgia for both the actors and their fans. Their on-screen chemistry and remarkable performances have left an indelible impression in the minds and hearts of viewers. As they embark on this new journey together, audiences eagerly await their captivating performances and the magic they will create once again. With their shared talent and passion for their craft, Disha and Nakuul are poised to deliver yet another exceptional television experience that will be etched in the annals of television history.
Group Media Publications
Entertainment News Platforms – anyflix.in
Construction Infrastructure and Mining News Platform – https://cimreviews.com/
General News Platform – https://ihtlive.com/
Podcast Platforms – https://anyfm.in