Review of the film Judaa Hoke Bhi: Akshay Oberoi and Aindrita Ray excel in this darkly romantic thriller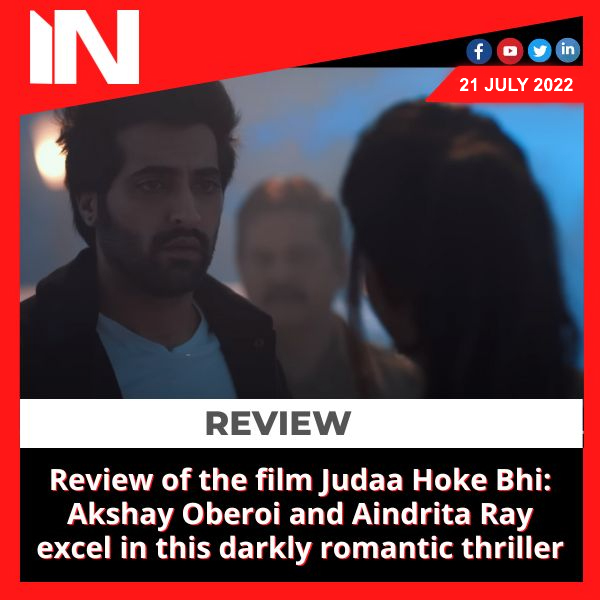 Story: Aman Khanna (Akshay Oberoi), a once-promising musician and songwriter, is currently drowning his life in drink and self-destruction after losing his son at an early age. His marriage to Meera (Aindrita Ray) has also suffered as a result of this catastrophe. Meera will relocate to Uttrakhand to begin writing Siddharth Jaiwardhan's (Meherzan Mazda) biography when fate separates them. Will their separation make their connection stronger, or will their isolation result in a triangle of love, or is there more to their relationship than meets the eye?
Judaa Hoke Bhi by Vikram Bhatt is a romance story with a hint of supernatural terror. The couple at the centre of the story has a strained marriage as a result of the passing of their son. Meera, Aman's better half, pays the bills because Aman is an alcoholic on a self-destructive path and even decides to go to Uttrakhand to write Siddharth Yashwardhan's biography in order to make a living. Their lives then start to turn for the worse. Will she ever see Aman again while she is behind bars?
The action of the story takes place in the charming Uttrakhand town of Binsar. And your breath stops as you first see a stunning palace in the middle of a snow-capped mountain range encircled by a thick rainforest. Siddharth, a spooky-looking wealthy businessman, and Mathew, his right-hand guy, are seen living alone in the palace. And due to the extreme cold, the remainder of the town is empty. We were shocked to find that Meera had not previously searched for and investigated the location. I guess not, given that she is frequently photographed in sarees made of chiffon and net during the winter.
Unfortunately, neither Meera nor the viewers are aware of the risks they are taking. The story by Mahesh Bhatt brilliantly depicts the couple's deep love, yet its contrast of love and lust is uninspired. Also, the supernatural activities are not thrilling enough to keep you on the edge of your seat. The girl sees horrifying sights, and strange voices keep resonating throughout, but you are not alarmed or disturbed by anything. The story's twist was predictable and easy to predict, but our "overly smart" hero doesn't realise it until the very end.
The action doesn't really start up until the conclusion, when Aman is fighting the enormous thing. Although it took some time to get here, the audience was already worn out. Everything was resolved in a hurry at the end. That is regrettable!
The conversations are robust. "Zindagi bahut sundar hain kyunki voh khatam hoti hain," according to the movie, means that we should let go of the past and concentrate on the present. Rushad Rana, a blind man who is aware of reality and maintains that Meera is possessed, is present in Raaz Reboot (2016) as well. He says to everyone, "uski aatma uske bas mein nahi." Therefore, this subplot receives no marks because it seems to be boring.
The songs, especially "Mera Naseeb ho Tum" and the title tune by Stebin Ben, are soulful and increase the impact of the drama. the performances, too. Akshay Oberoi does a remarkable job of capturing the intense emotions of his character Aman. As Meera, Aindrita Ray performed admirably. You will surely get shivers watching the hospital scene where she excels. Meherzan Mazda's character arc is only lightly sketched, giving the impression that he is complicated.
All things considered, this overstuffed drama is too corny and sentimental to keep your interest, but it does amuse you in its own special ways. This 122-minute drama is worth seeing just once because of the performances and the beautiful music, but if you want something to keep you on the edge, find elsewhere.
Group Media Publications
Entertainment News Platforms – anyflix.in
Construction Infrastructure and Mining News Platform – https://cimreviews.com/
General News Platform – https://ihtlive.com/
Legal and Laws News Platforms – https://legalmatters.in/
Podcast Platforms – https://anyfm.in/
At an event, Rupali Ganguly touches an experienced journalist's foot, to which the audience responds, "Success has not changed her."
Actress Rupali Ganguly is gaining popularity online after a video of her from an event went viral. The Anupamaa actress appeared to present veteran journalist Chaitanya Padukone with an award at the Expandable Awards. She touched his feet after presenting him with the prize and introduced her on-screen persona to the audience.
Rupali wore a purple sari with shine to the occasion. She knelt down in the video and brushed the journalist's feet, asking for his blessing. Chaitanya appeared overwhelmed in reaction. An account belonging to a paparazzi has uploaded the video.
"Rupali is extremely down to earth," a user commented in response to it in the comment area. Success hasn't altered her because she was raised by the fantastic director and all-around positive person Anil Ganguly, whose home she grew up in. I grew up watching all of his movies, so that is undoubtedly where it all begins. Another person said, "Ise bolte hain Asli Sanskaar (this is referred to as authentic culture)"
"That's why Rupali mam is so successful and widely known, down to earth and never leave her root," another person added. Rupali was referred to as "grace" by filmmaker Ram Kamal Mukherjee in the comments section.
Rupali began her acting career as a child performer and later achieved recognition as the lead in the television series Sarabhai vs. Sarabhai, in which Ratna Pathak Shah co-starred as Monisha Sarabhai. She later became a celebrity of television programmes like Baa Bahoo Aur Baby and Parvarrish – Kuchh Khattee Kuchh Meethi.
Currently, Rupali is portraying the Gujarati homemaker Anupamaa in the lead character of the television series Anupamaa. It is one of the most watched serials on Star Plus. Rupali recently shared her thoughts on the show in response to complaints from viewers regarding the length of her monologues.
She said, "Fans ki baatein sar aankhon par (I will always put my fans' needs first)" to Pinkvilla. My creators are quite aware of the message they want to get across with Anupamaa. Regardless of what he (producer Rajan Shahi) has envisioned for Anupamaa to do, I shall strive to express it with all of my passion. I'll give it my all and do it to the best of my skills.
Group Media Publications
Entertainment News Platforms – anyflix.in
Construction Infrastructure and Mining News Platform – https://cimreviews.com/
General News Platform – https://ihtlive.com/
Podcast Platforms – https://anyfm.in