Review of the movie "Kantara": Rishab Shetty creates a moving and rooted story.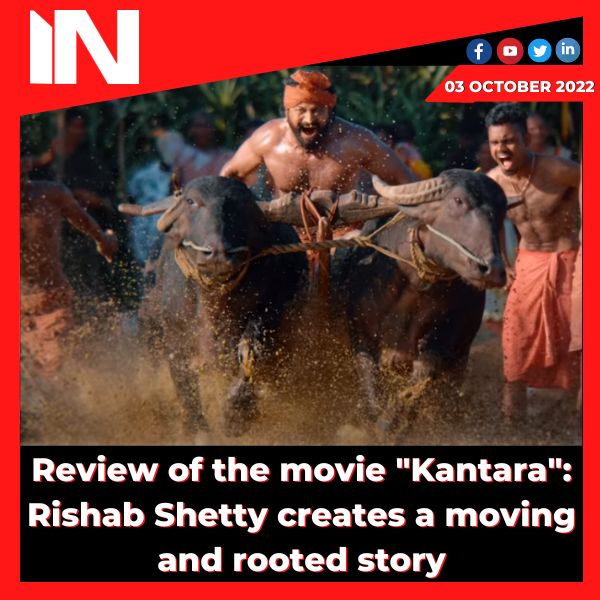 Our filmmakers have always had enough of material to work with when it comes to conflicts between man and environment. Even though it deals with the same idea, Rishab Shetty's Kantara makes an effort to be unique and succeeds in doing so by remaining grounded and genuine.
Rishab demonstrated his talent for narrating tales set in the coastal region of Karnataka even in his earlier films, Ricky and Sa.Hi.Pra Shaale. He also walks into the woods with Kantara to discuss protecting trees, all the while producing a riveting revenge-action thriller with a mix of crime and religion.
A king trades a plot of land with his subjects in the 18th century and then departs in search of peace and happiness in the imaginary village of Dakshina Kannada, where Kantara is located. The same terrain poses a threat to the local tribal people centuries later, but they remain convinced that their guardian demigods will keep the village safe. The scenario then jumps to the 1990s, where we witness a conflict between forest-dwelling people and the forest inspector who wants to cleanse the region of any encroachment.
Shiva (Rishab Shetty) and his companions lead carefree lives, but they frequently clash with the forest ranger Murali (Kishore), who only seeks to protect the law. Devendra Suttur, a politician, is another character we have; Achyuth Kumar plays him. However, there is a greater evil at play, and Kantara tells the story of Shiva's battle to bring justice to the villagers.
The picture has a fantastic conclusion at the end, which is unquestionably Kantara's USP. In Kantara, different points of view are presented, and Rishab, who also wrote and directed the movie, does a fantastic job of bringing them all together.
With every movie, Rishab just gets better, and Hombale Films' support has helped the director to make the movie more genuine. The chapters of Bhoota Kola and Kambala give it a unique flavour despite the fact that it deals with a well-known theme—the fight between humans and nature. The movie has gorgeous frames throughout. Kantara is lit up in brilliant tones by DOP Aravind Kashyap, who is skillfully assisted by art director Dharani Gange Putra in giving Kantara a pretty organic appearance.
Additionally, Kantara examines certain important topics like caste prejudice. Even though there isn't a dedicated comedy track, several of the characters have enough peculiarities to up the fun factor. The narration in the movie is clear, and the well-staged action scenes deserve particular praise.
In Kantara, composer Ajaneesh Loknath excels. His folk songs are calming, but the background music highlights Kantara's story.
Shiva is brilliantly portrayed by actor Rishab, who gives life to this unusual character. For the part, he underwent a significant and severe change, and the results are obvious. Rishab will undoubtedly receive cheers and applause from the audience for his performance in the suspenseful conclusion. In Kantara, Sapthami Gowda gives a respectable performance as Shiva's love interest and forest guard Leela. Kishore and Achyuth both put on strong performances, and it is enjoyable to see Kishore's passionate ego conflicts with Shiva. The acting of Manasi Sudhir, Pramod Shetty, and Prakash Thuminad is also respectable.
With Kantara, Rishab once again works his acting and directing magic to produce a show with a strong social message and an even stronger finale.
Rishab Shetty is the filmmaker.
Cast includes Kishore, Achyuth Kumar, Sapthami Gowda, and Rishabh Shetty.
Four out of five stars
Group Media Publications
Entertainment News Platforms – anyflix.in      
Construction Infrastructure and Mining News Platform – https://cimreviews.com/
General News Platform – https://ihtlive.com/
Legal and Laws News Platforms – https://legalmatters.in/
Podcast Platforms – https://anyfm.in/
Selena Gomez excitedly displays Taylor Swift's Eras Tour merchandise while cheering on her BFF in LA and exclaims, "Another one!"
The power of friendship and mutual support in the entertainment industry is a heartwarming sight to behold. Recently, Selena Gomez showcased her unwavering support for her best friend, Taylor Swift, by excitedly displaying merchandise from Swift's ongoing Eras Tour while cheering her on in Los Angeles. The heartening display of camaraderie between these two pop icons highlights the beauty of genuine friendships and the infectious excitement that accompanies a friend's success. In this blog post, we explore the significance of Selena Gomez's enthusiastic endorsement of Taylor Swift's tour merchandise and the enduring bond they share.
Celebrating Friendship and Success
Selena Gomez and Taylor Swift's friendship has been a constant source of admiration and inspiration for fans around the world. Their public displays of support for each other's achievements emphasize the importance of uplifting one another, even in the competitive entertainment industry. Gomez's enthusiastic endorsement of Swift's Eras Tour merchandise while cheering her on at a Los Angeles event beautifully encapsulates the spirit of celebrating each other's successes with genuine joy.
The "Another One!" Moment
Gomez's exclamation of "Another one!" as she proudly displayed the Eras Tour merchandise speaks volumes about her excitement and pride in Swift's accomplishments. This endearing moment not only showcases their strong friendship but also emphasizes the joy that comes with witnessing a friend's continuous journey of growth, creativity, and achievement.
The Influence of Celebrity Friendships
Celebrity friendships, like that of Gomez and Swift, hold a unique place in pop culture. They offer fans a glimpse into the personal lives of their favorite stars, making them more relatable and human. Such friendships also challenge the notion of rivalry in the entertainment industry, proving that true friendships can coexist even in a competitive environment.
Supporting Each Other's Creative Ventures
When one celebrity supports another's creative ventures, it sends a powerful message about unity and mutual admiration. Gomez's display of the Eras Tour merchandise not only promotes Swift's work but also encourages fans to engage with and celebrate their favorite artists' achievements. This kind of endorsement resonates deeply with fans, contributing to the overall success of an artist's projects.
Selena Gomez's enthusiastic display of Taylor Swift's Eras Tour merchandise while cheering her on in Los Angeles is a heartening testament to the enduring power of friendship and support in the entertainment industry. This authentic gesture reflects the genuine camaraderie these pop icons share and sends a message of positivity and unity to their fans. As Gomez and Swift continue to inspire each other and celebrate their individual journeys, their friendship remains a shining example of how genuine connections can flourish amidst the glitz and glamour of the celebrity world.
Group Media Publications
Entertainment News Platforms – anyflix.in      
Construction Infrastructure and Mining News Platform – https://cimreviews.com/
General News Platform – https://ihtlive.com/
Podcast Platforms – https://anyfm.in