Review of Thirteen Lives: The best movie of 2022 is Ron Howard's breath-taking masterpiece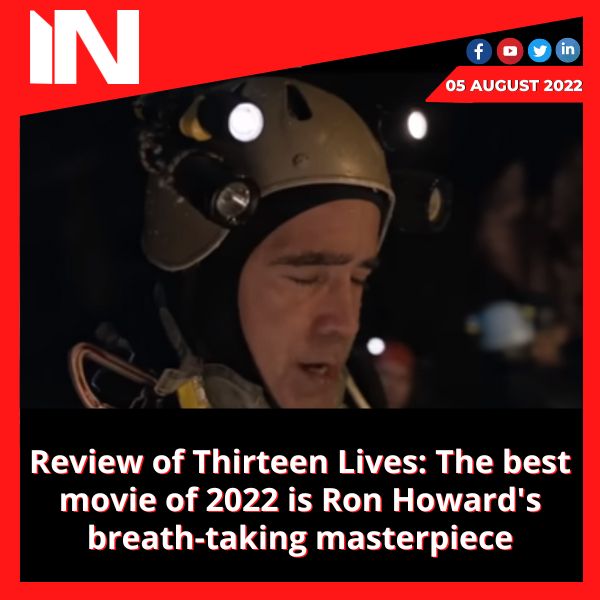 Ron Howard is an expert at creating dramas about survival. Anyone who has seen Apollo 13 will recall how masterfully and terrifyingly he rendered the situation's hopelessness and claustrophobia. Well, believe it or not, he does it again in Thirteen Lives, and in my opinion, he does it even better this time. The ferocity of water has taken the place of space's vacuum, but the same tension, thrill, and tense anxiety are still present. The seasoned director demonstrates unequivocally that good movies can be made without big budgets, special effects, or superheroes. One need only provide a good plot and a formidable cast to produce a masterpiece, which Thirteen Lives truly is.
The 2018 Tham Luang cave rescue, in which 12 kids and their football coach were imprisoned for three weeks in a flooded cave in Thailand, served as the inspiration for the movie Thirteen Lives. The children were trapped for days despite the Thai military's best efforts, and it took the efforts of experienced cave divers from the UK and Australia to finally reach and save them. The movie, which debuts on Friday, August 5, on Amazon Prime Video, retells the tale of this extraordinary rescue from the viewpoints of the divers, the kids and their families, and the helpless local authorities.
I'll admit that when I first heard about the movie, I had some reservations. It is very simple to turn a movie about a tragedy in the Third World into a "white saviour" story by casting white actors in it. But Ron Howard skillfully stays away from that. He emphasises the importance of local government and residents while treating the narrative and the nation with the utmost sincerity and respect. The story involves four regular men who helped a community save its children, not four white men showing some Thai people how to do their jobs.
The only thing that might work against it is that it runs for almost two hours and a half, which is about 15 to 20 minutes too long. Even though it takes more time to fit in so many scenes and stories, a little bit more suspense would have been added to the movie.
Colin Farrell and Viggo Mortensen as divers The focus of the movie is on Richard Stanton and John Volanthen. The two divers were instrumental in the rescue because they found the children and, together with Richard Harris (Joel Edgerton), came up with a plan to get them out. More impressive than any prosthetic-laden performance they have given is the two actors' transformation into these skilled cave divers, who carry the entire movie on their shoulders.
The Thai actors, however, are the show's real stars in my opinion. Governor Narongsak Osatanakorn, played by Sahajak Boonthanakit, and General Anupong Paochinda, played by Vithaya Pansringarm, steal the show. Despite their differences, these two men must cooperate to protect the children. The villagers in the area and the families of the children all put in strong performances as the supporting cast.
The fact that nearly half of the movie is in Thai presents a significant challenge for the director, who neither speaks nor understands a word of it. Nevertheless, he was able to accurately capture minor details like the dialect, demonstrating his attention to detail and dedication to realism.
Fourteen Lives
Ron Howard, director
Cast includes Tom Bateman, Sukollawat Kanarot, Viggo Mortensen, Joel Edgerton, Colin Farrell, and Sahajak Boonthanakit.
Group Media Publications
Entertainment News Platforms – anyflix.in
Construction Infrastructure and Mining News Platform – https://cimreviews.com/
General News Platform – https://ihtlive.com/
Legal and Laws News Platforms – https://legalmatters.in/
Podcast Platforms – https://anyfm.in/
How Tom Cruise gets ready for action scenes: "Even shoelaces were taped"
Title: Tom Cruise's Unparalleled Dedication: Preparing for Action Scenes with Meticulous Precision
Introduction: Tom Cruise, the iconic Hollywood actor renowned for his thrilling action sequences, has time and again captivated audiences with his daredevil stunts and electrifying performances. Behind the scenes, Cruise's commitment to delivering awe-inspiring action extends to meticulous preparation and attention to detail. Recent revelations about his extraordinary dedication have shed light on his intensive approach, where even the simplest of tasks, like tying shoelaces, are executed with extraordinary precision. In this blog, we delve into Tom Cruise's remarkable preparation for action scenes, which showcases his unwavering commitment to his craft.
An Unmatched Work Ethic: Tom Cruise's success as an action star stems from his unparalleled work ethic and determination to create the most authentic and immersive experiences for audiences. His willingness to go above and beyond has solidified his status as a true professional in the industry. Cruise's preparation process, involving every aspect of his performance, exemplifies his relentless pursuit of perfection.
The Importance of Detail: In crafting action scenes, attention to detail is paramount. Tom Cruise understands that even the slightest oversight can compromise the believability and impact of a sequence. His commitment to accuracy extends to every aspect, including the smallest details like shoelaces. Reports have surfaced about Cruise taping his shoelaces during action scenes to ensure they remain tightly secured, preventing any potential accidents or distractions. This level of meticulousness demonstrates his dedication to maintaining absolute control over his movements and ensuring the highest level of safety.
Physical and Mental Conditioning: Preparing for action scenes is not just about physical training but also mental conditioning. Cruise invests significant time and effort in both aspects to deliver captivating performances. His rigorous fitness regimen and extensive training in various combat techniques are well-known within the industry. Moreover, he collaborates closely with stunt coordinators and experts to choreograph intricate sequences that push the boundaries of what is possible on screen.
Collaborative Approach: Tom Cruise recognizes the importance of collaboration in creating memorable action scenes. He actively engages with his co-stars, directors, and stunt teams, ensuring a cohesive vision and precise execution. His meticulousness is contagious, inspiring those around him to give their best and pushing the boundaries of what can be achieved. This collaborative approach enhances the authenticity and impact of his action sequences, elevating the overall cinematic experience.
Setting the Bar Higher: By leaving no stone unturned in his preparation, Tom Cruise sets the bar higher not only for himself but also for the entire industry. His unwavering commitment to his craft continues to inspire aspiring actors and filmmakers, encouraging them to invest in their performances and push their limits. Cruise's dedication to excellence has raised expectations for action scenes, motivating filmmakers and actors to strive for greater authenticity and intensity.
Conclusion: Tom Cruise's preparation for action scenes exemplifies his unmatched dedication, attention to detail, and unwavering commitment to delivering spectacular performances. His focus on every aspect, down to taping his shoelaces, showcases his dedication to maintaining precision and safety. Cruise's meticulousness not only elevates his own work but also influences the standards and expectations of the entire industry. As audiences continue to be enthralled by his captivating performances, his preparation process serves as a reminder of the effort and passion required to create cinematic magic.
Group Media Publications
Entertainment News Platforms – anyflix.in
Construction Infrastructure and Mining News Platform – https://cimreviews.com/
General News Platform – https://ihtlive.com/
Podcast Platforms – https://anyfm.in