Stunning in a desi kurta and dupatta, Emma Thompson stars in a Shekhar Kapur movie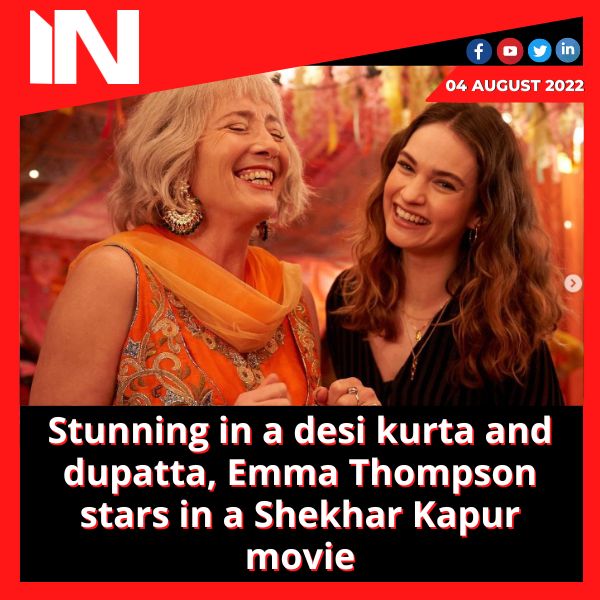 In a photo from the set of her upcoming Shekhar Kapur film, What's Love Got To Do With It, Emma Thompson is dressed in a vibrant orange kurta. The British actor, who plays her daughter in the movie, is pictured in the recently released picture working with co-star Lily James while wearing an eye-catching traditional Indian ensemble. In the upcoming romantic comedy, Shabana Azmi also appears.
What's Love Got To Do With It?, written by Jemima Khan and starring Pakistani actor Sajal Ali in addition to Shazad Latif, Mim Shaikh, Asim Chaudhry, Jeff Mirza, and Iman Boujelouah, will have its world premiere on September 10 at the Toronto International Film Festival 2022. Emma Thompson can be seen beaming while being photographed with Lilly, who is wearing a black top, in photos that were recently released from the movie's set. Emma Thompson is wearing a vibrant orange kurta. At a party, the two seemed to be having a great time.
Fans were drawn to Emma's desi appearance, which included thick kadas (bangles) and heavy jhumkas. Fans who couldn't wait to see What's Love Got to Do With It flooded the comments section of an Instagram post shared by the movie's producers. Someone commented, "So exciting!" Another person added, "Can't wait." Regarding the upcoming movie, someone else commented, "Looking forward to finally seeing what it looks like."
How does love fit into this? tells the tale of Zoe (Lily James), a dating app addict and documentary maker, whose experience with swiping right has never been great. To the dismay of her mother Cath (Emma Thompson), she has consistently matched with the wrong men.
Kaz (Shazad Latif), a neighbour and friend from Zoe's youth, is allowing his parents to arrange his marriage and find him a Pakistani bride. Zoe wonders if she can learn anything from arranged marriage that will help her find love on her own as she documents Kaz's journey from London to Lahore to wed a total stranger chosen by his parents.
Film music was composed by Nitin Sawhney. The soundtrack of the movie will also include songs by Pakistani singer Rahat Fateh Ali Khan and Indian singer Kanika Kapoor.
Group Media Publications
Entertainment News Platforms – anyflix.in
Construction Infrastructure and Mining News Platform – https://cimreviews.com/
General News Platform – https://ihtlive.com/
Legal and Laws News Platforms – https://legalmatters.in/
Podcast Platforms – https://anyfm.in/
How Tom Cruise gets ready for action scenes: "Even shoelaces were taped"
Title: Tom Cruise's Unparalleled Dedication: Preparing for Action Scenes with Meticulous Precision
Introduction: Tom Cruise, the iconic Hollywood actor renowned for his thrilling action sequences, has time and again captivated audiences with his daredevil stunts and electrifying performances. Behind the scenes, Cruise's commitment to delivering awe-inspiring action extends to meticulous preparation and attention to detail. Recent revelations about his extraordinary dedication have shed light on his intensive approach, where even the simplest of tasks, like tying shoelaces, are executed with extraordinary precision. In this blog, we delve into Tom Cruise's remarkable preparation for action scenes, which showcases his unwavering commitment to his craft.
An Unmatched Work Ethic: Tom Cruise's success as an action star stems from his unparalleled work ethic and determination to create the most authentic and immersive experiences for audiences. His willingness to go above and beyond has solidified his status as a true professional in the industry. Cruise's preparation process, involving every aspect of his performance, exemplifies his relentless pursuit of perfection.
The Importance of Detail: In crafting action scenes, attention to detail is paramount. Tom Cruise understands that even the slightest oversight can compromise the believability and impact of a sequence. His commitment to accuracy extends to every aspect, including the smallest details like shoelaces. Reports have surfaced about Cruise taping his shoelaces during action scenes to ensure they remain tightly secured, preventing any potential accidents or distractions. This level of meticulousness demonstrates his dedication to maintaining absolute control over his movements and ensuring the highest level of safety.
Physical and Mental Conditioning: Preparing for action scenes is not just about physical training but also mental conditioning. Cruise invests significant time and effort in both aspects to deliver captivating performances. His rigorous fitness regimen and extensive training in various combat techniques are well-known within the industry. Moreover, he collaborates closely with stunt coordinators and experts to choreograph intricate sequences that push the boundaries of what is possible on screen.
Collaborative Approach: Tom Cruise recognizes the importance of collaboration in creating memorable action scenes. He actively engages with his co-stars, directors, and stunt teams, ensuring a cohesive vision and precise execution. His meticulousness is contagious, inspiring those around him to give their best and pushing the boundaries of what can be achieved. This collaborative approach enhances the authenticity and impact of his action sequences, elevating the overall cinematic experience.
Setting the Bar Higher: By leaving no stone unturned in his preparation, Tom Cruise sets the bar higher not only for himself but also for the entire industry. His unwavering commitment to his craft continues to inspire aspiring actors and filmmakers, encouraging them to invest in their performances and push their limits. Cruise's dedication to excellence has raised expectations for action scenes, motivating filmmakers and actors to strive for greater authenticity and intensity.
Conclusion: Tom Cruise's preparation for action scenes exemplifies his unmatched dedication, attention to detail, and unwavering commitment to delivering spectacular performances. His focus on every aspect, down to taping his shoelaces, showcases his dedication to maintaining precision and safety. Cruise's meticulousness not only elevates his own work but also influences the standards and expectations of the entire industry. As audiences continue to be enthralled by his captivating performances, his preparation process serves as a reminder of the effort and passion required to create cinematic magic.
Group Media Publications
Entertainment News Platforms – anyflix.in
Construction Infrastructure and Mining News Platform – https://cimreviews.com/
General News Platform – https://ihtlive.com/
Podcast Platforms – https://anyfm.in