Supernatural's Jeffrey Dean Morgan will appear on The Boys Season 4 as a recurring guest star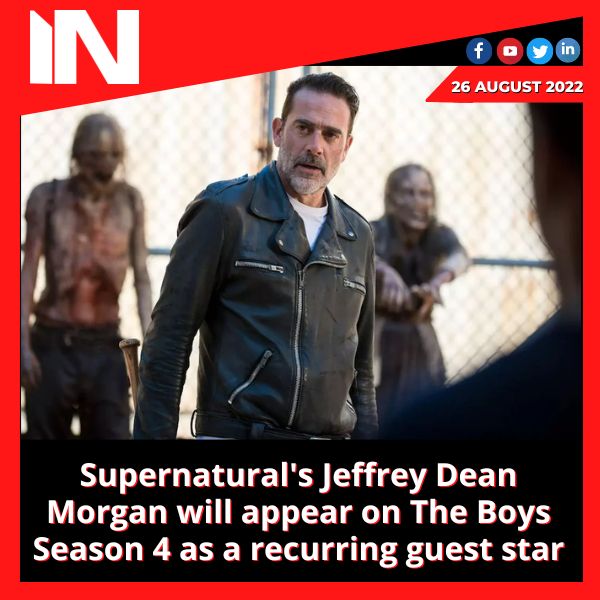 Jeffrey Dean Morgan has been signed on to appear frequently in season 4 of The Boys. The specifics of his position are still unknown, but he will be reconnecting with The Boys' showrunner and Supernatural creator Eric Kripke. Earlier this week, Kripke announced on Twitter that season 4's first episode, titled "Department of Dirty Tricks," had begun production. David Reed wrote the episode, and Supernatural's Phil Sgriccia is in charge of directing the Amazon Prime Video series.
Morgan will appear in The Boys season 4 that is now filming in Toronto, Ontario. Morgan is best known for playing the bat-wielding antagonist Negan on The Walking Dead. Jeffrey Dean Morgan is a superfan of the show, so he and I are talking, Kripke said in an interview about his efforts to get Morgan to appear in the future season. We're attempting to come up with a plan for season four. Nothing official yet, but he and I are corresponding via email and phone to see if we can work something out around his hectic schedule. So, pay attention to that.
The last time Kripke and Morgan worked together was on The CW's Supernatural, where the former played the Winchester family's patriarch John Azazel in recurring roles. Morgan is not the only Supernatural actor to work with Kripke again; the third season of The Boys included Jensen Ackles playing Soldier Boy. He had previously portrayed Dean Winchester, the son, in the gritty fantasy drama.
Alongside Lauren Cohan, Morgan is slated to make a comeback in the upcoming The Walking Dead spin-off series Dead City. The spin-off of the popular zombie-slaying thriller centres on the unusual duo of Maggie and Negan, the latter of whom killed her husband in the original series. In Zack Snyder's Batman v Superman: Dawn of Justice, the two further portrayed parents Thomas and Martha Wayne.
The cast of The Boys has since been expanded by Prime Video to include Valorie Curry from The Tick and Susan Heyward from Orange is the New Black. Ryan, the son of a Homelander played by Cameron Crovetti, has been promoted to series regular for season 4.
Group Media Publications
Entertainment News Platforms – anyflix.in
Construction Infrastructure and Mining News Platform – https://cimreviews.com/
General News Platform – https://ihtlive.com/
Legal and Laws News Platforms – https://legalmatters.in/
Podcast Platforms – https://anyfm.in/
Day 6 of the box office take for Chandramukhi 2 shows a drop to 2 crore for the Kangana Ranaut movie following the long weekend.
In the world of cinema, box office numbers can often serve as a barometer of a movie's success and audience reception. Kangana Ranaut's highly anticipated film, "Chandramukhi 2," has been making waves since its release. However, as the dust settles after the long weekend, day 6 at the box office has shown a significant drop in earnings, with the film raking in 2 crore rupees. Let's delve into what this means for the movie's overall performance and what factors could be contributing to the change in numbers.
A Promising Start
"Chandramukhi 2" generated substantial buzz and anticipation leading up to its release. Kangana Ranaut's powerhouse performances and the film's intriguing storyline had audiences eager to witness the movie on the big screen. As expected, the film got off to a strong start during its opening weekend, with impressive box office collections.
Long Weekend Highs
The long weekend, often a boon for movie releases, saw "Chandramukhi 2" enjoying robust earnings. Audiences flocked to theaters to catch the film, resulting in a surge in box office numbers. This surge is typical for highly anticipated films and can lead to a misleadingly positive perception of a movie's performance.
The Day 6 Drop
However, as the week progressed and the long weekend euphoria subsided, "Chandramukhi 2" experienced a notable drop in earnings on day 6. The movie's collection decreased to 2 crore rupees, raising questions about its ability to maintain momentum.
Factors at Play
Several factors could contribute to the drop in box office earnings:
Weekday Blues: Weekdays typically witness lower footfall at theaters due to work and school commitments. This trend often results in reduced box office numbers compared to weekends.
Audience Word-of-Mouth: The initial excitement around a film can sometimes lead to mixed or negative reviews from viewers. Word-of-mouth recommendations or critiques can impact a movie's performance as the week progresses.
Competition: The presence of other releases in theaters can divert audiences' attention and affect the box office performance of a particular film.
Marketing and Promotion: The intensity and effectiveness of a film's marketing and promotional campaigns can influence its long-term success.
The Bigger Picture
While the drop in earnings on day 6 is a noteworthy development, it's essential to remember that the box office is a dynamic arena. A single day's collection does not necessarily determine the overall success or quality of a film. "Chandramukhi 2" still has ample opportunity to recapture audience interest and sustain its box office performance.
Kangana Ranaut's dedication to her craft and her ability to deliver powerful performances are well-known in the industry. As audiences continue to flock to theaters to experience "Chandramukhi 2," the movie's ultimate box office fate will become clearer over time.
In conclusion, day 6 of box office collections for "Chandramukhi 2" reflects the natural ebb and flow of a film's performance after the initial excitement of its release. It's a reminder that the movie industry is ever-evolving, and a film's true success is often measured not just by its opening numbers but by its enduring impact on audiences.
Group Media Publications
Entertainment News Platforms – anyflix.in      
Construction Infrastructure and Mining News Platform – https://cimreviews.com/
General News Platform – https://ihtlive.com/
Podcast Platforms – https://anyfm.in