Swayamvar Mika Di Vohti, according to Akanksha Puri, was not scripted: "Mika and I have been friends, but we haven't dated"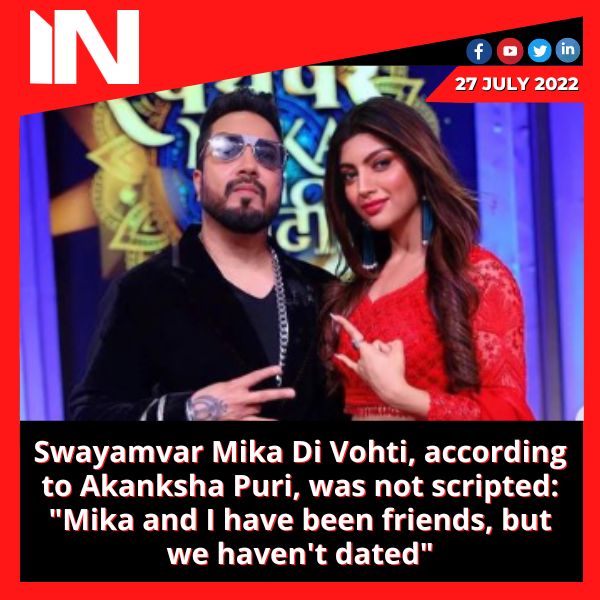 On the reality programme Swayamvar: Mika Di Vohti, singer Mika has finally picked his bride, actor Akanksha Puri. Akanksha, a longtime friend of Mika's, entered the competition as a wild card contestant and ultimately took home the prize by outlasting other deserving competitors including Prantika Das and Neet Mahal. The accusations that the show was "written" or "pre-planned" have finally been addressed by Akanksha Puri. She claimed Mika and her relationship is genuine and that they have never been romantically involved.
On the television programme Vighnaharta Ganesha, Akanksha played the role of Goddess Parvati. She has also appeared in a few Hindi, Tamil, Kannada, and Malayalam films. For over 13 years, Akanksha and Mika have been friends. She admitted that he had also paid her a visit.
In an interview with ETimes, Akanksha responded to those who claim the concert was pre-planned, saying, "I want to say again that this is not a hoax. However, events must unfold gradually throughout time."
"My entry in the show was not planned," she continued. He was actually taken aback when he recognised me as a wild card competitor. I've known Mika for a while, but we've never been romantically involved. One must give marriage a lot of thought before making the plunge because it is a huge decision. You cannot get hitched after finishing a few chores on a show.
For a romantic night on Monday, Mika and Akanksha went out together. In front of a restaurant, the two posed together for photographers. Additionally, Akanksha has been sharing romantically captioned photos of herself and images from the show on Instagram. She first gained notoriety in 2019–20 when actor and Bigg Boss 13 participant Paras Chhabra discussed his separation with her.
Group Media Publications
Entertainment News Platforms – anyflix.in
Construction Infrastructure and Mining News Platform – https://cimreviews.com/
General News Platform – https://ihtlive.com/
Legal and Laws News Platforms – https://legalmatters.in/
Podcast Platforms – https://anyfm.in/
Disha Parmar and Nakuul Mehta discuss working together again for Bade Achhe Lagte Hain 3 and other topics.
Title: Reunion of Talent: Disha Parmar and Nakuul Mehta Discuss Working Together Again for "Bade Achhe Lagte Hain 3" and More
Introduction: The television industry has been abuzz with excitement as Disha Parmar and Nakuul Mehta, two immensely talented actors, reunite for the highly anticipated show "Bade Achhe Lagte Hain 3." Their on-screen chemistry and exceptional performances in the past have won the hearts of audiences, making their collaboration once again a cause for celebration. Recently, Disha and Nakuul shared their thoughts on working together again, their experiences, and their future aspirations.
A Trip Down Memory Lane: "Bade Achhe Lagte Hain," the original series that captivated viewers, left an indelible mark on the hearts of millions. Disha Parmar and Nakuul Mehta played pivotal roles in the show's success with their nuanced performances as Priya and Ram, respectively. Their effortless chemistry and ability to bring their characters to life made the show an unforgettable experience for fans. Now, with the announcement of the show's third installment, viewers are eagerly awaiting their on-screen reunion.
A Reunion of Talent and Camaraderie: In a recent interview, Disha Parmar and Nakuul Mehta expressed their excitement and joy at the prospect of working together once again. They shared stories of their past experiences on the set of "Bade Achhe Lagte Hain" and how the show holds a special place in their hearts. The duo praised each other's professionalism and the strong bond they formed during their previous collaboration, making their reunion all the more special.
Exploring New Dimensions: While the return to "Bade Achhe Lagte Hain" is undoubtedly a much-anticipated event, Disha and Nakuul also discussed their aspirations to explore different genres and characters beyond their previous roles. They expressed their desire to push boundaries and challenge themselves as actors, eager to embark on new projects that offer diverse and exciting opportunities for growth.
Fans' Anticipation: The announcement of Disha Parmar and Nakuul Mehta's reunion has sparked a wave of anticipation among fans. Social media platforms are buzzing with excitement as viewers eagerly await the return of their favorite on-screen pair. The fans' unwavering support and love have been a driving force for Disha and Nakuul, inspiring them to give their best performances and create magic on screen once again.
A Promising Future: As Disha Parmar and Nakuul Mehta prepare to step into their respective characters for "Bade Achhe Lagte Hain 3," the duo is poised to deliver yet another memorable performance. Their talent, combined with the creative vision of the show's makers, promises an engaging and entertaining experience for viewers. The audience can look forward to witnessing the evolution of these exceptional actors as they breathe life into new narratives and explore the depths of their characters.
Conclusion: The reunion of Disha Parmar and Nakuul Mehta for "Bade Achhe Lagte Hain 3" is a moment of excitement and nostalgia for both the actors and their fans. Their on-screen chemistry and remarkable performances have left an indelible impression in the minds and hearts of viewers. As they embark on this new journey together, audiences eagerly await their captivating performances and the magic they will create once again. With their shared talent and passion for their craft, Disha and Nakuul are poised to deliver yet another exceptional television experience that will be etched in the annals of television history.
Group Media Publications
Entertainment News Platforms – anyflix.in
Construction Infrastructure and Mining News Platform – https://cimreviews.com/
General News Platform – https://ihtlive.com/
Podcast Platforms – https://anyfm.in