Top 5 off-road SUVs under Rs 20 lakh in India: Jeep, Mahindra, and more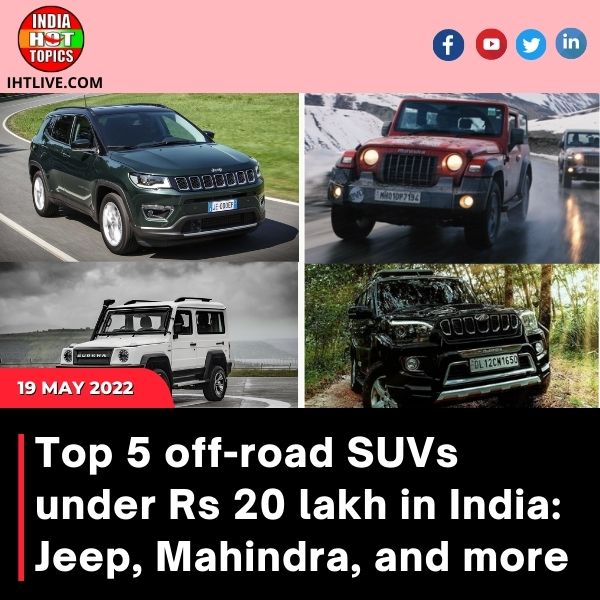 Cars are basic modes of transportation that get you from point A to point B. Is this, however, sufficient to satisfy Indians? The answer is a resounding "no."
SUVs are the most popular vehicle in India. The Indians admire them for their off-roading ability to navigate through difficult terrain. The vehicles' high commanding positions make the deal even sweeter. However, the best off-roading SUVs in India, such as the Land Rover Defender and Jeep Wrangler, are out of reach for many people. We've compiled a list of capable and affordable off-roading SUVs in India to solve the problem.
The Jeep Compass is one of the more affordable SUVs. The American automaker's SUV costs between Rs 18.04 lakh and Rs 30.97 lakh (ex-showroom). The latest Trailhawk edition of the Jeep Compass is the most expensive. The engine is a 2.0-litre Multijet Diesel engine with a 6-speed manual transmission for 4×2 models and a 9-speed manual transmission for 4×4 models. For the 4×2 and 4×4 variants, a 1.4-litre Multiair petrol engine with a 6-speed manual transmission and a 7-speed DDCT is available.
With a wider and longer body, a crash-complaint, high-strength chassis, and new coil spring suspension on all four wheels, the Gurkha 2021 is a capable off-roader. Furthermore, the SUV's snorkel allows it to drive in water up to 700mm deep. The car is powered by a Mercedes-derived 2.6-litre 91bhp common rail direct injection turbocharged diesel engine mated to a five-speed Mercedes G-28 transmission. The SUV is priced from Rs 14.49 lakh onwards (ex-showroom).
The Mahindra Thar is regarded as one of India's most popular off-roading SUVs. The SUV also has one of the longest waiting lists from Mahindra in the current market. It has a mHawk 130 engine with a 6-speed manual transmission and a 6-speed torque converter automatic gearbox as an option. It also comes with a mStallion 150 TGDi engine and transmission options similar to the mHawk. Mahindra Thar has a starting price of Rs 13.53 lakh (ex-showroom).
The Mahindra Scorpio is another popular SUV in India that is awaiting the release of a new version. There are several spy shots of Mahindra Scorpio test mules floating around the internet. The SUV is powered by a four-cylinder turbocharged mHawk engine. The car is priced from Rs 13.54 lakh onwards (ex-showroom).
The Isuzu V-Cross is capable of traversing difficult terrain. It also has a 5-seater cabin with a 180 kg deck carrying capacity. The vehicle's versatility makes it even more appealing. A 4-cylinder VGS turbo intercooled diesel engine powers it. The Isuzu V-Cross starts at Rs 23.49 lakh (ex-showroom), which is slightly higher than the Rs 20 lakh mark.
In 2022, Apple will release five major software updates.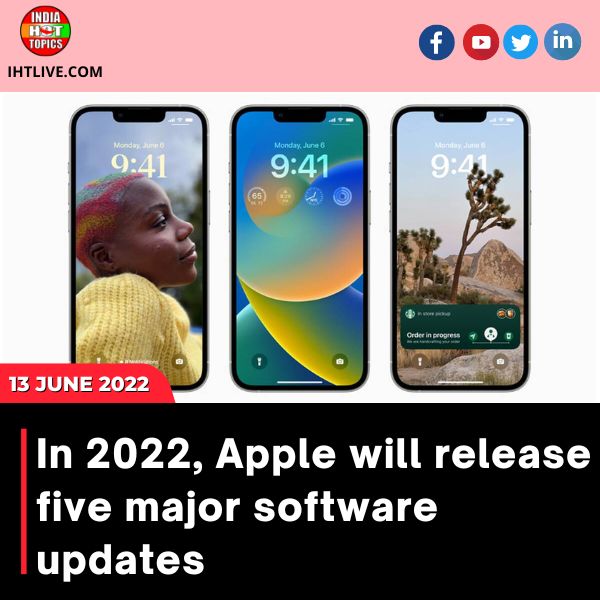 Apple's developer conference previewed major changes to its software for smartphones, tablets and computers. iOS 16, iPadOS 16, MacOS Ventura and WatchOS 9 brought significant changes. High-end iPads can now multitask and iPhones can be turned into web cameras with their Macs.
Users will have up to 15 minutes to unsend or edit a message. You will be able to recover deleted messages for up to 30 days on the new operating system.
iPhone users will be able to apply different styles and fonts and other information at a glance. Users can create custom lock screens based on when they're at work or home. Just like on the Apple Watch, you need to long-press the screen to navigate different settings.
Apple makes it easy to use your iPhone as a webcam on a Mac. Continuity Camera works with FaceTime, Zoom, Teams, Webex, and other popular video conferencing apps. It will be rolled out as a feature when iOS 16 and macOS Ventura are released this fall.