Update on Vikram's recent hospitalisation: When you arrive…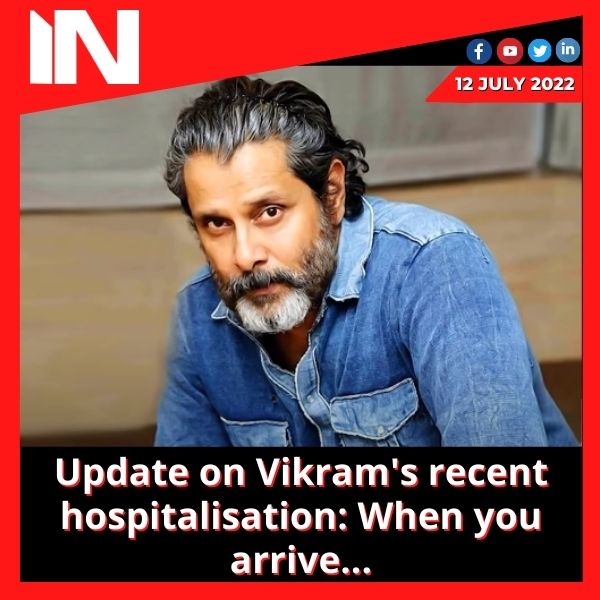 For the first time, actor Vikram has provided clarification over his recent hospitalisation, which he said was caused by "minor chest discomfort." At the audio premiere of his next Tamil film Cobra on Monday night, Vikram maintained he did not experience a heart arrest. He continued by saying that some media outlets and users of social media platforms had overstated his state of health.
Hours before the teaser premiere of his historical epic Ponniyin Selvan: I, directed by Mani Ratnam, 56-year-old Vikram was taken to Chennai's Kauvery Hospital. Soon, there were rumours that he had experienced a heart arrest. Later, both the hospital administration and his son Dhruv Vikram rejected the claim.
According to news source PTI, Vikram stated to reporters, "There was a minor chest ache. Just for that, I went to the hospital. But the situation was exaggerated. I'm doing fine. Nothing will happen to me when all of you are there with me. My friends, family, followers, and you are all here for me. He added that he had noticed a lot of inaccurate information concerning his health.
Vikram claimed that people had also become "creative" and recounted how some had altered a thumbnail to morph his face onto a sufferer. You shouldn't put your hand on your chest. I could be having a heart attack, they (the media) might say.
I can envision the possible headline for tomorrow's issue. They might claim that Vikram confirmed what they had predicted. They can assert that Vikram indicated during the Cobra audio launch on the dais that he suffered a heart attack "said he.
Dhruv Vikram, Vikram's son, had earlier used Instagram to deny reports that the actor had had a heart attack. He noted: "Dear admirers and well-wishers, Appa experienced some minor chest discomfort and is receiving treatment for it. Contrary to what some stories state, he did not have a heart attack. Hearing rumours to this effect hurts us. Given that, we kindly ask that you grant our family the privacy it need at this time.
Now, Chiyaan is doing well. In a day, he should be released from the hospital. We trust that this statement will bring clarification and put an end to the untrue rumours.
Actor Vikram was brought to the Kauvery Hospital with complaints of chest discomfort, according to the hospital's medical bulletin, which was signed by Aravindan Selvaraj, the executive director and co-founder of the facility. Our qualified doctors evaluated him and provided him with care. He did not experience a heart attack, is currently stable, and will shortly leave the hospital.
Ajay Gnanamuthu's next film Cobra, which stars Vikram, is eagerly awaited for release. The movie is scheduled to debut in theatres on August 11. Roshan Mathew, Miya George, and Srinidhi Shetty are also featured. Irfan Pathan, a cricketer, makes his feature film debut with this movie.
Alongside Aishwarya Rai, Karthi, Trisha Krishnan, Jayaram, Jayam Ravi, and Prakash Raj, I, Vikram will appear in Ponniyin Selvan. The movie will premiere on September 30.
Group Media Publications
Entertainment News Platforms – anyflix.in
Construction Infrastructure and Mining News Platform – https://cimreviews.com/
General News Platform – https://ihtlive.com/
Legal and Laws News Platforms – https://legalmatters.in/
Podcast Platforms – https://anyfm.in/
Joaquin Phoenix's presence in Gotham City is fascinatingly depicted in the movie "Joker"
Joaquin Phoenix's Fascinating Depiction of Gotham City in "Joker"
Gotham City, a sprawling metropolis plagued by crime, corruption, and moral decay, has long been a central character in the Batman mythos. But in 2019's "Joker," directed by Todd Phillips and starring Joaquin Phoenix in the titular role, Gotham takes center stage in a hauntingly dark and mesmerizing way. The film offers a fresh and intimate perspective on the iconic city, and Joaquin Phoenix's performance as Arthur Fleck, the man who becomes the Joker, is nothing short of extraordinary.
Gotham: A Character of Its Own
In "Joker," Gotham City is not just a backdrop; it's a living, breathing entity that influences the characters and the narrative at every turn. The city's gritty streets, imposing architecture, and palpable sense of despair become integral to the story. Cinematographer Lawrence Sher's work captures Gotham's essence in every frame, from the ominous alleyways to the opulent theaters.
Arthur Fleck: A Vulnerable Antihero
Joaquin Phoenix's portrayal of Arthur Fleck is a masterclass in character development. He brilliantly embodies the character's fragility and descent into madness. Fleck is not an archetypical villain; he's a man who has been marginalized by society, struggling with mental illness, and ignored by the world around him.
The film delves deep into Fleck's psyche, exploring the isolation and alienation he feels. Phoenix's performance is a tour de force, making the audience empathize with a character who is simultaneously tragic and disturbing. As the film progresses, the lines between reality and delusion blur, mirroring Fleck's deteriorating mental state.
Gotham's Underbelly
"Joker" unearths the dark underbelly of Gotham City, exposing the stark social and economic disparities that plague the metropolis. The film paints a bleak picture of a city where the rich thrive while the poor suffer, where mental health services are lacking, and where crime runs rampant. It's a reflection of real-world issues that resonate with audiences.
The Birth of Joker
As Arthur Fleck's transformation into the Joker unfolds, Gotham City plays a crucial role. The city's decay mirrors Fleck's descent into madness, and its indifference to his suffering becomes the catalyst for his transformation into a chaotic force of nature. The Joker is born not out of pure evil, but out of a broken system that has failed its citizens.
A Social Commentary
"Joker" serves as a powerful social commentary, shining a spotlight on the consequences of neglecting mental health, economic inequality, and societal apathy. It forces viewers to confront uncomfortable truths about the world we live in and the role we play in shaping it.
Conclusion
In "Joker," Joaquin Phoenix's presence in Gotham City is a haunting and unforgettable depiction of a city in turmoil and a man pushed to the brink. The film's exploration of mental health, societal inequities, and the blurred line between hero and villain makes it a thought-provoking masterpiece.
Joaquin Phoenix's performance as Arthur Fleck/Joker not only earned him an Academy Award but also left an indelible mark on cinematic history. "Joker" stands as a testament to the power of storytelling and the ability of cinema to challenge our perceptions and make us question the world around us.
Group Media Publications
Entertainment News Platforms – anyflix.in      
Construction Infrastructure and Mining News Platform – https://cimreviews.com/
General News Platform – https://ihtlive.com/
Podcast Platforms – https://anyfm.in