Wait, What? Weird 'Paan Brownie' From Ahmedabad Has Confused The Internet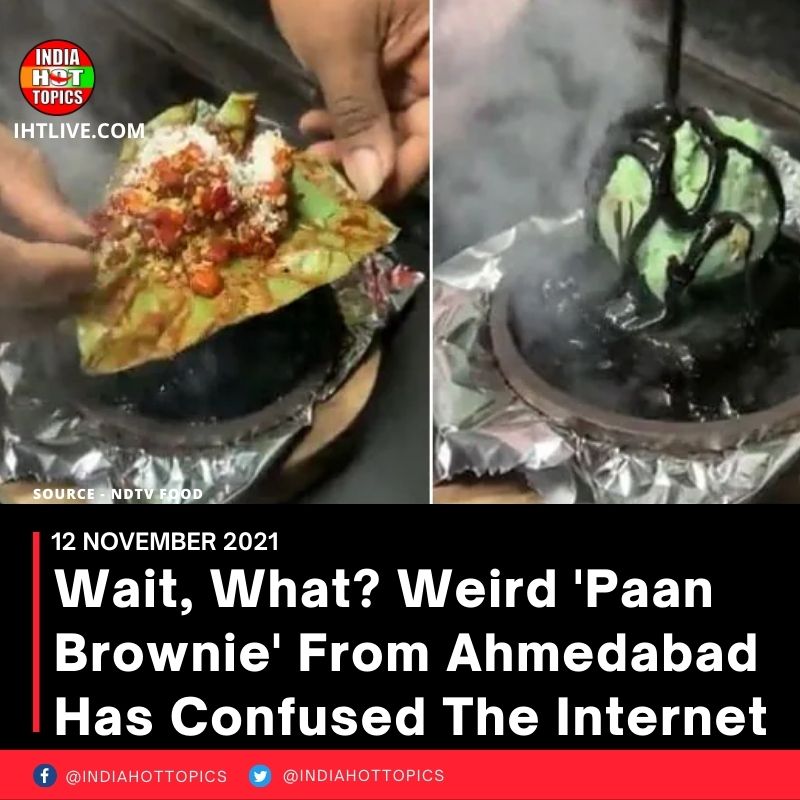 If there is a dessert that is popular at all ages, it must be brownies. The mixture of thick fudge and cake, brownie is really a feast for the senses. This is why we often find chocolate brownies and ice cream on the menus of many popular restaurants across the country. However, a fusion brownie prepared by Ahmedabad restaurant shocked the Internet. Twitter users encountered a strange "Paan Brownie", which did leave a bad aftertaste in the mouths of many Internet users.
The video was shared on Twitter by user @Dhuandhaar and has received more than 151,000 views. In the clip, we see that a fusion dish called Paan Brownie is being prepared. The location of the video is the Carnival Food Park in Ahmedabad, Gujarat. First, place the hot plate on the silver foil. Add a small amount of chocolate sauce to the plate, top with chocolate brownie and pan flavor ice cream. Then, drizzle more chocolate sauce on top.
Paan Brownie is decorated with the whole Paan! Although the weird creation does seem attractive, Twitter users cannot understand the need for innovation in this dish at first. Several people think that the combination of Paan and chocolate is indeed a bad idea. Paan Brownie is not the only weird dish that has become popular recently. A street food stall in Ahmedabad recently caught our attention with a strange and bizarre Oreo Pakoda. Believe it or not, chocolate butter cookies are dipped in Besan batter and deep-fried!
News Source : NDTV Food
5 foods to eat if you want to live over 100 years
Want to live longer? It turns out that the secret to longevity depends on your eating habits. You should pay attention to your eating habits. Various studies have proven that you must pay attention to your plate. It's no secret that one's lifestyle is important to longevity or centenarians. Dr. James DiNicolantonio is a well-respected internationally renowned scientist and health and nutrition expert. He recently made a list of foods that a person must eat in order to live to be over 100 years old. This is a list shared by Dr. James on Instagram.
You will be surprised to find that the natural ingredients in raw honey can reduce the risk of certain types of cancer and heart disease. In a study published by the National Health Library, it is said that "the effect of honey on certain cancers (such as breast cancer, liver cancer, and colorectal cancer cell lines) has been thoroughly studied." The study also pointed out that "honey affects tumors or Cancer cells are highly cytotoxic, but not cytotoxic to normal cells." Cancer is undoubtedly one of the main causes of death in the world.
The probiotics found in fermented goat kefir can reduce growth and treat cancer by stimulating the immune system. Sexual tumors. This has been confirmed in a number of test tube studies. A study published in the Journal of Medicinal Food found that "Kefir extract reduced the number of human breast cancer cells by 56%." Pomegranate is a good source of various vitamins and minerals, such as vitamin A, C and E, as we all know, it can prolong life.
In addition, this fruit has anti-viral and anti-tumor properties and has proven to be very useful in terms of longevity. A study published in the journal Natural Medicine showed that pomegranate contains a molecule called mitochondria, whose degradation can cause muscle weakness. The study further revealed that "the accumulation of dysfunctional mitochondria is also suspected to play a role in other aging diseases, such as Parkinson's disease." Therefore, people must eat pomegranate to live long.
News Source : ETimes