When R Madhavan remarks, "Rang De Basanti was interesting for me for 9 minutes," Tanmay Bhat and company laugh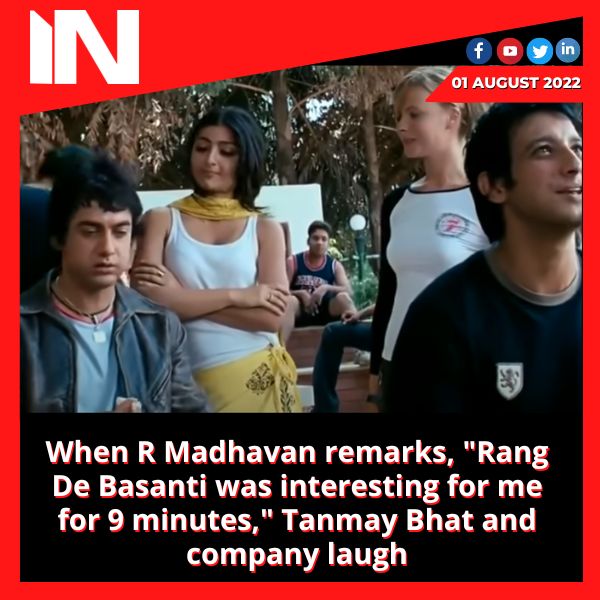 Even though he only had nine minutes of screen time in the 2006 movie Rang De Basanti, R Madhavan played a role that would define his career. The actor moved viewers to tears when he portrayed Flight Lt. Ajay Singh Rathod, who perishes when his MiG-21 jet malfunctions and crashes. When Madhavan brought up the role's brief duration during a recent conversation about the movie with Tanmay Bhat and others, they all cracked up.
R Madhavan was asked if he had seen the second half of Rang De Basanti and if he knew what transpired during a conversation with Tanmay Bhat in June. All of the co-hosts, including Rohan Joshi, laughed before he could respond. R Madhavan joined in on their laughter and said, "wonderful question For me, Rang De Basanti was only thrilling for nine minutes."
R Madhavan revealed to Film Companion in an old interview that he only needed eight days to prepare for the nine-minute role. I was supposed to play the part of Siddharth, but I couldn't because I had long hair, so I ended up playing the part of the pilot. A major turning point in my life occurred when I realised that, despite only having a nine-minute appearance in Rang De Basanti, people still associate my name with the movie. And I think I only worked for eight days compared to these gentlemen who worked so hard for an entire year and a half. And I came to understand that how you portray a character and how that character is written and presented all affect how long that character will be remembered.
In addition, he claimed that it took him nine minutes to get everything right and ensure that the audience felt as though they had "lost someone they knew."
Rang De Basanti, which was directed by Rakeysh Omprakash Mehra, was the highest grossing Hindi movie of the year and India's official submission for the Best Foreign Language Film category at the Golden Globe Awards and the Academy Awards. In addition to Aamir Khan, Siddharth, Sharman Joshi, Atul Kulkarni, Kunal Kapoor, Alice Patten, and Soha Ali Khan, these actors also played major supporting roles.
For his YouTube channel, R Madhavan interviewed Tanmay in the run-up to the release of his film, Rocketry: The Nambi Effect. R Madhavan plays the lead role of aerospace engineer Nambi Narayanan in the movie. It centres on the scientist's life and how he came to be falsely charged with espionage.

Group Media Publications
Entertainment News Platforms – anyflix.in      
Construction Infrastructure and Mining News Platform – https://cimreviews.com/
General News Platform – https://ihtlive.com/
Legal and Laws News Platforms – https://legalmatters.in/
Podcast Platforms – https://anyfm.in/
The creators of Pippa respond to criticism of AR Rahman's rendition of the song Karar Oi Louho Kopat by Bengali poet Kazi Nazrul Islam
In the realm of art, especially when it involves a beloved poet's work, emotions run deep. The recently released rendition of Kazi Nazrul Islam's timeless composition "Karar Oi Louho Kopat" by the legendary AR Rahman for the upcoming film Pippa has stirred discussions and, inevitably, some criticism. The creators of Pippa have chosen to respond, fostering an open dialogue about artistic interpretation, cultural sensitivity, and the collaborative spirit of creative endeavors.
A Musical Odyssey: AR Rahman's Rendition
AR Rahman, a maestro in the world of music, took on the monumental task of interpreting Kazi Nazrul Islam's iconic work for the soundtrack of Pippa. "Karar Oi Louho Kopat," known for its profound lyrics and historical significance, is a piece of cultural heritage that resonates deeply with Bengali speakers worldwide. Rahman's rendition, while undoubtedly a display of musical brilliance, prompted varied reactions from listeners, invoking discussions about fidelity to the original composition.
Navigating the Sea of Criticism: The Creators' Response
In response to the criticism, the creators of Pippa have taken a nuanced approach, acknowledging the varied sentiments expressed by the audience. In an era where cultural appreciation and appropriation are delicate themes, the creators aim to engage in a respectful and insightful conversation with those who hold Nazrul's work close to their hearts.
The Art of Interpretation: Navigating Boundaries
Artistic interpretation is a complex dance, especially when traversing the revered creations of literary giants. Rahman's rendition of "Karar Oi Louho Kopat" is not merely a cover but an interpretation, a reimagining that seeks to resonate with contemporary audiences while paying homage to the essence of the original work. The creators emphasize the intent of creating a bridge between generations, fostering a connection with Nazrul's poetry through a modern lens.
Cultural Sensitivity and Collaboration
In a world that values cultural sensitivity, the creators of Pippa express their commitment to fostering collaboration and understanding. Rahman's collaboration on this project is seen as a celebration of diversity and an effort to unite different artistic traditions. The goal is not to replace or diminish the original but to amplify its beauty for a new audience.
The Ongoing Conversation: A Celebration of Nazrul's Legacy
As the conversation around AR Rahman's rendition continues, the creators of Pippa invite fans, critics, and enthusiasts to share their perspectives. It is a testament to the dynamic nature of art, where diverse opinions contribute to a richer understanding of the creative process. The goal remains to celebrate the richness of Nazrul's legacy and ensure that his timeless verses continue to resonate across generations.
Conclusion: A Melody of Unity
In the ever-evolving landscape of art and expression, the conversation sparked by AR Rahman's rendition of "Karar Oi Louho Kopat" is an opportunity for unity. It is a chance for diverse voices to converge, creating a harmonious discourse that transcends geographical and cultural boundaries. As Pippa prepares to weave together the tapestry of history and contemporary expression, the creators invite everyone to be part of this collective journey, where the beauty of Nazrul's poetry continues to be a guiding force in the ever-evolving symphony of creative interpretation.
Group Media Publications
Entertainment News Platforms – anyflix.in      
Construction Infrastructure and Mining News Platform – https://cimreviews.com/
General News Platform – https://ihtlive.com/
Podcast Platforms – https://anyfm.in