When she is included in the Guardian's list of the greatest big-screen performances, Alia Bhatt beams.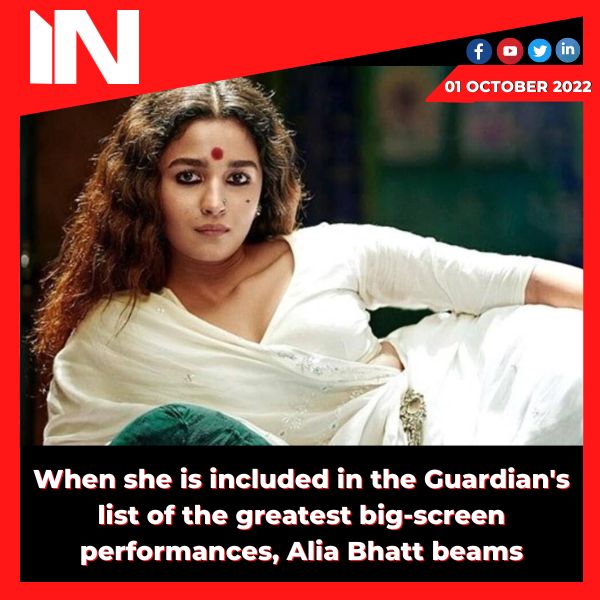 Actress Alia Bhatt from Bollywood is overjoyed that a prestigious international journal named her work in Sanjay Leela Bhansali's Gangubai Kathiawadi as one of the year's top performances. She responded to the news and posted it on social media.
The writers of The Guardian published a list of the greatest and worst big-screen performances in history. Legends like Tom Hanks, Cameron Diaz, Lupita Nyong'o, and Jennifer Lawrence were included with Alia. She portrayed a brothel madam who campaigns for sex workers' rights in the movie.
According to the article's author Mike McCahill, Alia "makes great emotional sense of a rollercoaster character development as the real-life figure of Ganga Harjivandas, the self-improving sex slave who became queen of Mumbai's red-light district in the 1960s. Her incredibly expressive dance in the drum piece Dholida tells a story all by itself. It's a thunderous three-minute accounting of everything this woman has won and lost, going from group triumph to personal misery.
Based on a chapter in Hussain Zaidi's book Mafia Queens of Mumbai, Gangubai Kathiawadi was created. It depicts Gangubai's journey, who was pushed into prostitution at a young age. As she advances through the ranks, she turns into a ferocious madam of the brothel and a political figure. Ajay Devgn, Vijay Raaz, Seema Pahwa, and Indira Tiwari all have significant parts in the movie.
When it hit theatres earlier this year, the movie was a success. Over 200 crore rupees were made worldwide. The movie was also one of the most watched Indian movies on Netflix, appearing in the top 10 list for six weeks in a row with 50.6 million viewer hours.
It received three stars from Shubhra Gupta of The Indian Express, who described it as "a spectacle made genuine by Alia Bhatt's performance." "What elevates it above your typical Bhansali spectacle is Bhatt's willingness to go the extra mile: beneath the profanities, the binges on alcohol, and the pontificating on platforms, some of which come off as 'acting,' Alia Bhatt makes her Gangubai real. A piece of her review stated, "We are forced to experience the pain of the ladies whose lives are so constrained and who feel so abandoned by their loved ones that they can find companionship, rough and tumble it may be, only amongst themselves.
Alia Bhatt is enjoying a terrific year, first with Gangubai Kathiawadi's popularity and then with the enormous success of RRR and Darlings. Brahmastra, her most recent release, also did well commercially. With Heart of Stone, the actor will shortly make her Hollywood debut.
Group Media Publications
Entertainment News Platforms – anyflix.in      
Construction Infrastructure and Mining News Platform – https://cimreviews.com/
General News Platform – https://ihtlive.com/
Legal and Laws News Platforms – https://legalmatters.in/
Podcast Platforms – https://anyfm.in/
Jr NTR fans burn firecrackers during Simhadri re-release.
Jr NTR, the popular Telugu film actor, has an ardent fan following known for their unwavering support and enthusiasm. However, a recent incident during the re-release of Jr NTR's blockbuster film Simhadri has caused controversy. Fans celebrated the occasion by igniting firecrackers, leading to a heated debate about public safety, environmental concerns, and responsible fandom. In this blog post, we will explore the incident, its implications, and the need for balanced fan celebrations.
The Re-Release of Simhadri: Simhadri, a 2003 Telugu action-drama film, remains one of Jr NTR's most beloved movies. To commemorate its anniversary, the producers decided to re-release the film, allowing fans to relish the nostalgia and experience the magic on the big screen once again. The announcement generated excitement and anticipation among Jr NTR's loyal fan base.
Fan Celebration Gone Awry: In their eagerness to celebrate the re-release of Simhadri, a section of Jr NTR's fans resorted to lighting firecrackers outside theaters. The loud explosions and billowing smoke alarmed moviegoers and nearby residents, leading to complaints and safety concerns. The incident drew criticism from various quarters, sparking a debate about responsible fandom and the need for considering public safety and environmental consequences.
The Importance of Responsible Fandom: Fans play a significant role in an actor's success, and their enthusiasm can bring immense joy to the celebrity they adore. However, it is essential for fans to remember that their actions should be responsible and respectful towards others. Expressing support and admiration should not come at the cost of causing inconvenience, harm, or damage to the surroundings.
Public Safety and Environmental Concerns: The incident of firecrackers being ignited during the Simhadri re-release raises important concerns regarding public safety and environmental impact. Firecrackers, besides being noisy, can also be hazardous and pose a risk to people's well-being, especially in crowded areas. Additionally, the environmental implications of such celebrations, including air and noise pollution, cannot be ignored.
Promoting Positive Fan Culture: While celebrating the achievements and milestones of their favorite stars, fans have the power to shape public perception. It is crucial for fan clubs and individuals to encourage positive fan culture, emphasizing activities that are inclusive, respectful, and beneficial for society. Non-disruptive celebrations such as charity events, social initiatives, and fan gatherings can foster a sense of unity and promote a positive image of fandom.
Fans can channel their enthusiasm in more responsible ways, such as organizing special screenings, conducting charity drives, or engaging in community service projects. By focusing on these avenues, fans can create a positive impact while celebrating their favorite stars without causing harm, inconvenience, or violating safety protocols.
The incident of Jr NTR fans igniting firecrackers during the re-release of Simhadri raises important questions about responsible fandom, public safety, and environmental concerns. While fans' enthusiasm is commendable, it is crucial for them to celebrate in a manner that respects the well-being of others and the environment. By promoting a culture of responsible fandom, fans can ensure that their admiration for their favorite stars does not overshadow the importance of public safety and environmental sustainability.
The director's passing this morning came as a shock to Rani Mukerji, who worked with him on Laaga Chunari Mein Daag and Mardaani. They had been planning to meet up shortly. Sarkar, who is best known for helming the 2005 drama Parineeta, passed away at Lilavati hospital in Mumbai's Bandra area, according to his wife Panchali. He was 67.
ADVERTISEMENT
about:blank
Group Media Publications
Entertainment News Platforms – anyflix.in
Construction Infrastructure and Mining News Platform – https://cimreviews.com/
General News Platform – https://ihtlive.com/
Podcast Platforms – https://anyfm.in