5 foods to stay away from pairing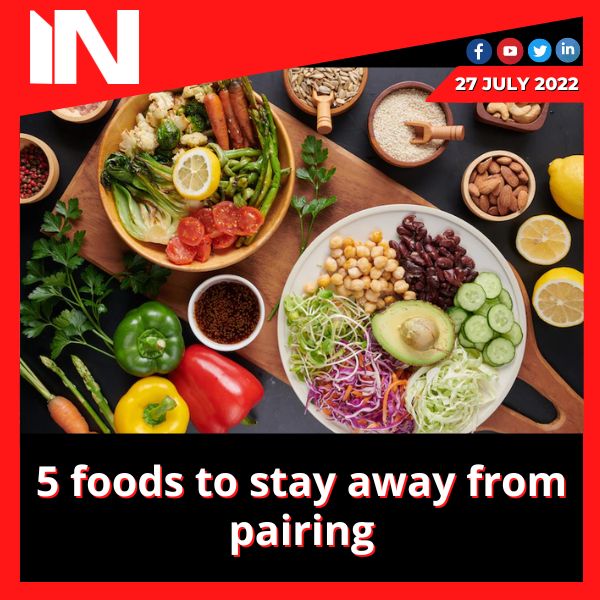 In moderation, all foods are beneficial and healthful. However, evidence also supports the fact that some foods do not go well together.
The term Virudha Aahar in Ayurveda simply refers to unsuitable meals. These mixtures are known as anti-nutrients and should be avoided. When ingested combined, they prevent the body from absorbing nutrients and might cause digestive problems like bloating, nausea, exhaustion, etc.
Cruciferous plants and meals high in iodine
The iodine absorption from vegetables including lettuce, broccoli, cauliflower, and cabbage can be hampered by a chemical, which then affects the thyroid gland's ability to operate. If you have any thyroid conditions, it is advised to minimise your intake of cruciferous veggies. Avoid pairings as well.
lactose and vitamin C
Acid is present in foods high in vitamin C such spinach and citrus fruits like lemon, oranges, plums, and berries, while casein, a substance found in milk, is also present. Milk can coagulate when ingested in large quantities because it takes longer to digest than other foods, which can cause a variety of stomach problems like gas and discomfort.

Avoid eating fruits during meals.
Fruits are simple to digest, but a full meal will take longer for your stomach to process. Therefore, it is suggested against eating fruits with or right after a large meal. This is due to the fact that the fruits will continue to ferment in your stomach as the food is being digested.
tea and foods high in iron
Tea contains tannins and oxalates, which bind to iron and stop it from being absorbed by the body. For optimal digestion, it is suggested to steer clear of meals like nuts, whole grains, and leafy green vegetables when drinking tea. Tea should not be consumed on an empty stomach.
Avoid eating unsoaked nuts.
The majority of nuts contain phytic acid, a substance that prevents the absorption of minerals like iron, calcium, and zinc. Almonds, peanuts, peas, lentils, soybean, walnuts, and other foods contain this acid. However, soaking nuts overnight reduces their acid content.
Group Media Publications
Entertainment News Platforms – anyflix.in
Construction Infrastructure and Mining News Platform – https://cimreviews.com/
General News Platform – https://ihtlive.com/
Legal and Laws News Platforms – https://legalmatters.in/
Podcast Platforms – https://anyfm.in/
Christmas 2022: 3 dishes for quick and delectable sweets
1. Chocolate Peppermint Bark: This classic Christmas treat is always a hit! It's so easy to make, and only requires a few ingredients. Simply melt some chocolate, stir in some peppermint extract, and pour it onto a lined baking sheet. Then, let it set in the fridge until it's firm. Once it's set, break it into pieces and enjoy!
2. Rum Balls: These tasty little balls are perfect for holiday parties! Simply combine some crushed cookies, rum, and confectioners' sugar. Then, roll the mixture into balls and coat them in more confectioners' sugar. Let them set in the fridge for an hour or so, and then enjoy!
3. Candy Cane Surprise Cookies: These festive cookies are sure to please! Start by making your favorite sugar cookie recipe. Once the dough is made, stir in some crushed candy canes. Then, bake the cookies as directed. Once they're out of the oven, top them with a chocolate Kiss for a delicious surprise!
Group Media Publications
Entertainment News Platforms – anyflix.in      
Construction Infrastructure and Mining News Platform – https://cimreviews.com/
General News Platform – https://ihtlive.com/
Legal and Laws News Platforms – https://legalmatters.in/
Podcast Platforms – https://anyfm.in/