Change your diet to lessen period cramps and PMS symptoms with these foods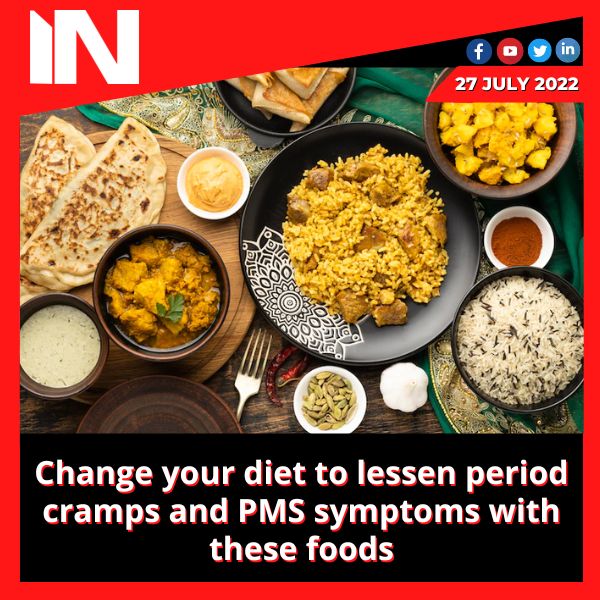 Premenstrual syndrome is a collection of upsetting physical, behavioural, and psychological symptoms that women and girls experience prior to the start of menstruation and that subside by the conclusion of the cycle. Weight gain, bloating, breast fullness, mood swings, headaches, depression, and cramp-like pain in the lower abdomen, back, and thighs are common symptoms. Depending on the severity of these symptoms in an individual, ladies are encouraged to seek therapy.
In India, about 70% of women of childbearing age experience menstrual cramps or dysmenorrhea. Dysmenorrhea, which is characterised by excruciating cramps during the first few days of the period, can significantly interfere with a woman's daily activities. However, health and fitness experts insist that help may be as close as your kitchen because food is medicine and is closely related to both our physical and mental wellbeing.
Dr. Kavita Pujar, Senior Consultant – Obstetrics and Gynecology at Bengaluru's Kinder Women's Hospital and Fertility Center, disclosed in an interview with HT Lifestyle, "Menstrual cramps can be lessened by consuming natural nutrients that lower inflammatory levels in the body. Fruits, vegetables, legumes, nuts, and seeds are some of these foods. Consuming whole grains would help to ease the cramping. Avoiding animal products including milk, meat, and other oils that increase oestrogen levels is advised. A higher quantity of oestrogen in the body raises the chance of abnormal uterine lining thickening, which would make periods more painful. To lessen muscle soreness and cramps, one must also consume minerals like magnesium, fibre, vitamin B, and calcium."
Dr. Preeti Raheja, a gynaecologist at Connect and Heal, stated that there are several dietary and lifestyle adjustments that can be useful in lessening these symptoms. She highlighted the items that can reduce PMS:
1. Bananas – Bananas are high in potassium, magnesium, and vitamin B6. They can lessen bloating and menstrual cramps.
2. Green and leafy foods – Vegetables like kale, spinach, and broccoli are healthy additions to the diet during menstruation.
3. Dark chocolate – Chocolate that has 85% cocoa is particularly high in magnesium and fibre. Period cramps can be eased and sweet cravings can be satisfied with cocoa. Cocoa is a mood enhancer.
4. Oranges – Oranges are a good source of vitamin C, potassium, and magnesium. They elevate spirits and lessen weariness.
5. Nuts – Almonds, pistachios, and sunflower seeds make healthy period snacks.
6. Chamomile and ginger tea has a relaxing effect and helps with nausea and bloating reduction.
7. Water – Consuming adequate amounts of water helps to keep the body hydrated and fight weariness.
Dr. Preeti Raheja highlighted the items to stay away from during periods, advising against fried foods, foods with a high salt content, caffeine, milk, and dairy products.
The chief dietitian at Navi Mumbai's Reliance Hospital, Pratiksha Kadam, advises including plant-based meals in the diet to boost fibre levels. She said that a low-fat diet combined with a high-fibre diet can lessen the intensity of menstruation pain.
Options to take into account:
1. Fruits: Orange, sweet lime, banana, apple, and any other seasonal fruits may be ingested in two servings per day. Skip the fruit juices
2. Four servings of vegetables each day: Broccoli, spinach, cabbage, tomatoes, carrots, sweet potatoes, Indian yam, and suran are examples of vegetables with green leaves.
3. Whole grains such as wheat, jowar, rajagiri atta, nachani (in the form of ladoos, dosas, or chapatti), daliya, or oats.
4. Legumes: matki, rajama, chola, chana, red chawali, and kulith. Make sure the beans are properly cooked and eaten as sprouts.
5. Acacia gum dinkk or gondh (may be converted into a drink or eaten), nuts of all kinds (can be eaten in groups of four or five), and seeds (Sabja seeds are commonly referred to as sweet basil seeds).
6. Drink extra liquids to stay hydrated, such as water, curd, lemon juice without salt, buttermilk, and green tea.
According to Pratiksha Kadam, the following foods should be avoided before and during periods to lessen discomfort:
1. Cutting back on salt can assist with fluid retention, bloating, discomfort, and breast swelling.
2. A high caffeine intake might result in agitation, restless nights, and menstruation cramps.
3. White bread, cookies, refined cereals, cakes, rusk pastries, etc. are all made with refined flour (maida).
4. Overindulging in fatty and junk food like burgers, samosas, vada pav, and doughnuts, among other things.
5. Refrain from consuming too much red meat, pig, dried fish, or fowl.
A balanced diet that is high in fibre and low in fat can aid to provide antioxidants, prebiotics, probiotics, vitamins, and minerals, according to Pratiksha Kadam. Avoiding excessive amounts of non-vegetarian, processed, fried, and other non-vegetarian foods will lower your oestrogen production. Eat more grains, beans, veggies, fruits, and nuts in substitute of non-fibre items. One can try progressively altering their diet while keeping an eye on the following several menstrual cycles. Positive improvements will be made, which will lessen period pains.
Prakriti Poddar, global head of mental health and wellbeing at RoundGlass, advised: "The next time you get excruciating cramps, just reach out to the typical components on your kitchen shelves and assist manage your discomfort by including them into your normal diet."
1. Fenugreek seeds (also known as methi dana or cumin seeds, or jeera) – Researchers think that this popular item contains chemical components known as alkaloids that have analgesic properties. They inhibit sensory receptors, which lessens the sense of pain in the brain. Fenugreek seeds can be ingested as a powder mixed with warm water or as a drink produced from the water used to soak them overnight. Anti-inflammatory and anti-spasmodic antioxidants are abundant in cumin seeds. Boiling the seeds in water and drinking the resulting liquid is the best method for consuming them.
2. Turmeric (Haldi): Curcumin, a substance with anti-inflammatory effects, is present in turmeric. This golden spice might lessen uterine contractions, which in turn lessens cramping, when added to food or tea.
3. Dark Chocolate – Dark chocolate, which is high in magnesium, is always a good idea, but painful cramps definitely call for a snack of this treat. Magnesium, also referred to as "nature's relaxant," aids in uterine muscle relaxation and reduces prostaglandins, which are substances that trigger uterine contractions and cause period cramps.
4. Fruits: Bananas and Muskmelon – Bananas are a good source of magnesium, which lessens the intensity of pain and relieves bloating. Consuming muskmelon reduces cramping pain and helps regulate menstrual flow.
5. Vegetables: Broccoli and Kale – Magnesium and calcium are abundant in dark green vegetables, which helps to lessen the agony from menstrual cramps.
6. Chamomile Drink – A large body of research supports the claim that this herbal tea eases menstrual cramps. According to a 2010 study, women who experienced painful periods benefited by drinking this tea the week before their period and for the first five days of it for a month.
7. Drinking warm water also aids. It improves blood flow and, as a result, menstrual flow, which lessens cramping. Snack on dates and figs during these days to stay energised. Dried figs have been shown in trials to lessen the intensity of menstrual cramps.
Group Media Publications
Entertainment News Platforms – anyflix.in
Construction Infrastructure and Mining News Platform – https://cimreviews.com/
General News Platform – https://ihtlive.com/
Legal and Laws News Platforms – https://legalmatters.in/
Podcast Platforms – https://anyfm.in/
Christmas 2022: 3 dishes for quick and delectable sweets
1. Chocolate Peppermint Bark: This classic Christmas treat is always a hit! It's so easy to make, and only requires a few ingredients. Simply melt some chocolate, stir in some peppermint extract, and pour it onto a lined baking sheet. Then, let it set in the fridge until it's firm. Once it's set, break it into pieces and enjoy!
2. Rum Balls: These tasty little balls are perfect for holiday parties! Simply combine some crushed cookies, rum, and confectioners' sugar. Then, roll the mixture into balls and coat them in more confectioners' sugar. Let them set in the fridge for an hour or so, and then enjoy!
3. Candy Cane Surprise Cookies: These festive cookies are sure to please! Start by making your favorite sugar cookie recipe. Once the dough is made, stir in some crushed candy canes. Then, bake the cookies as directed. Once they're out of the oven, top them with a chocolate Kiss for a delicious surprise!
Group Media Publications
Entertainment News Platforms – anyflix.in      
Construction Infrastructure and Mining News Platform – https://cimreviews.com/
General News Platform – https://ihtlive.com/
Legal and Laws News Platforms – https://legalmatters.in/
Podcast Platforms – https://anyfm.in/