According to a study, behavioural risk factors are associated to cancer fatalities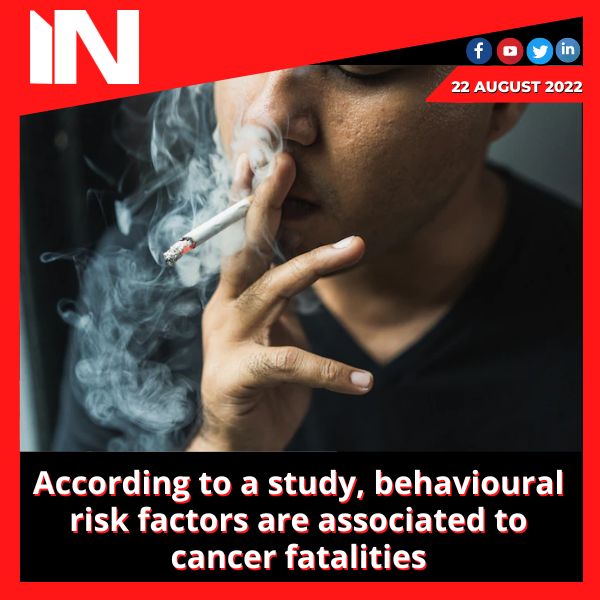 According to a recently published Lancet study, lifestyle risk factors like smoking, drinking, and obesity were responsible for over half of all cancer deaths in 2019. Based on prevailing economic and environmental conditions, risk variables vary widely. Controlling risk factors including smoking, drinking, and having a high body mass index could save cancer deaths, according to a recent study published in the British journal Lancet.
The study identified a collection of risk variables, which included behavioural choices, that together accounted for 44.4% of all cancer-related deaths globally in 2019.
Researchers discovered 34 risk variables, with obesity, drinking, and smoking being the most prevalent. About 33.9% of cancer cases were caused solely by smoking.
The analysis of 10 million cases of cancer deaths from 23 distinct categories in 2019 led to these conclusions.
Christopher Murray, a co-senior author of the report, noted that the burden of cancer "remains a significant public health concern that is expanding in magnitude around the world."
Different outcomes were seen in low-income nations.
The study came to the additional conclusion that the Socio-Demographic Index of the nations in which patients resided affected the causes of cancer deaths.
The life expectancy of cancer patients was significantly impacted by characteristics including smoking, risky sex, and alcohol consumption in lower income countries.
Metabolic hazards had a significant impact in South Asia, the Middle East, North Africa, and Sub-Saharan Africa as well. On the Social Demographic Index, the regions all have poor rankings.
While the study's findings suggest that regulating behavioural factors may be able to prevent a sizable portion of cancer deaths, other factors were not as easily managed, according to the study's findings.
It advised taking action to facilitate early diagnosis and efficient treatment.
Group Media Publications
Entertainment News Platforms – anyflix.in
Construction Infrastructure and Mining News Platform – https://cimreviews.com/
General News Platform – https://ihtlive.com/
Legal and Laws News Platforms – https://legalmatters.in/
Podcast Platforms – https://anyfm.in/
Winter-related ear popping: causes, remedies, and strategies for prevention
If you live in a cold climate, you're probably no stranger to the sensation of your ears popping when you step outside. This is caused by the change in pressure between the warm air inside your body and the cold air outside. While this is usually a harmless phenomenon, it can be quite annoying. In this article, we'll explore the causes of winter-related ear popping, as well as some remedies and strategies for prevention.
One of the main causes of ear popping is a difference in air pressure. When you step outside into the cold air, the pressure outside is lower than the pressure inside your body. This difference in pressure can cause your ears to pop.
There are a few things you can do to ease the discomfort of ear popping. First, try yawning or swallowing. These activities can help equalize the pressure in your ears. You can also try chewing gum or sucking on candy. If you're flying, drink plenty of fluids and avoid chewing gum during takeoff and landing.
There are also some preventive measures you can take to avoid ear popping. If you know you'll be exposed to cold air, try to take a deep breath before you go outside. This will help equalize the pressure in your lungs and prevent your ears
Group Media Publications
Entertainment News Platforms – anyflix.in      
Construction Infrastructure and Mining News Platform – https://cimreviews.com/
General News Platform – https://ihtlive.com/
Legal and Laws News Platforms – https://legalmatters.in/
Podcast Platforms – https://anyfm.in