According to one jury, Johnny Depp was real,' and Amber Heard cried 'crocodile tears.'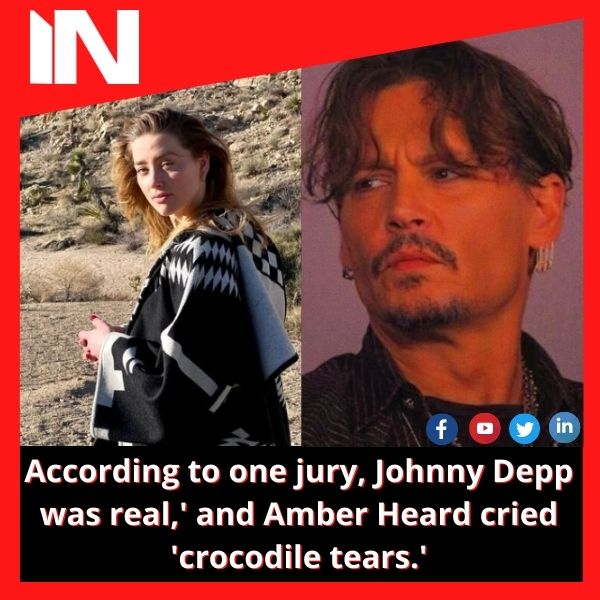 The jury in the defamation case between Amber Heard and Johnny Depp overwhelmingly voted in Johnny's favour, paying him a significantly larger sum of money than Amber, despite the fact that both of them are guilty of defamation. The reasons for the jury's decision have finally been revealed by one of the jurors.
Amber would make the jurors 'uncomfortable,' according to the juror, who was one of the five men on the seven-person jury. Amber would shift her behaviour within minutes. He also stated that the jurors preferred Johnny Depp because he was more "genuine" and "believable."
"The tears, the facial emotions she had, the glaring at the jury," the juror told Good Morning America. We were all in a lot of pain. She would cry after answering one question and then become ice cold two seconds later. "Some of us referred to it as 'crocodile tears.'" "A lot of the jury felt what he was saying, at the end of the day, was more believable," he said of Johnny. In terms of how he responded to questions, he just seemed a little more genuine. His emotional condition remained consistent throughout."
The juror also mentioned that the panel thought Amber and Johnny were 'abusive' to each other, but she couldn't verify that the violence was physical. "I don't think that makes either of them right or wrong," he continued. but there wasn't enough or any proof that actually supported what she was saying to get to the level of what she was asserting."
Meanwhile, Amber stated in a recent interview that she still 'loves' her ex-husband, despite the fact that she admitted to doing some 'terrible and humiliating' things throughout their marriage. "I love him," she told NBC. I was completely devoted to him. And I tried everything I could to salvage a shattered relationship, but I couldn't…. Throughout our relationship, I did and said some nasty, regrettable things. I acted in dreadful ways that were nearly unrecognisable to me. "I'm filled with regret." Amber and Johnny married in 2015, but two years later she filed for divorce.
anyflix.in      Group Media Publications
Construction Infrastructure and Mining News Platform – https://cimreviews.com/
General News Platform – https://ihtlive.com/
Legal and Laws News Platforms – https://legalmatters.in/
Podcast Platforms – https://anyfm.in/
In the motivational anthem Liger song Waat Laga Denge, Vijay Deverakonda offers his voice to give you a rush of energy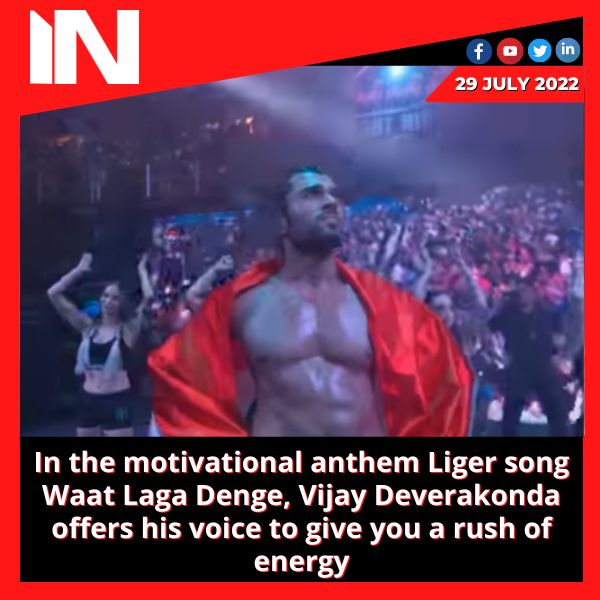 In the teaser for his upcoming movie, Liger, Vijay Deverakonda can be seen stammering. The actor's on-screen character, an MMA fighter, goes on to represent India in a vital match as the song Waat Laga Denge, which was inspired by the same issue, plays in the background. The song, which was written by Liger director Puri Jagannadh and composed by Sunil Kashyap, was performed by Vijay Deverakonda.
The peculiar camera technique and the images of the crowd dancing to the upbeat song enhance the impression. The "ideal motivational anthem for your next objective" is how it is marketed. One can also note Vijay's eerily similar line delivery to Suniel Shetty when the song begins with him saying, "waat laga denge."
Karan Johar is the producer and Puri Jagannadh is the director of Liger. Vijay makes his Hindi cinematic debut with this movie. Along with Ananya Panday playing his fiancée and Ramya Krishnan playing his mother, Ronit Roy plays his instructor, and Mike Tyson makes a brief appearance. On August 25, it will be released in Hindi, Tamil, Telugu, Kannada, and Malayalam theatres.
Last Thursday, Vijay debuted the Liger teaser in Hyderabad before moving on to Mumbai. He wore slippers to the Mumbai event and actor Ranveer Singh complimented him for his self-assurance in wearing them. The season 7 episode 4 of Koffee With Karan, which aired on Thursday, also included Vijay and Ananya.
Few weeks prior, the debut track from Liger, named Akdi Pakdi, was made public. Vijay and Ananya demonstrate their best dance moves throughout the upbeat dance sequence.
Speaking recently to PTI about his feature debut in Hindi, Vijay said, "I regard (my Hindi debut) as getting to live a dream. I enjoy sharing stories with large audiences in large auditoriums. India has a larger auditorium. I regard it as the realisation of a personal goal and aspiration.
Group Media Publications
Entertainment News Platforms – anyflix.in
Construction Infrastructure and Mining News Platform – https://cimreviews.com/
General News Platform – https://ihtlive.com/
Legal and Laws News Platforms – https://legalmatters.in/
Podcast Platforms – https://anyfm.in/