Why Johnny Depp appealed the libel case against Amber Heard, according to his attorney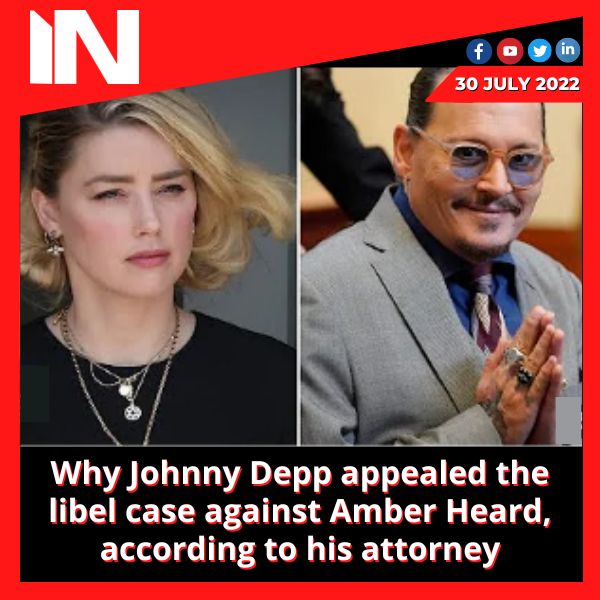 In a recent interview, Johnny Depp's attorney Camille Vasquez discussed the actor's decision to appeal the results of his defamation trial. She claimed that if Amber Heard had not insisted on continuing to "litigate this matter," Johnny would have "moved on" from the trial. As the case progresses, Camille continued, Johnny's legal team has a strategy to "protect" its "client's interests."
A 2018 article that Johnny Depp's ex-wife Amber wrote for The Washington Post about her experiences as a victim of domestic violence sparked a lawsuit, according to his attorneys, because it falsely accused him of being the abuser. Amber had submitted an appeal last week against the $10.35 million settlement sum that had been given to Johnny in a judgement from their defamation trial on June 1.
Camille, who rose to fame during the prominent trial, recently spoke candidly about the ongoing legal drama involving Johnny and Amber with CBS Morning host Gayle King. Is it safe to assume that none of you would have appealed if she (Amber) hadn't challenged the verdict in the defamation case? Would you have changed course? Yes, that is a very fair statement, Camille said in response, adding, "We have to protect our client's interests."
According to Johnny's attorney, the actor will be "protected" as long as the lawsuit is active. The attorney responded to Gayle's query about Camille's ability to recover while "both sides are still in court arguing," saying, "It's a pretty standard legal procedure. Our only wish is for the court to uphold the decision, which we believe was the correct decision, and permit both parties to proceed.
The defamation case was recently heard in a US court, and Amber's attorneys recently claimed that the court "made errors that prevented a just and fair verdict consistent with the First Amendment" (of the US constitution). The following day, Johnny also submitted a legal notice to challenge the $2 million judgement against him that Amber's defamation case jury had imposed.
Group Media Publications
Entertainment News Platforms – anyflix.in
Construction Infrastructure and Mining News Platform – https://cimreviews.com/
General News Platform – https://ihtlive.com/
Legal and Laws News Platforms – https://legalmatters.in/
Podcast Platforms – https://anyfm.in/
How Tom Cruise gets ready for action scenes: "Even shoelaces were taped"
Title: Tom Cruise's Unparalleled Dedication: Preparing for Action Scenes with Meticulous Precision
Introduction: Tom Cruise, the iconic Hollywood actor renowned for his thrilling action sequences, has time and again captivated audiences with his daredevil stunts and electrifying performances. Behind the scenes, Cruise's commitment to delivering awe-inspiring action extends to meticulous preparation and attention to detail. Recent revelations about his extraordinary dedication have shed light on his intensive approach, where even the simplest of tasks, like tying shoelaces, are executed with extraordinary precision. In this blog, we delve into Tom Cruise's remarkable preparation for action scenes, which showcases his unwavering commitment to his craft.
An Unmatched Work Ethic: Tom Cruise's success as an action star stems from his unparalleled work ethic and determination to create the most authentic and immersive experiences for audiences. His willingness to go above and beyond has solidified his status as a true professional in the industry. Cruise's preparation process, involving every aspect of his performance, exemplifies his relentless pursuit of perfection.
The Importance of Detail: In crafting action scenes, attention to detail is paramount. Tom Cruise understands that even the slightest oversight can compromise the believability and impact of a sequence. His commitment to accuracy extends to every aspect, including the smallest details like shoelaces. Reports have surfaced about Cruise taping his shoelaces during action scenes to ensure they remain tightly secured, preventing any potential accidents or distractions. This level of meticulousness demonstrates his dedication to maintaining absolute control over his movements and ensuring the highest level of safety.
Physical and Mental Conditioning: Preparing for action scenes is not just about physical training but also mental conditioning. Cruise invests significant time and effort in both aspects to deliver captivating performances. His rigorous fitness regimen and extensive training in various combat techniques are well-known within the industry. Moreover, he collaborates closely with stunt coordinators and experts to choreograph intricate sequences that push the boundaries of what is possible on screen.
Collaborative Approach: Tom Cruise recognizes the importance of collaboration in creating memorable action scenes. He actively engages with his co-stars, directors, and stunt teams, ensuring a cohesive vision and precise execution. His meticulousness is contagious, inspiring those around him to give their best and pushing the boundaries of what can be achieved. This collaborative approach enhances the authenticity and impact of his action sequences, elevating the overall cinematic experience.
Setting the Bar Higher: By leaving no stone unturned in his preparation, Tom Cruise sets the bar higher not only for himself but also for the entire industry. His unwavering commitment to his craft continues to inspire aspiring actors and filmmakers, encouraging them to invest in their performances and push their limits. Cruise's dedication to excellence has raised expectations for action scenes, motivating filmmakers and actors to strive for greater authenticity and intensity.
Conclusion: Tom Cruise's preparation for action scenes exemplifies his unmatched dedication, attention to detail, and unwavering commitment to delivering spectacular performances. His focus on every aspect, down to taping his shoelaces, showcases his dedication to maintaining precision and safety. Cruise's meticulousness not only elevates his own work but also influences the standards and expectations of the entire industry. As audiences continue to be enthralled by his captivating performances, his preparation process serves as a reminder of the effort and passion required to create cinematic magic.
Group Media Publications
Entertainment News Platforms – anyflix.in
Construction Infrastructure and Mining News Platform – https://cimreviews.com/
General News Platform – https://ihtlive.com/
Podcast Platforms – https://anyfm.in