After Camila Morrone turned 25, Leonardo DiCaprio and her parted ways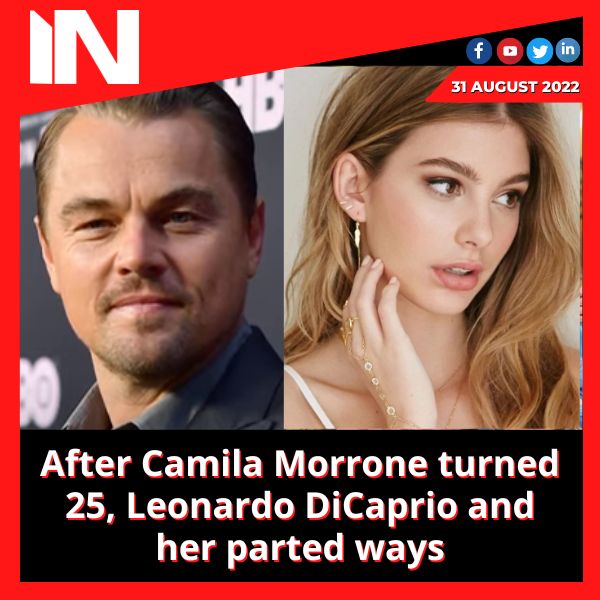 After more than four years of dating, Leonardo DiCaprio, 47, and Camila Morrone, 25, are apparently no longer together, according to a recent article. In 2017, the actor and model were first mentioned as a pair. Recently, pictures of Leonardo and Camila celebrating the Fourth of July (known as Independence Day in the US) together have surfaced. According to reports, the couple broke up soon after Camila turned 25 in June.
Although they kept their relationship a secret, Leonardo and Camila reached a significant milestone in their relationship in February 2020 when he took her as his date to the Oscars. Since it had been 15 years, Leonardo had not attended the Academy Awards with a girlfriend till the occasion. Additionally, the two appeared together in public at the US Open in September 2021.

According to a report in People, sources told the publication that Leonardo and Camila had broken up, but no explanation for the rumored breakup was provided. According to The Sun, Leonardo and Camila called it quits after June. Leo and Camila's romance ended over the summer. They get along well and have no animosity. It simply came to a natural conclusion," the person told the magazine.

Leonardo has dated a number of celebrities in the past, including Gisele Bundchen, Bar Refaeli, and Blake Lively; none of them were older than 25 at the time of their relationships with Leonardo. Camila was frequently mentioned in their relationship posts on social media. According to reports, someone even predicted that her romance with Leonardo would be "over" when you're 25'.
Camila discussed her and Leonardo's age differences in a 2019 interview with the Los Angeles Times, stating at the time, "Many couples in Hollywood and throughout human history have a significant age difference. I merely believe that everyone should be free to date whomever they choose."
According to reports, Camila and her mother were seen in St. Tropez in August. Leonardo, meantime, was reportedly seen last week in Los Angeles with friends. Camilla will appear in the upcoming Daisy Jones and The Six Prime Video series. Martin Scorsese and Leonardo return for the upcoming movie Killers of the Flower Moon.
Group Media Publications
Entertainment News Platforms – anyflix.in
Construction Infrastructure and Mining News Platform – https://cimreviews.com/
General News Platform – https://ihtlive.com/
Legal and Laws News Platforms – https://legalmatters.in/
Podcast Platforms – https://anyfm.in/
How Tom Cruise gets ready for action scenes: "Even shoelaces were taped"
Title: Tom Cruise's Unparalleled Dedication: Preparing for Action Scenes with Meticulous Precision
Introduction: Tom Cruise, the iconic Hollywood actor renowned for his thrilling action sequences, has time and again captivated audiences with his daredevil stunts and electrifying performances. Behind the scenes, Cruise's commitment to delivering awe-inspiring action extends to meticulous preparation and attention to detail. Recent revelations about his extraordinary dedication have shed light on his intensive approach, where even the simplest of tasks, like tying shoelaces, are executed with extraordinary precision. In this blog, we delve into Tom Cruise's remarkable preparation for action scenes, which showcases his unwavering commitment to his craft.
An Unmatched Work Ethic: Tom Cruise's success as an action star stems from his unparalleled work ethic and determination to create the most authentic and immersive experiences for audiences. His willingness to go above and beyond has solidified his status as a true professional in the industry. Cruise's preparation process, involving every aspect of his performance, exemplifies his relentless pursuit of perfection.
The Importance of Detail: In crafting action scenes, attention to detail is paramount. Tom Cruise understands that even the slightest oversight can compromise the believability and impact of a sequence. His commitment to accuracy extends to every aspect, including the smallest details like shoelaces. Reports have surfaced about Cruise taping his shoelaces during action scenes to ensure they remain tightly secured, preventing any potential accidents or distractions. This level of meticulousness demonstrates his dedication to maintaining absolute control over his movements and ensuring the highest level of safety.
Physical and Mental Conditioning: Preparing for action scenes is not just about physical training but also mental conditioning. Cruise invests significant time and effort in both aspects to deliver captivating performances. His rigorous fitness regimen and extensive training in various combat techniques are well-known within the industry. Moreover, he collaborates closely with stunt coordinators and experts to choreograph intricate sequences that push the boundaries of what is possible on screen.
Collaborative Approach: Tom Cruise recognizes the importance of collaboration in creating memorable action scenes. He actively engages with his co-stars, directors, and stunt teams, ensuring a cohesive vision and precise execution. His meticulousness is contagious, inspiring those around him to give their best and pushing the boundaries of what can be achieved. This collaborative approach enhances the authenticity and impact of his action sequences, elevating the overall cinematic experience.
Setting the Bar Higher: By leaving no stone unturned in his preparation, Tom Cruise sets the bar higher not only for himself but also for the entire industry. His unwavering commitment to his craft continues to inspire aspiring actors and filmmakers, encouraging them to invest in their performances and push their limits. Cruise's dedication to excellence has raised expectations for action scenes, motivating filmmakers and actors to strive for greater authenticity and intensity.
Conclusion: Tom Cruise's preparation for action scenes exemplifies his unmatched dedication, attention to detail, and unwavering commitment to delivering spectacular performances. His focus on every aspect, down to taping his shoelaces, showcases his dedication to maintaining precision and safety. Cruise's meticulousness not only elevates his own work but also influences the standards and expectations of the entire industry. As audiences continue to be enthralled by his captivating performances, his preparation process serves as a reminder of the effort and passion required to create cinematic magic.
Group Media Publications
Entertainment News Platforms – anyflix.in
Construction Infrastructure and Mining News Platform – https://cimreviews.com/
General News Platform – https://ihtlive.com/
Podcast Platforms – https://anyfm.in