Chris Rock admits in stand-up that he turned down the invitation to host the Oscars event in 2023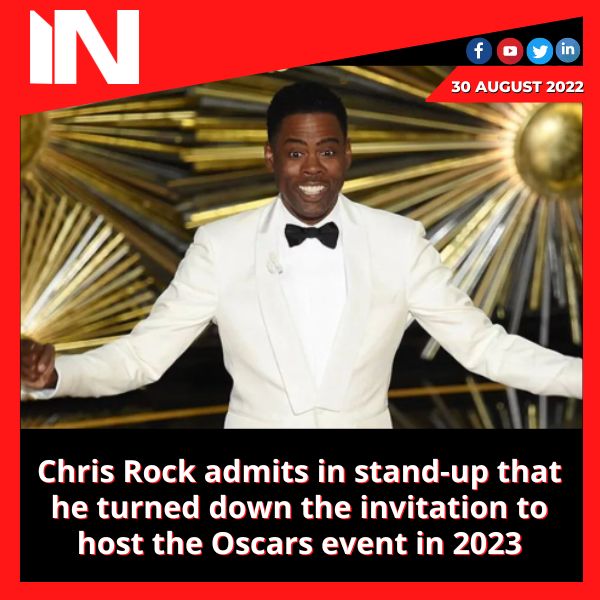 After this year's Oscars "slapgate," comedian Chris Rock reportedly turned down the chance to host the ceremony the next year. On Sunday, he made the revelation during a stand-up comedy performance.
For making a joke about his wife Jada Pinkett Smith earlier this year during the Oscars ceremony, actor Will Smith smacked comedian Chris Rock on stage. Since then, Will has apologised twice for the incident, but it appears that Chris is still not ready to let it all go. After the ban was put in place, Will was prohibited from attending the ceremony or any Academy events for the following ten years.
According to Arizona Republic, Chris compared going back to the Oscars to going back to the site of a crime on Sunday during a comedy set at the Arizona Financial Theatre in Phoenix, Arizona. The comedian compared the hosting invitation to asking the late Nicole Brown Simpson "to go back to the restaurant" where her mother had left a pair of glasses the night of her death while making a reference to the 1995 murder trial of O.J. Simpson.
Regarding Will, he added, "He is larger than I am. Nevada's government would not permit a fight between Will Smith and me." Following the slapping incident, Chris declined to participate in a Super Bowl commercial in addition to the Oscars.
Chris Rock made a joke about Jada's bald head without knowing that she had a medical problem, and Will Smith smacked him for it. Keep my wife's name out of your fu**ing mouth, Will said as he approached the stage and hit Chris across the face. Will won Best Actor at the 94th Academy Awards shortly after the incident.
Will, however, apologised to Chris Rock and Academy on his social Facebook account later that evening. "Chris, I want to publicly apologise to you. I made a mistake and stepped out of line. I feel ashamed because they did not reflect the kind of man I aspire to be. There is no place for violence in a world of love and peace," Will wrote on Instagram. Recently, he shared another apology video for Chris.
Group Media Publications
Entertainment News Platforms – anyflix.in
Construction Infrastructure and Mining News Platform – https://cimreviews.com/
General News Platform – https://ihtlive.com/
Legal and Laws News Platforms – https://legalmatters.in/
Podcast Platforms – https://anyfm.in/
How Tom Cruise gets ready for action scenes: "Even shoelaces were taped"
Title: Tom Cruise's Unparalleled Dedication: Preparing for Action Scenes with Meticulous Precision
Introduction: Tom Cruise, the iconic Hollywood actor renowned for his thrilling action sequences, has time and again captivated audiences with his daredevil stunts and electrifying performances. Behind the scenes, Cruise's commitment to delivering awe-inspiring action extends to meticulous preparation and attention to detail. Recent revelations about his extraordinary dedication have shed light on his intensive approach, where even the simplest of tasks, like tying shoelaces, are executed with extraordinary precision. In this blog, we delve into Tom Cruise's remarkable preparation for action scenes, which showcases his unwavering commitment to his craft.
An Unmatched Work Ethic: Tom Cruise's success as an action star stems from his unparalleled work ethic and determination to create the most authentic and immersive experiences for audiences. His willingness to go above and beyond has solidified his status as a true professional in the industry. Cruise's preparation process, involving every aspect of his performance, exemplifies his relentless pursuit of perfection.
The Importance of Detail: In crafting action scenes, attention to detail is paramount. Tom Cruise understands that even the slightest oversight can compromise the believability and impact of a sequence. His commitment to accuracy extends to every aspect, including the smallest details like shoelaces. Reports have surfaced about Cruise taping his shoelaces during action scenes to ensure they remain tightly secured, preventing any potential accidents or distractions. This level of meticulousness demonstrates his dedication to maintaining absolute control over his movements and ensuring the highest level of safety.
Physical and Mental Conditioning: Preparing for action scenes is not just about physical training but also mental conditioning. Cruise invests significant time and effort in both aspects to deliver captivating performances. His rigorous fitness regimen and extensive training in various combat techniques are well-known within the industry. Moreover, he collaborates closely with stunt coordinators and experts to choreograph intricate sequences that push the boundaries of what is possible on screen.
Collaborative Approach: Tom Cruise recognizes the importance of collaboration in creating memorable action scenes. He actively engages with his co-stars, directors, and stunt teams, ensuring a cohesive vision and precise execution. His meticulousness is contagious, inspiring those around him to give their best and pushing the boundaries of what can be achieved. This collaborative approach enhances the authenticity and impact of his action sequences, elevating the overall cinematic experience.
Setting the Bar Higher: By leaving no stone unturned in his preparation, Tom Cruise sets the bar higher not only for himself but also for the entire industry. His unwavering commitment to his craft continues to inspire aspiring actors and filmmakers, encouraging them to invest in their performances and push their limits. Cruise's dedication to excellence has raised expectations for action scenes, motivating filmmakers and actors to strive for greater authenticity and intensity.
Conclusion: Tom Cruise's preparation for action scenes exemplifies his unmatched dedication, attention to detail, and unwavering commitment to delivering spectacular performances. His focus on every aspect, down to taping his shoelaces, showcases his dedication to maintaining precision and safety. Cruise's meticulousness not only elevates his own work but also influences the standards and expectations of the entire industry. As audiences continue to be enthralled by his captivating performances, his preparation process serves as a reminder of the effort and passion required to create cinematic magic.
Group Media Publications
Entertainment News Platforms – anyflix.in
Construction Infrastructure and Mining News Platform – https://cimreviews.com/
General News Platform – https://ihtlive.com/
Podcast Platforms – https://anyfm.in