Balwinder Safri, a Punjabi singer, passed away; Guru Randhawa and Diljit Dosanjh mourn him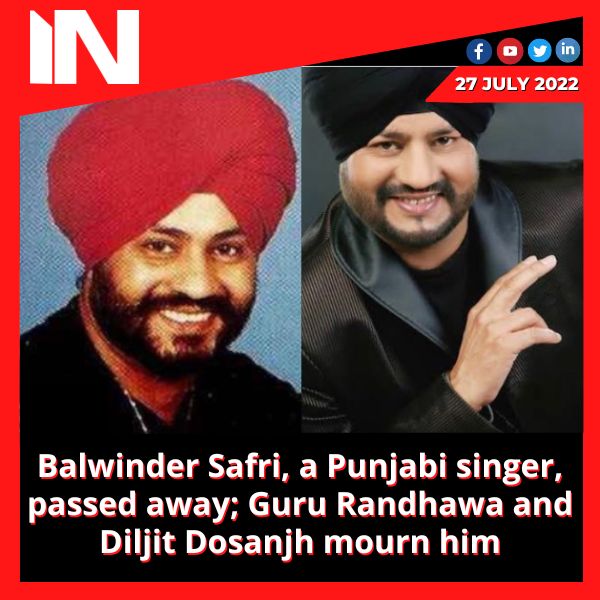 Balwinder Safri, a Punjabi singer from the UK who had recently been released from the hospital, passed away on Tuesday. He was 63. With songs like O Chan Mere Makhna, Pao Bhangra, Gal Sun Kuriye, and Nachdinu, the late vocalist became well-known as a Bhangra sensation. Diljit Dosanjh, Guru Randhawa, Neeru Bajwa, and Gurdas Maan are just a few of the Punjabi artists who have expressed their condolences on the singer's passing.
The musician reportedly underwent a heart procedure at the New Cross Hospital in Wolverhampton, UK, in April 2022, according to ANI. After triple bypass surgery, he went into coma after sustaining brain injury. He apparently was released from the hospital after 86 days and was making progress toward rehabilitation when he passed away.
We will always treasure your songs and contribution to Punjabi music, sir, stated singer Guru Randhawa on Instagram. Peace be with you. I bid you farewell, Sir Balwinder Safri.
"Waheguru (joined hands emojis) Balwinder Safri Ji," Diljit Dosanjh said with a photo of Balwinder Safri on Instagram. Additionally, Gurdas Mann uploaded a photo of the deceased musician on his Instagram Stories with the caption "Safri saab."
Neeru Bajwa, a co-star in Diljit's film Jatt & Juliet, posted a nostalgic photo of herself with Balwinder on Instagram along with a sombre message. Asi window tho dekya si during the #beautifulbillo shot, menu yaad hai Balwinder ji, she wrote. (I recall how thrilled we were when Balwinder Ji spotted us from the window during the recording of the song Beautiful Billo.) He was really kind to meet us when he came up. Stop producing them in that manner. I appreciate all that you have given to the Punjabi music scene, sir. You will always be remembered in our hearts. Balwinders Afri Ji.
He was such a humble person, Jazzy B commented in response to her memory of him. Balwinder Safri, Babbal Rai, and singer Jassie Gill are all featured in a video that he posted on his Instagram Stories.
The video's caption reads, "Mulakaat Hmesha, you are right. I will never forget this meeting, Waheguru apne charna vch niwas bandhan."
Balwinder Safri's passing deals the Punjabi music business yet another blow. Rapper-singer Sidhu Moose Wala was assassinated earlier in May in Punjab's Mansa district. A day after the Punjab police removed his security, along with 424 others, the event happened. Last year, he joined the Congress party.
Group Media Publications
Entertainment News Platforms – anyflix.in
Construction Infrastructure and Mining News Platform – https://cimreviews.com/
General News Platform – https://ihtlive.com/
Legal and Laws News Platforms – https://legalmatters.in/
Podcast Platforms – https://anyfm.in/
Singer Papon was recently admitted to a hospital in Mumbai, where he claims his kid served as his "night attendant."
Title: Papon's Heartfelt Gesture: His Kid as a Night Attendant during Hospitalization
Introduction: Renowned singer Papon, known for his melodious voice and soulful performances, recently made headlines when he was admitted to a hospital in Mumbai. However, what caught the attention of many was his heartfelt revelation that his own child served as his "night attendant" during his stay. In this blog post, we explore the touching story behind Papon's admission and the significance of his child's involvement in his recovery process.
Papon's Hospitalization: The news of Papon's hospitalization took the music industry and his fans by surprise. The singer, facing health challenges, required medical attention and care. His decision to seek treatment underscores the importance of prioritizing one's well-being, even for those in the public eye.
A Special Role for His Child: During his stay at the hospital, Papon revealed that his own child took on the role of his "night attendant." This heartfelt gesture showcases the bond between a parent and a child, where love and support transcend societal norms and roles. It highlights the extraordinary nature of this relationship and the willingness of family members to go above and beyond to provide care and comfort.
Emotional Support in Healing: Having a loved one, especially a child, by one's side during challenging times can offer significant emotional support. The presence of a caring family member can uplift spirits, reduce anxiety, and contribute to a positive healing environment. Papon's experience demonstrates the therapeutic value of familial connections and the importance of a strong support system during periods of vulnerability.
Redefining Traditional Roles: Papon's acknowledgment of his child's involvement challenges traditional gender roles and societal expectations. In a world where caregiving responsibilities are often assigned based on gender, his story stands as a powerful testament to the fluidity of these roles and the recognition of each individual's unique abilities to provide care and support.
The Power of Family: Papon's experience resonates with many individuals who understand the crucial role family plays in times of distress. The unconditional love and support of family members can significantly impact the healing process and contribute to a faster recovery. It serves as a reminder to cherish and nurture these bonds, appreciating the immense value they bring to our lives.
Conclusion: Papon's recent hospitalization brought forth a heartwarming story of his child serving as his "night attendant" during his stay. This tale of familial love and support emphasizes the powerful role family plays in times of adversity. It challenges traditional gender roles and exemplifies the unique bond between a parent and a child. Papon's experience serves as an inspiration for individuals to appreciate the significance of family and the profound impact their support can have on one's healing journey.
Group Media Publications
Entertainment News Platforms – anyflix.in
Construction Infrastructure and Mining News Platform – https://cimreviews.com/
General News Platform – https://ihtlive.com/
Podcast Platforms – https://anyfm.in