Concerns about polio spreading within communities are growing in New York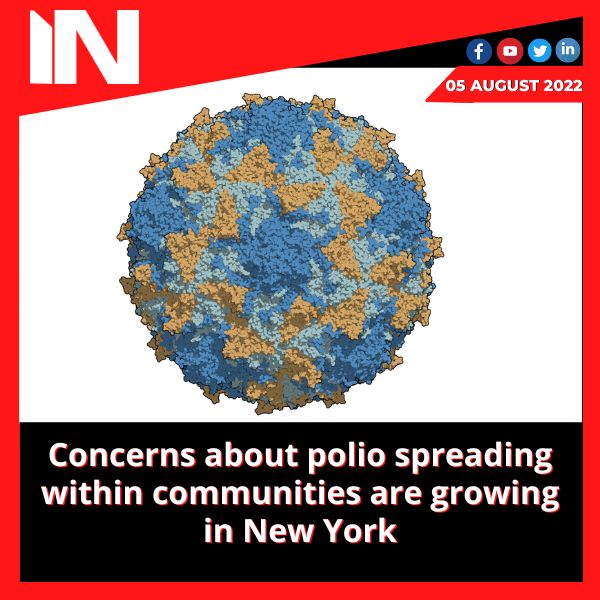 In light of fresh proof of potential "community spread" of the dangerous virus, New York state health officials issued a more urgent call Thursday for unvaccinated children and adults to get immunised against polio. Health officials reported that the polio virus has now been discovered in seven different wastewater samples from two adjacent counties north of New York City.
Only one person has so far tested positive for polio, an unvaccinated adult who was paralysed in Rockland County.
The state's health commissioner, Dr. Mary T. Bassett, warned in a statement that, based on previous polio outbreaks, "New Yorkers should know that for every one case of paralytic polio observed, there may be hundreds of other people infected."
The Department is treating the lone case of polio as just the tip of a much larger potential spread, coupled with the most recent wastewater findings, "She spoke. "What we already know is crystal clear: polio is still a threat in modern-day New York. In order to combat this situation, we must make sure that all adults, including those who are pregnant, and young children by the age of two have received the necessary immunizations. This is the only reliable defence that every New Yorker needs against this crippling virus.
The person with polio in Rockland County is the nation's first known case of the disease in nearly ten years. The virus was also found in wastewater samples taken in nearby Orange County in June and July.
More than 20 years after vaccines were made available, polio, once among the most feared diseases in the country, was declared extinct in the US in 1979.
The majority of polio sufferers show no symptoms, but they can still shed the virus for days or weeks and spread it to others. Only a small portion of those who contract the illness experience paralysis. Around 5–10% of paralysed people die from the illness.
Although polio vaccination is mandated for all students in New York's public schools, vaccination laws are occasionally not strictly enforced everywhere. Both Orange and Rockland counties are recognised as hotspots for vaccine resistance. By the time they turn two, 79 percent of children statewide have received all four shots against polio. That percentage is 59 percent in Orange County. The percentage is 60% in Rockland.
The wastewater samples from Orange County were initially gathered from municipal wastewater treatment facilities for COVID-19 testing.
Given the low vaccination rates for this crippling disease in some areas of our County, it is alarming that polio, a disease that has been largely eradicated through vaccination, is now present in our community, according to Orange County Health Commissioner Irina Gelman. I beg all unvaccinated Orange County residents to get vaccinated as soon as medically feasible."
Group Media Publications
Entertainment News Platforms – anyflix.in
Construction Infrastructure and Mining News Platform – https://cimreviews.com/
General News Platform – https://ihtlive.com/
Legal and Laws News Platforms – https://legalmatters.in/
Podcast Platforms – https://anyfm.in/
Neck pain: Types, causes, symptoms, treatments, and prevention advice from doctors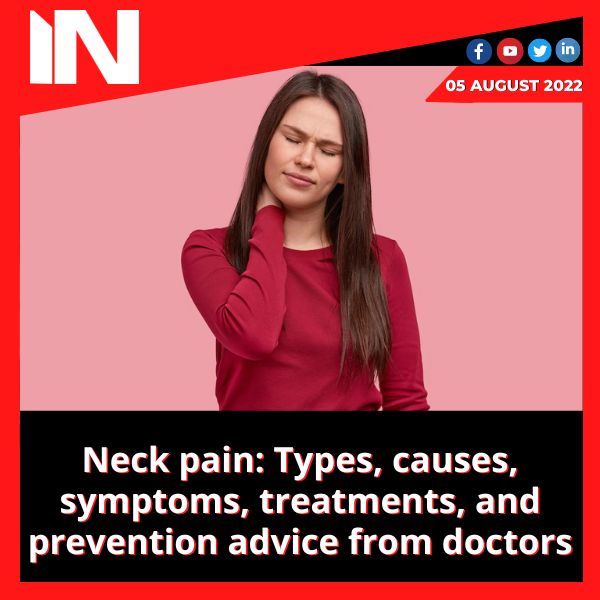 One in three people experience neck pain at least once a year, making it one of the most prevalent musculoskeletal disorders. It can be mild or severe, spread to our arms and shoulders, and cause headaches. Neck pain or discomfort is a multifactorial disease that can reduce productivity and efficiency, but it can also be managed with a healthy lifestyle that includes regular exercise, a balanced diet, and a good work-life balance.
Types:
Neck pain can come in a variety of forms, according to Dr. Jagjit Singh, Senior Orthopaedic Consultant at Mata Chanan Devi Hospital in Janakpuri, Delhi. Common types include the following.
1. Occipital Neuralgia – This type of headache causes pain in the back of the head, the area behind the ears, and the upper neck. Occipital neuralgia is brought on by inflammation or injury to the occipital nerves, which run through the scalp.
2. Cervical Radiculopathy – Also referred to as a pinched nerve, this condition typically results from a herniated disc in the neck. As a result, the neck, shoulder, arm, and fingers may experience excruciating pain. One of the most agonising neck conditions, thankfully with a favourable prognosis.
Facet arthropathy is a well-known cause of neck pain and the term implies that the small vertebral joints in the neck are affected by arthritis. It might be brought on by illnesses like rheumatoid arthritis or ageing.
4. Myofascial Pain Syndrome – Neck muscles and fascia are impacted by this chronic pain condition. One of the body parts where Myofascial Pain Syndrome can manifest is the lower and upper back, neck, shoulders, and chest. This could be caused by the repetitive motions people do at work, stress-related muscle tension, muscle injuries, bad posture, or inactive muscle groups.
5. Cervical Spondylosis – Cervical spondylosis is the name for age-related wear and tear in the cervical spine that causes neck pain and stiffness.
6. Whiplash Neck Sprain – This occurs when your neck sustains rapid trauma as a result of an accident, auto collision, etc.
7. Fibromyalgia – This condition is characterised by widespread musculoskeletal pain and may also cause sleep, memory, and mood problems. Most people have back and neck pain that is very severe and stiff.
Causes:
Dr. Vivek Loomba, a pain management specialist at The Indian Spinal Injuries Center in Vasant Kunj, New Delhi, listed a few typical causes of neck pain:
1. Physical strain – The most frequent cause of neck pain, this condition is brought on by overusing the neck muscles during strenuous physical activity, weight lifting, toting heavy objects on the shoulder, long distance driving, etc. All of these activities could result in neck pain from strained neck muscles or ligaments. On rare occasions, it could lead to a disc herniation, which could result in neck pain that travels down the arm.
2. Posture – One of the main contributors to neck pain is poor posture. Using smartphones and laptops for extended periods of time while hunched over with the neck bent forward (text neck syndrome) places more strain on the cervical spine, leading to cervical degeneration, stiffness, and pain. According to Dr. Loomba, the number of students attending school has steadily increased.
3. Whiplash injury – A sudden, jerky movement of the neck during a car accident can cause whiplash injury, which causes neck pain.
4. Arthritis – Neck pain may be brought on by arthritis in the neck's vertebral joints.
5. Other – Neck pain can have other causes, such as stress, depression, infection, tumours, etc.
Symptoms:
According to Dr. Jagjit Singh, neck pain can range from a nagging, irritating ache to a burning, incapacitating nerve pain that may radiate down the shoulder and into the arm. Dr. Singh emphasised the importance of making the right diagnosis before beginning any treatment because the aetiology of the disease determines how it should be treated.
Aside from neck pain, other symptoms can include:
1. Migraine
2. A sleep disorder
3. Neck discomfort or fatigue
4. Poor sleep quality
5. Arms or fingers that are numb or tingly
6. Arm-reaching pain or a weakness
7. Occasionally losing control of one's bowels or bladder
Taking care of neck pain
The majority of neck pain problems go away on their own in a few days, but according to Dr. Singh, you should seek medical attention if you experience severe pain, persistent discomfort, or neck pain that interferes with your daily activities. He went on to explain that an orthopaedic doctor or a pain management doctor can assist you by attending to your problem and by recommending one or a combination of therapies.
Since most neck pains are benign, surgery is rarely necessary. There are numerous treatments available, depending on the cause and degree of the neck discomfort.
Treatment:
The best results for treating neck pain have consistently been seen with a multimodal approach. Dr. Vivek Loomba lists the following as the most typical neck pain treatments:
Acetaminophen (crocin), non-steroidal anti-inflammatory drugs (NSAIDs) like ibuprofen, muscle relaxants like myoril, and weak opioids like tramadol are just a few of the medications that are commonly prescribed.
One of the most popular treatments for persistent neck pain is physiotherapy. Stretching and strengthening neck muscles and tendons are the main goals of physical therapy.
3. Hot Fomentation – Heat application to the affected area may provide effective symptom relief.
4. Injections – A quick procedure is another option for treating neck pain. Occipital nerve blocks, epidural injections, facet joint injections, and trigger point injections are a few examples. For long-lasting relief, radiofrequency ablation of the occipital nerves and facet joints can also be done. Patients with chronic neck pain have shown to experience pain relief from these procedures.
5. Surgery – The majority of neck pain sufferers benefit from conservative and non-surgical treatment options. Rarely, surgery is the only treatment available. If urgent surgical exploration is not done, patients who present with neck trauma, such as from car accidents, may be at risk of paralysis. Similar to this, people with disc herniation may experience upper limb weakness that necessitates immediate surgery. Patients and their families should keep in mind that in these situations, urgent surgery may be life-saving, and any delay in making a choice could have terrible, and in some cases, potentially fatal, consequences.
Prevention advice
Dr. Jagjit Singh contends that minor lifestyle adjustments can significantly reduce the risk of ailments like neck pain. These consist of:
1. Maintain the proper body posture. The bones and joints are in alignment with the right posture, preventing muscle strain and the ensuing pain.
2. Neck pains may be avoided by leading a healthy lifestyle that includes daily neck stretches and 10 to 15 minutes of neck exercises while using a phone or computer.
3. Steer clear of lifting anything heavy because it could hurt your neck.
4. Wear a seat belt; it may offer some protection in the event of a motor vehicle accident.
5. Seek assistance – If you experience chronic neck pain, please visit your pain specialist or an orthopaedic doctor. Self-medication could delay proper care, making the issue worse.
If you experience neck pain, you should see your doctor as soon as possible because there are many different causes of neck pain. The majority of neck pains may go away on their own with rest and activity modification, but sporadic neck pains may be indicative of a more serious pathology and necessitate specialised care.

Group Media Publications
Entertainment News Platforms – anyflix.in
Construction Infrastructure and Mining News Platform – https://cimreviews.com/
General News Platform – https://ihtlive.com/
Legal and Laws News Platforms – https://legalmatters.in/
Podcast Platforms – https://anyfm.in/