Concerns about polio spreading within communities are growing in New York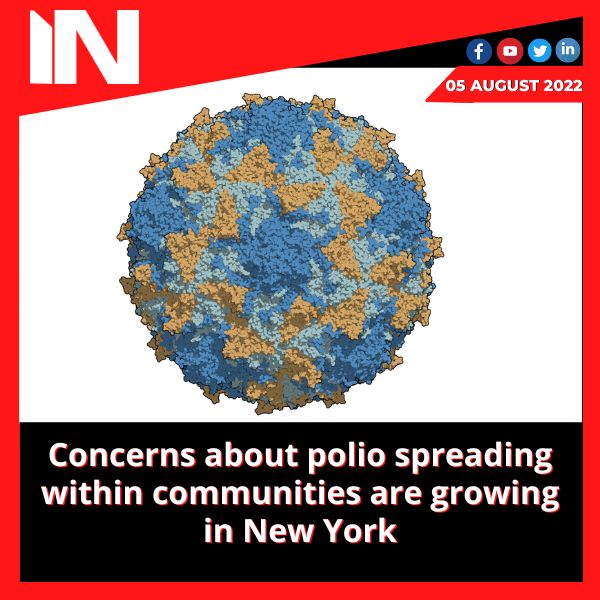 In light of fresh proof of potential "community spread" of the dangerous virus, New York state health officials issued a more urgent call Thursday for unvaccinated children and adults to get immunised against polio. Health officials reported that the polio virus has now been discovered in seven different wastewater samples from two adjacent counties north of New York City.
Only one person has so far tested positive for polio, an unvaccinated adult who was paralysed in Rockland County.
The state's health commissioner, Dr. Mary T. Bassett, warned in a statement that, based on previous polio outbreaks, "New Yorkers should know that for every one case of paralytic polio observed, there may be hundreds of other people infected."
The Department is treating the lone case of polio as just the tip of a much larger potential spread, coupled with the most recent wastewater findings, "She spoke. "What we already know is crystal clear: polio is still a threat in modern-day New York. In order to combat this situation, we must make sure that all adults, including those who are pregnant, and young children by the age of two have received the necessary immunizations. This is the only reliable defence that every New Yorker needs against this crippling virus.
The person with polio in Rockland County is the nation's first known case of the disease in nearly ten years. The virus was also found in wastewater samples taken in nearby Orange County in June and July.
More than 20 years after vaccines were made available, polio, once among the most feared diseases in the country, was declared extinct in the US in 1979.
The majority of polio sufferers show no symptoms, but they can still shed the virus for days or weeks and spread it to others. Only a small portion of those who contract the illness experience paralysis. Around 5–10% of paralysed people die from the illness.
Although polio vaccination is mandated for all students in New York's public schools, vaccination laws are occasionally not strictly enforced everywhere. Both Orange and Rockland counties are recognised as hotspots for vaccine resistance. By the time they turn two, 79 percent of children statewide have received all four shots against polio. That percentage is 59 percent in Orange County. The percentage is 60% in Rockland.
The wastewater samples from Orange County were initially gathered from municipal wastewater treatment facilities for COVID-19 testing.
Given the low vaccination rates for this crippling disease in some areas of our County, it is alarming that polio, a disease that has been largely eradicated through vaccination, is now present in our community, according to Orange County Health Commissioner Irina Gelman. I beg all unvaccinated Orange County residents to get vaccinated as soon as medically feasible."
Group Media Publications
Entertainment News Platforms – anyflix.in
Construction Infrastructure and Mining News Platform – https://cimreviews.com/
General News Platform – https://ihtlive.com/
Legal and Laws News Platforms – https://legalmatters.in/
Podcast Platforms – https://anyfm.in/
Study: Maternal obesity more accurately predicts risk of heart disease than pregnancy issues.
Maternal health during pregnancy is a critical factor in the well-being of both the mother and the child. While a range of issues can arise during pregnancy, new research suggests that maternal obesity may be a more accurate predictor of heart disease risk than specific complications during pregnancy. This study sheds light on the long-term health implications of obesity and emphasizes the importance of addressing this public health concern. In this blog, we'll explore the findings of this study and their broader implications.
A Stronger Predictor of Heart Disease Risk than Pregnancy Complications
A recent study published in a medical journal has attracted attention for its focus on maternal obesity and its impact on future heart disease risk. Researchers conducted a retrospective analysis of medical records of women who had given birth in the past decade, tracking their health outcomes over time. The study found that maternal obesity is a more robust predictor of heart disease risk than specific pregnancy complications like gestational diabetes or pre-eclampsia.
Key Findings
Long-term Risk: The study's findings suggest that maternal obesity is associated with a significantly higher risk of heart disease in the years following pregnancy. This highlights the importance of addressing obesity as a long-term health concern, not just a temporary condition associated with pregnancy.
Preeclampsia and Gestational Diabetes: While preeclampsia and gestational diabetes are well-known complications of pregnancy that can impact maternal health, the study found that these conditions did not have as strong a correlation with future heart disease risk as maternal obesity.
Weight Management: The study underscores the importance of proactive weight management for women before, during, and after pregnancy. It highlights that addressing obesity may have a more significant impact on reducing heart disease risk than solely focusing on managing specific pregnancy-related complications.
Implications
Public Health Focus: Maternal obesity is a critical public health issue that extends beyond pregnancy. This research reinforces the need for society and healthcare systems to prioritize weight management and obesity prevention strategies to reduce the long-term health risks associated with obesity.
Holistic Approach: Healthcare providers should consider a holistic approach to maternal health that includes not only addressing pregnancy-related issues but also focusing on a woman's overall well-being, including weight management and cardiovascular health.
Education and Support: Women planning to become pregnant or already expecting should receive information, education, and support regarding the importance of maintaining a healthy weight before and after childbirth. Health professionals can play a vital role in providing guidance and resources.
The findings of this study highlight the critical role that maternal obesity plays in predicting future heart disease risk, even more so than specific pregnancy complications. This research serves as a call to action for healthcare providers, policymakers, and society as a whole to prioritize the prevention and management of obesity to safeguard the long-term health of women and reduce their risk of heart disease. Addressing this public health issue early can lead to healthier mothers, healthier pregnancies, and ultimately healthier families.
Group Media Publications
Entertainment News Platforms – anyflix.in      
Construction Infrastructure and Mining News Platform – https://cimreviews.com/
General News Platform – https://ihtlive.com/
Podcast Platforms – https://anyfm.in