Nutritional advice for nursing mothers to prevent monkeypox during World Breastfeeding Week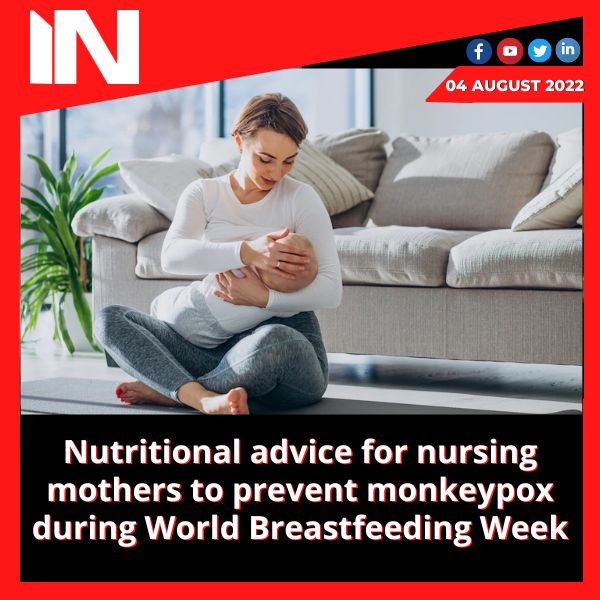 In light of the growing monkeypox cases in India, it is crucial for everyone to maintain a strong immune system to fend off infections and illnesses during World Breastfeeding Week in 2022. The immune system of your baby can be effectively maintained by breastfeeding because breast milk contains antibodies that fight infections. By incorporating a healthy diet into their lifestyle, nursing mothers can use nutrition as a shield to defend themselves against diseases like monkeypox and others.
In order to improve the quality of breast milk and ensure that the newborn receives all the nutrients they need while being breastfed, good nutrition is crucial for both the mother and the child. Every year, from August 1–7, there is a World Breastfeeding Week to raise awareness of the advantages of breast milk for infants.
Nursing mothers should carefully plan their meals, including including seasonal, fresh fruits and vegetables in the diet, drinking enough water, focusing on protein-rich foods to support organ functions, and consuming whole grains for fibre, vitamins, and minerals.
"If you are a nursing mother, the two most crucial things for you to focus on are taking care of yourself and your child. A mother's behaviour directly affects and is directly related to the health and hygiene of her child. Therefore, a mother should take all necessary precautions to eliminate any unnecessary risk. Monkeypox is a disease that is looming large now that the spread of coronavirus has significantly decreased "Natasha Mohan, a dietitian, states.
Monkeypox is a zoonotic viral disease that can be contracted by people by coming into close contact with infected animals or people. Close contact with the lesions, bodily fluids, or bedding of a monkeypox patient can spread it. Depending on severity, the illness is self-limiting and typically lasts 2-4 weeks. Headache, fever, backache, muscle aches, fatigue, and rashes that appear on various body parts are some of the symptoms.
"Even though this disease has a very low transmission rate, nursing mothers must take good care of their health. You must eat the healthiest foods and maintain a healthy diet as a mother because you are the only source of nutrition and food for your child "Mohan says.
In order to lower the risk of measles, Natasha Mohan offers some dietary advice for expectant mothers.
Fresh produce and fruits
Vitamins A, B, and C are important for breastfeeding and are abundant in fruits and vegetables. While breastfeeding, it's safe to eat fruits like bananas, papayas, oranges, apricots, avocados, and mangoes because they promote milk production. Vegetables like spinach, carrots, and tomatoes offer crucial nutrition and strengthen the body's defences against illnesses like monkeypox.
Protein-packed meals
Protein promotes oxygen flow throughout the body and keeps the body youthful. Our bodies' tissue and cells are repaired while their energy levels are fueled. It's critical to include foods high in protein in your diet on a daily basis because monkeypox can impair the function of your organs. Examples include chicken, eggs, fish, and meat.
Sip enough fluids
It is very advantageous to drink enough water while breastfeeding. Every day, you should consume at least 3 litres of water, and you should do so every time you nurse your child. In addition, include soups, coconut water, detox water, and fresh fruit juices in your daily diet to maintain a strong defence against viruses and infections.
Complete grains
Whole grains are an incredible source of fibre, vitamins, minerals, and antioxidants, all of which support the development of a robust immune system in the body. Whole grains like oatmeal, brown rice, millet, and quinoa are nutrient-dense, reduce inflammation, and guard against chronic illnesses.
Include all of these nutritious foods in your daily diet if you are nursing so that your child will have the right nutrients for growth and development. By consuming these necessary foods, you can fortify your immune system and ward off monkeypox.
"Along with maintaining a healthy diet, be sure to keep your distance from anyone who has a skin infection or rash. Each day, use a disinfectant to wash the clothes and towels that you and your infant use. Thoroughly clean the rooms and all of your baby's possessions. Keep your infant in a private space with no access from outside. Frequently wash your hands with soap and water. You and your infant will be protected from monkeypox if you follow these precautions "Natasha Mohan puts an end to it.
Group Media Publications
Entertainment News Platforms – anyflix.in
Construction Infrastructure and Mining News Platform – https://cimreviews.com/
General News Platform – https://ihtlive.com/
Legal and Laws News Platforms – https://legalmatters.in/
Podcast Platforms – https://anyfm.in/
Winter-related ear popping: causes, remedies, and strategies for prevention
If you live in a cold climate, you're probably no stranger to the sensation of your ears popping when you step outside. This is caused by the change in pressure between the warm air inside your body and the cold air outside. While this is usually a harmless phenomenon, it can be quite annoying. In this article, we'll explore the causes of winter-related ear popping, as well as some remedies and strategies for prevention.
One of the main causes of ear popping is a difference in air pressure. When you step outside into the cold air, the pressure outside is lower than the pressure inside your body. This difference in pressure can cause your ears to pop.
There are a few things you can do to ease the discomfort of ear popping. First, try yawning or swallowing. These activities can help equalize the pressure in your ears. You can also try chewing gum or sucking on candy. If you're flying, drink plenty of fluids and avoid chewing gum during takeoff and landing.
There are also some preventive measures you can take to avoid ear popping. If you know you'll be exposed to cold air, try to take a deep breath before you go outside. This will help equalize the pressure in your lungs and prevent your ears
Group Media Publications
Entertainment News Platforms – anyflix.in      
Construction Infrastructure and Mining News Platform – https://cimreviews.com/
General News Platform – https://ihtlive.com/
Legal and Laws News Platforms – https://legalmatters.in/
Podcast Platforms – https://anyfm.in