Dark and dystopian are this season's hottest Kdrama trends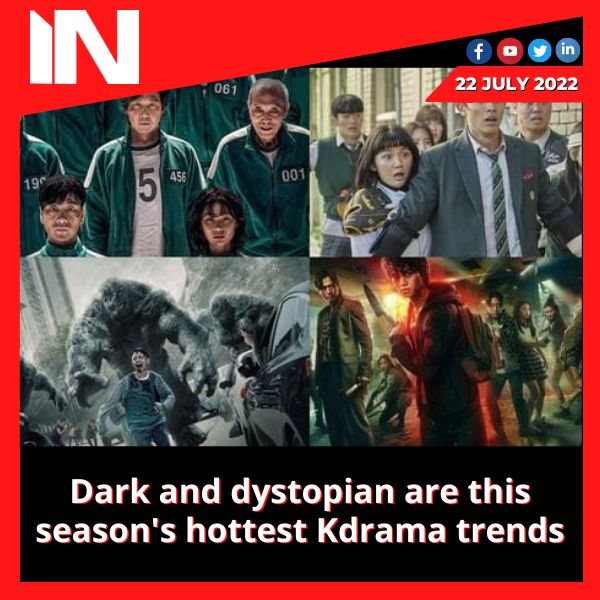 Although rom-coms have historically dominated the Kdrama market, the romance genre has never actually been the only one available. There is something for everyone, from historical dramas to thrillers. However, there has been an unmistakable shift since the emergence of streaming culture, which is perhaps connected to the pandemic: the rise of South Korean shows with darker themes. People around the world may have been searching for an escape from the pandemic, but they were also likely tired of the unrelatable happiness of traditional love stories, which is why dystopian programmes found a huge audience. Additionally, the enormous global appeal of programmes like Squid Game and Sweet Home gave rise to another feature that was previously unusual for Kdramas: the idea of seasons.
Several popular gloomy and dystopian series have only recently announced fresh seasons to enthusiastic public reception. Fans of Kdramas who are looking for an escape fuelled by adrenaline have a lot to look forward to.
The second season of Squid Game, the dystopian Kdrama genre's largest global success story, has been approved. The fatal competition on the world-record-breaking show features a cash award for the final survivor. The Front Man (played by Lee Byung-hun) and Gi-hun (played by Lee Jung-jae), as well as maybe Gong Yoo, will return for season 2, while new characters include the killer doll's "lover."
However, there will probably be a long wait since season 2 might debut as early as late 2023, according to writer and director Hwang Dong-hyuk in an interview with Vanity Fair.
This popular programme has been renewed for not just one, but two more seasons! This action-packed programme is set in a world where people occasionally personify their own evil by turning into monsters. Along with actors Lee Jin-uk, Lee Si-young, and Lee Do-hyun, Song Kang will make a comeback to host the post-apocalyptic show. Actor in It's Okay To Not Be Okay Oh Jung-se will be one of the brand-new cast members. The upcoming seasons will likely follow the survivors as they flee the monster-infested structure and the military's preparations for the infected, as anticipated by viewers.
Hellbound is a dark fantasy (or horror, depending on who you ask) drama starring actor Yoo Ah-in. It takes place in a universe where demons summon sinners to hell in advance. The first season, which starred Park Jeong-min and Kim Hyun-joo in crucial roles, was brief yet dramatic and compelling. The cliffhanger from the final episode will probably be addressed in the upcoming season. The online series, which is directed by Train To Busan, is anticipated to receive a new season as well, according to Yonhap. Cast or a timeline have not yet been revealed.
This one is for zombie enthusiasts! In the movie All Of Us Are Dead, high schoolers are stranded and must struggle to survive amid a zombie apocalypse. To the pleasure of viewers, a new season of the show was announced last month, so the nightmare is far from finished. The actors Yoon Chan-young and Park Ji-hu are anticipated to reprise their roles in the forthcoming season.
This web series was maybe the first dystopian Korean drama to gain international notoriety. It is a terrific blend of zombie horror and a political time-travel thriller set in the 16th century. Major celebrities like Ju Ji-hoon, Ryu Seung-ryong, and Bae Doo-na starred in the series.
The highly regarded programme received a second season renewal along with a special side-sequel episode starring Jun Ji-hyun called Ashin of the North. According to the show's creator Kim Eun-hee, there are enough concepts for more than three seasons. Expectations are high for a new season because South Korean content dominates the OTT space. According to rumours, the delay may have been caused by the busy performers' schedules. Another spin-off, named Kingdom: The Crown Prince, was apparently in the works.

Group Media Publications
Entertainment News Platforms – anyflix.in
Construction Infrastructure and Mining News Platform – https://cimreviews.com/
General News Platform – https://ihtlive.com/
Legal and Laws News Platforms – https://legalmatters.in/
Podcast Platforms – https://anyfm.in/
Watch Vicky Kaushal blush when Katrina Kaif.
Title: Vicky Kaushal's Blushing Affection: Fans Bring Up Katrina Kaif During the "Zara Hatke Zara Bachke" Promotions
Introduction: The world of Bollywood is always abuzz with gossip and speculation, especially when it comes to celebrity relationships. Recently, during the promotional events for the film "Zara Hatke Zara Bachke," fans managed to put Vicky Kaushal in a rather adorable spot by mentioning his rumored romantic interest, Katrina Kaif. The actor's blushing response and the ensuing excitement among fans added a touch of sweetness and intrigue to the film's promotions.
Fans' Curiosity: As Vicky Kaushal stepped out to promote his latest project, "Zara Hatke Zara Bachke," fans couldn't resist bringing up the topic of his alleged relationship with Katrina Kaif. The couple's rumored romance has been the subject of much speculation in the media and has piqued the curiosity of fans worldwide. During various interactions, fans took the opportunity to tease Vicky and observe his reaction when Katrina's name was mentioned.
Vicky's Blushing Affection: Much to the delight of fans, Vicky Kaushal couldn't hide his blushing smile when Katrina Kaif's name came up during the promotions. Despite maintaining a certain level of privacy about their personal lives, Vicky's reaction spoke volumes about his affection for the Bollywood diva. His genuine blush and sheepish smile instantly became a viral moment, capturing the attention of fans and adding an element of charm to the film's promotions.
The Power of Speculation: Celebrity relationships have long been a source of fascination for fans, and the Vicky Kaushal-Katrina Kaif pairing is no exception. The duo's alleged romance has sparked a wave of speculation and has fans eagerly awaiting any confirmation or denial from the actors themselves. The excitement surrounding their possible relationship has not only fueled curiosity but has also propelled the film's promotions to new heights.
Maintaining Privacy: Despite the constant scrutiny and interest in their personal lives, both Vicky Kaushal and Katrina Kaif have been relatively private about their relationship status. They have chosen to let their work and performances speak for themselves, keeping their personal lives away from the prying eyes of the media. This discretion has only added to the allure and intrigue surrounding their rumored romance, leaving fans eagerly anticipating any official statement or revelation.
Fans' Reactions: The adorable moment of Vicky Kaushal blushing when Katrina Kaif's name was mentioned quickly spread across social media platforms. Fans couldn't help but swoon over the actor's genuine reaction, expressing their excitement and support for the potential couple. Memes, fan art, and heartwarming messages flooded the internet, showcasing the extent of fans' enthusiasm and affection for the duo.
Looking Ahead: As Vicky Kaushal continues his promotional journey for "Zara Hatke Zara Bachke," fans eagerly anticipate any further interactions or revelations between him and Katrina Kaif. The duo's undeniable chemistry, both on and off-screen, has only fueled the curiosity surrounding their relationship. Whether they choose to keep their personal lives private or make an official announcement, fans remain dedicated and excited to witness their favorite actors' journey, both professionally and personally.
Conclusion: The promotion of "Zara Hatke Zara Bachke" became even more exciting as fans playfully brought up Katrina Kaif's name to observe Vicky Kaushal's blush-inducing response. The actor's heartfelt reaction delighted fans and added a touch of sweetness to the promotional events. While Vicky and Katrina choose to maintain their privacy, their rumored romance continues to captivate fans, who eagerly await any confirmation or further glimpses into their relationship. As the promotional journey unfolds, fans will continue to.
Group Media Publications
Entertainment News Platforms – anyflix.in
Construction Infrastructure and Mining News Platform – https://cimreviews.com/
General News Platform – https://ihtlive.com/
Podcast Platforms – https://anyfm.in